Spectator FAQs for planning a great visit!

1.    Where can I get tickets?
The primary ticket marketplace is our website https://squareup.com/store/fobb.  You can also purchase tickets at Bentonville Battlefield's visitors center, call (910) 594-0789 with a credit card, or send a check to FOBB / PO Box 211 / Newton Grove, NC 28366
2.    What are the tickets for? The tickets are for general admission to the battle scenarios. You will need a ticket for each day. Ticket prices are for one ticket per day. All other activities are free of charge. All proceeds benefit Bentonville Battlefield. A percentage of proceeds will be dedicated towards a new visitors center for the battlefield.  Children 6 and under are FREE.
3.    How much are tickets?
Advance tickets are $12.00 for adults and $6.00 for ages 7-12 until March 15, 2020. A combination ticket for both days can be purchased in advance only for $20.00 (adult) and $10.00 (7-12). Any tickets remaining after March 15 and onsite will be $15.00 for adults and $10.00 for children ages 7-12. Purchase your tickets early because they are limited.
4.    Is there a group rate? Advanced tickets for groups of 20 or more will receive a 10% discount. Please contact us at (910) 594-0789 for the group rate.
5.    When is the reenactment? The reenactment takes place March 20-21, 2021. The battle on Saturday is at 3:00 and the battle on Sunday is at 1:30. The fields will be open two hours prior to each battle. It is recommended that you arrive as early as possible for optimal viewing. Expect heavy crowds and traffic.
6.    Can I bring my own food or will there be food available?
Yes, you can bring your own picnic lunch or purchase food from the Bentonville VFD concession stand. Bring a blanket to have your picnic on, limited picnic tables are available on a first come, first serve basis. Alcoholic beverages are prohibited.
7.    Is there seating at the battle sites? How far is it to the battle sites?
No. We ask that the public bring their own chairs, blankets, etc. to watch the battles. Spaces are on a first come, first serve basis. Expect to walk approximately one-half mile to battle sites. Some parts of the battle may be difficult to observe so you will want to be in place at lease two hours prior to the battle for the best viewing. Viewing areas will be divided into three sections. Ground seating first, chair seating behind, and standing room at the back of the viewing area. Due to the terrain of the battle sites, visitors will not be able to see all parts of the battle at all times.
8.    Will there be a charge for parking? Will there be handicapped parking available? There will be no charge for parking. Parking areas will be set up near the visitor center area. Handicapped parking will be at the visitor center parking lot. Bentonville Battlefield and/or its affiliates are not responsible for any damages to personal vehicles and the property therein. Please secure your valuables and lock your doors. No overnight parking!

9.    Is the battlefield ADA accessible? No. The battlefield is not ADA compliant. The areas where the battle scenarios are being enacted is preserved battlefield land, therefore no changes the landscape can be made. There will be LIMITED shuttle access from the handicapped parking area/Visitors Center to the battlefields.

10.    What are the times of the battles and what time does everything start and end? The battle on Saturday March 20, 2021 is at 3pm. The battle on Sunday March 21, 2021 is at 1:30pm. The site opens to the public at 9am both days and closes at 5pm. BATTLES TAKE PLACE RAIN OR SHINE. NO REFUNDS WILL BE PROVIDED.
11.    What is there to see? We will have a variety of activities such as military and civilian (19th century domestic) themed lectures, military and civilian camps to walk through, dozens of Civil War sutlers to shop from, and much more. Please see our schedule of activities for more information. All events except the battle scenarios are free.
12.    Can I camp on site?  No. The site does not allow for modern camping. There are camp grounds in Johnston County. For more information visit johnstoncountync.org for amenities.
13.    Where can I get a hotel room? We suggest that you contact the Johnston County CVB at johnstoncountync.org or 800-441-7829 and they will be more than happy to assist you in planning your trip to the event.
14.    Where are you located? We are approximately 45 minutes southeast of Raleigh, 30 minutes west of Goldsboro, and approximately 20-30 minutes south of Smithfield. We are located 17 miles south of I-95 at exit 90 and 7 miles northeast of I-40 at exits 343-341.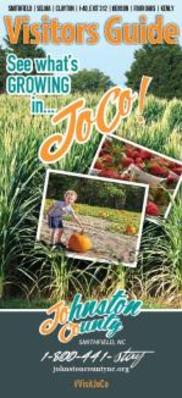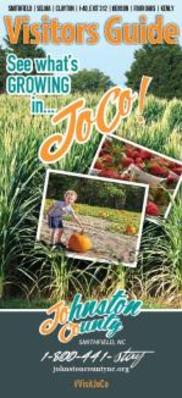 Get your free Visitors Guide today to learn about Johnston County and all it has to offer!
Get the Guide

Sign up for our Event Newsletter