The Johnston County Visitors Bureau is a member of the statewide Convention & Visitors Bureau trade association known as Destination Marketing Association of NC. Each year at the annual meeting, bureaus are recognized with various marketing achievement awards. In 2010, the JCVB won two awards for our efforts to promote the county.
Destination Print Advertising - Field Trip Magazine, Student Day at Bentonville Battlefield Reenactment

To reach the teachers and students in the state what would see the Bentonville Battlefield Reenactment as a living history type field-trip or an educational project, the bureau placed this ad with NC Field Trip Magazine. The theme of "Watch as History Comes Alive" was part of a full campaign which included e-marketing efforts, BLOG posts, Facebook, electronic ads, event posters and direct mail postcards.

The reenactment was a tremendous success as the visitors bureau teamed up with the historic site for 12 months prior to the event to push out the marketing message that "History Comes Alive" to attract heritage travelers and provide educational opportunities for youth learning about the Civil War in North Carolina and Bentonville Battlefield key role in the end of the war. The site had over 55,000 visitors in 2010 as compared to 40,000 in 2005.
Destination Constituents Communications - Annual Report
Johnston County 2009 Annual Report

The objectives of this informative and community marketing piece is to communication the activities of the Johnston County Visitors Bureau to our local stakeholders, elected officials and to have a tool to use in presentations around the county throughout the year. The target audience includes local county contacts, elected officials, state and federals, the seven chambers of commerce, the visitor industry businesses, and our peers in the state.
In 2009, the Annual Report was an electronic document instead of a printed piece for several reasons. First to cut costs of printing the piece and second, to reach a greater number of individuals in the county which e-marketing provided as the vehicle of delivery. This year's piece was designed in-house and copies of CDs were printed for approximately $150.00 and the report was emailed to over 1,600 contacts via Mail Chimp.

This new electronic version of the annual report was very well received and we envision that we will continue to seek the most affordable and innovative way to share our information to constituents in the county - sharing the message of how important tourism is to our local economy.
Visitor Inquiries

Visitor inquiries were down 20% for 2010-11 which reflects the trend of tough times for the tourism industry in general, however, website visits were up 11% during this same period. The Johnston County Visitors Bureau continues to expand efforts in e-marketing, web SEO and ad campaigns to increase awareness of our destinations' assets. The following information will be helpful for area businesses as they also focus marketing efforts to key feeder markets -- getting local North Carolinians to travel within the state remains a top market for Johnston County.
Pieces of literature distributed
2009-10     40,489
2010-11     33,907
Top Feeder Markets for Visitor Inquiries
North Carolina
Florida
New York
Pennsylvania
South Carolina
Virginia
Texas
New Jersey
Ohio
Georgia
Per the Annual Report from the NC Division of Tourism, the source for overnight demand to NC comes from the following top ten states:
NC - 35% VA - 10% SC - 8% GA - 6% NY - 4%
PA - 4% MD - 3% TN - 3% NJ - 2% OH - 2%
Top Sources of inquiries came from the following advertising placements, several of which were placed in partnership with the NC Division of Tourism.
AAA Go Magazine
AAA World Magazine
Budget Travel
NC Coast Host (Internet inquiries)
Compass Media Newspaper Travel Insert
Holiday Sweepstakes 2010 (online promotion)
NC Civil War Traveler
Oprah Magazine
Our State Magazine
Southern Living (Carolina Premium Outlet partnership)
Spring Travel Guide
Visitor Guide Distribution
Visitor guide and bulk literature distribution through Johnston County, AAA and NC Welcome Centers was flat compared to 2009.
Website Inquiries Up
Unique Visitors to the Johnston County website were up 11% in 2010 over 2009 visitation numbers.
2009-10     47,654
2010-11     53,051
Top sources of website inquiries are within a 50 radius or regional market, which indicates our web information is primarily being used for festivals/events, attractions, and things to do in Johnston County.
Raleigh          15,174
Smithfield        5,993
Garner            3,296
Clayton           3,081
Cary               2,155
Fayetteville     1,228
Durham          1,131
Pittsboro        1,113
Charlotte        1,119
Goldsboro          903
New Websites
In response to the towns desire to brand themselves independently, the Johnston County Visitors Bureau designed and launched six websites for the towns:
www.visitbenson.org
www.visitclayton.org
www.visitfouroaks.org
www.visitkenly.org
www.visitselma.org
www.visitsmithfield.org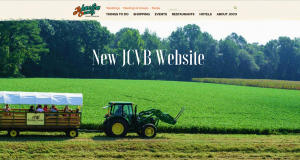 With this major project completed, the bureau then built a new Johnston County site that acts a portal website to each of these six town sites.
HARO
Help A Reporter Out

As a vehicle to get publicity stories out in the mass market, the Johnston County Visitors Bureau joined the HARO network as a professional source for media writers. This service is free to writers and sources and over the course of one year, the bureau submitted several stories concerning tourism in the county. Publicity efforts in 2010 resulted in articles in the New York Times, the Atlanta Journal Constitution and the Foxnews.com site.
Social Media

In 2010, the Visitors Bureau embarked on the social media scene by developing a Facebook Page, Twitter Account, YouTube Channel, and continued to write the JCVB BLOG to reach out to the public using these mediums for their news and travel information. Various methods have been used to gain followers and fans, such as trivia contests and prize drawings. Work in this arena continues at this new way of marketing grows and changes constantly.
Publicity

The Visitors Bureau continues to work with the NC Division of Tourism, PR department and participating in media missions by providing story ideas and hosting travel writers that are interested in our area. In addition, some new relationships have formed with writers with the new MyMedia Database that the bureau invested in to help streamline the massive task of researching and updating our local media database.
Sports Marketing

The sports market in Johnston County has grown in recent years, in part, due to the new facilities at the Smithfield Community Park and Aquatics Center and the Clayton Community Center. These facilities have ample space to bring in regional or state tournaments, therefore, bringing overnight visitors who can make a impact on the local economy. The Visitors Bureau joined the NC Sports Association in 2010, and attended the T.E.A.M.S. conference in Charlotte. In addition, the first Sports Facility Brochure was developed for follow-up and as a tradeshow handout.

From this increased opportunity for sports tournaments in Johnston County, the Visitors Bureau has embarked on forming the Johnston County Sports Council in 2011.
Social & Wedding Markets

This market for Johnston County continues to grow as well, with several new independent wedding facilities opening in the area along with our wineries offering banquet space to accommodate the need for meeting and social functions in the county. In 2010, the Visitors Bureau attended the Southern Wedding Show in Raleigh promoting the entire county with some local partners. Follow-up to over 500 brides was sent out on behalf of local facilities. A new Wedding Venue and Service Providers Brochure has been developed for this market.
Film Location Market

The Triangle Film Commission is a new non-profit organization that is representing the 13 counties in the Research Triangle Regional Partnership. The Johnston County Visitors Bureau has begun the work of building our locations database with this new organization and has responded to several film location scouting requests. With the new incentives for productions companies in North Carolina, filming in the state is on the rise. Our goal for the county is to offer our area rural scenic areas, charming downtowns and historic homes in hope that our area will attract a film production.
Sales & Service
The Johnston County Visitors Bureau worked with several organizations in 2010 to host major events such as the National Shell Rotella Super Rig Show held in Kenly, in June 2010. This event brought 1,000s of people to the county and gave the county national exposure. In addition, the bureau served on the Smithfield Farmer's Market Committee that opened the new market in Downtown Smithfield in May of 2010.

A new marketing initiative has been the new Muscadine Heritage Wine Trail, which brought together three wineries in Johnston County and one in Wake to form a new marketing committee. The first order of business was developing the trail brochure and website, which was handled inhouse by the bureau staff and the brochure was paid for by the wineries. Work continues with the wineries to host events promote the destination together in 2011.
Hospitality Heroes

The new hospitality heroes program built in partnership with the Johnston Community College Workforce Development Center graduated 45 people in 2010.
New Marketing Brochures

In 2010, the communications department designed and printed several new marketing pieces for the Visitors Bureau including: Benson Visitors Map, Wedding Venue Brochure, Sports Facility Brochure
In the second year of challenging economic times for the country, the county, and the tourism industry, Johnston County fared well with occupancy tax revenues up $32,629.17 over 2009. For a complete review of revenues and expenses for 2010-11, see charts below.
Hotel Update for 2011 - Revenue Side

This year was marked by several hotels changing brands like the Holiday Inn Express in Selma, which lost its flag and became a Days Inn. This left the previous Days Inn as an independent and the hotel finally closed the doors for good in October 2011. Additional brand changes took place in Kenly with the Super 8 closing briefly but reopening as an Econo Lodge and the previous hotel at Exit 107 becoming a Quality Inn. The county had one hotel opening, the Value Place which opened in October 2010 and provides extended stay, apartment-style accommodations.
These brand changes and closings created ups and downs for some communities, however, overall the newer hotels built within the last ten years continue to show upward growth in revenues. Older properties in the county with average rates in the low $30s face struggles with demand and occupancy rates.
The month of April 2011 was a turning point for demand as this month's revenues were on par with April '08, before the county occupancy tax collected started a downward trend. April historically has been a top performing month with Spring Break and Easter Break leisure travel.
Controlling Expenses

As most economists would agree, in hard economic times controlling expenses is the key to an organization's success. As conservative spending is the mantra of the Johnston County Visitors Bureau, the committees were cautious of any real upward revenue trends, expecting a return of hard times or continued increases in gas prices affecting tourism. With that mindset, the board withheld funds from two major projects in 2011; the County Branding Project of $15,000 and the Video Project was rebid and it eventually stalled, which was $15,000 in the budget. With increased revenues of $32,000 and decreased spending of $30,000, the visitors bureau recognized approximately $62,000 in net increases in 2011.
Moving forward to 2011-12, the Visitors Bureau again exercised caution in budget planning with conservative views on revenues, cutting costs on payroll, and maintaining current or below spending on grants and marketing projects.
Visitor Spending - Johnston County

In 2010, visitors to Johnston County spent $175.2 million with local industry partners, supporting approximately 4,500 full and part-time jobs with a payroll of over $26.5 million. The visitor industry in Johnston County paid 10.81 in state taxes and 4.69 in local taxes.
North Carolina Visitor Spending Numbers:
In 2010, domestic visitors to North Carolina spent a record $17.0 billion in the state, an increase of 9 percent from 2009.
Domestic visitor spending directly supported nearly 185,000 jobs for North Carolina residents, and the tourism industry directly contributed $4.01 billion to the state's payroll in 2010.
Traveler spending generated $2.7 billion in tax receipts ($1.2 billion in federal taxes, $947.2 million in state tax revenue and $545.9 million in local tax revenue).