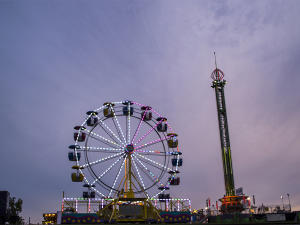 The annual Clayton Harvest & Music Festival presented by title sponsor Pepsi, is scheduled for September 18-22, 2013.  There will be live music at various locations, carnival rides, the popular Clayton Idol Competition and Vendor Fair on Saturday. Huge crowds are again expected for the festival in downtown Clayton as last year's festival attracted more than 35,000 people.
"The Festival is always the biggest event of the year, and we look forward to it all year long," said Mayor Jody McLeod. "This is shaping up to be the best one we've ever had."
The carnival comes to town Wednesday, Sept. 18 ushering in a week of games, music, the annual Clayton Idol competition, and the huge Saturday Arts & Crafts Fair downtown.
"The Clayton Harvest and Music festival is a place where you can stroll and be happy, where you can listen to music, look at art, find a one of a kind masterpiece, catch up with old friends and enjoy traditional carnival games and rides," said Festival Committee Chairman James Lipscomb."Our focus for this and future festivals is to promote inclusiveness and celebrating the talents and diversity of our community. "
Schedule of Events:
Wed, Sept. 18th – Festival Opens with Carnival rides opening at 5:00pm – 10:00pm
Thursday, Sept. 19th – Carnival Rides open at 5:00pm with the Downtown Concert Series beginning at 7:00pm with The Castaways.
Friday, Sept. 20th – Clayton Idol Finals Competition from 6:00pm - 8:00pm – on the Town Square and Karaoke Contest from 8pm-10pm, Cash Prizes, Town Square

Carnival Rides Open at 5:00pm and will be open till 11:00pm
Saturday, Sept. 21st – The Vendor Fair will begin at 9:00am – 5:00pm on East Main Street.
Carnival Rides will open from 10:00am till 11:00pm.

Music and Entertainment will be going on starting at 10:00am til 4:30pm on the Main Stage at the Town Square.

Concert on the Main Stage featuring The Grass Cats will begin at 5:00pm then at 7:30pm the band Konnection will take the stage.
Sunday, Sept. 22nd - Rides will open at 12 noon and will close at 6:00pm

On the Main stage, Seeds Family Worship Band presented by Southside Church will perform and fellowship will follow with games and music.
The Game Truck pulls into town to host a Video Game Competition for age groups 7-9, 10-12, and 13-15 and the competition will take place from 1:00pm-4:00pm -- Registration required, space is limited.

For additional information, please contact the Clayton Chamber of Commerce website or call 919-553-6352.