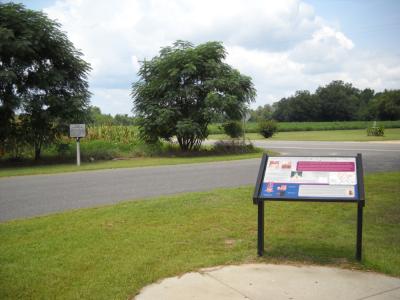 (Four Oaks, NC) – Just in time for the 150th Bentonville Anniversary Events, three new driving tour stops at Bentonville Battlefield are being planned. These wayside exhibit panels will be dedicated in March 2015.
Tour stops will be located near the location of Sherman's Headquarters, General Joseph Johnston's Headquarters and near the spot where the two Federal Wings connected on March 20, 1865. Each new tour stop will have two wayside markers providing information about the battle in that particular sector. The additional waysides give the historic site the opportunity to interpret often overlooked phases of the battle, such as the fighting on March 20 and the struggle for Sam Howell Branch on March 21.
Seventy-five percent of Bentonville's driving tour has traditionally focused on the battle's first day. Located on property acquired in recent years, the three additional stops will allow for a more balanced approach in interpreting all three days of the battle.
Funding for the tour stops has been provided by the Bentonville Battlefield Historical Association and the NC Department of Transportation. Additional support funding was provided for the land purchases by the Civil War Trust and the NC Natural Heritage Trust Fund. Details about the dedication in March 2015 is still being determined and will be released to the media as soon as possible.
The March 21-22, 2015, 150th Bentonville Battlefield event is sponsored by the Friends of Bentonville Battlefield, NC Historic Sites and Properties, the NC Department of Cultural Resources and the Johnston County Visitors Bureau. Bentonville's reenactment is part of North Carolina's Civil War Sesquicentennial Commemoration. All proceeds from the event support Bentonville Battlefield State Historic Site with a percentage to be used for improvements of the site's visitors center.
Address: 5466 Harper House Road, Four Oaks, NC 27524
Phone: 910-595-0789
Website: https://historicsites.nc.gov/all-sites/bentonville-battlefield