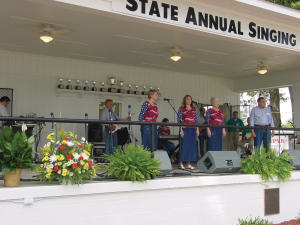 The oldest festival in the county and one of the oldest in the state began in 1921 as a treat for the town. Area church choirs met in an old tobacco warehouse to have a "sing." About 200 people heard two choirs that day, but over the years thousands would come every year for the event.
Today, large audiences still gather June 21-23, 2013 at the Benson Singing Grove on Main Street where gospel groups come to compete for trophies.
When Simon Honeycutt suggested in 1921 that an annual singing convention should be held "for the development of the cultural and spiritual life of all people in song for the glory of God," little did he or anyone else know it would become a week-end long event with thousands of people coming to hear hundreds of gospel singers.
Honeycutt, J. B. Raynor, T. C. Miller, J. V. Barefoot, and J. H. Rose were the founding fathers of the "sing." The old warehouse on Market Street was destroyed by fire in 1922 and the group had to find a new place to meet. Mrs. Catherine Benson, Honeycutt's mother-in-law, donated an oak-shaded grove in the middle of town and the site became the permanent h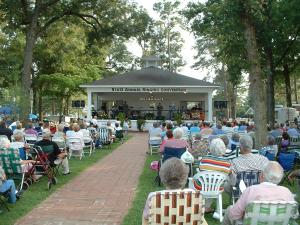 ome of the State Singing Convention.

Singers of all ages compete in the sing. Winners of the first singing competitions received Loving Cups which were provided by Sears retail store. Until 1950, when a covered stage was built and dedicated to the founders, temporary stages were built from lumber borrowed from R. F. Smith's saw mill.
In 2013, the Johnston County Visitors Bureau provided grant funds to the Town of Benson for repairs and improvements to the Singing Grove stage and restrooms. For more information on the events of this year's sing, visit http://www.gospelsingingconvention.org/ or call 919-894-4389.