Warm weather has arrived in Johnston County, which means that local produce is in full bloom. Local farms and markets are open to provide people with delicious food and fun outings for the entire family. 
Smith's Nursery and Farm
Strawberries are ready for picking at Smith's Nursery and Produce Farm and with blueberry season coming up quickly, Smith's Nursery is the perfect place to enjoy some time with the family outdoors. While known for their U-Pick Strawberry fields, they also have a full nursery full of flowers and plants and a stand with eggs, jams and jellies, milk, cheese, and co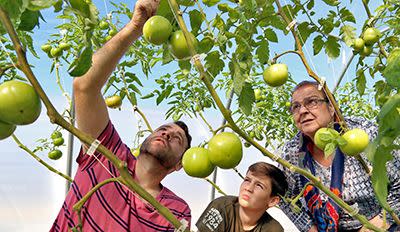 ffee. Be sure to visit the farm, but if you can't make it out to see them, they are at local farmer's markets around the area.
Local Farmer's Markets
The Smithfield Farmers Market and Clayton Farm and Community Market are some of the larger and more popular local farmer's markets in the area. On the weekends, these markets are full of flowers, fruits and vegetables, and homemade breads and desserts from around the county. Drop by and support your local farmer!
Lazy O Farm
If you are looking for a great place to take the family or students, Lazy O Farm is the place to go. At Lazy O everyone can interact with barnyard animals, enjoy hayrides and a playground, or have a picnic. They also have gem and fossil mining that is fun for everyone! You can also experience making your own butter and ice cream. This is a great educational outing that provides lots of different learning opportunities.
For the complete list of local farms and events throughout the summer click here.