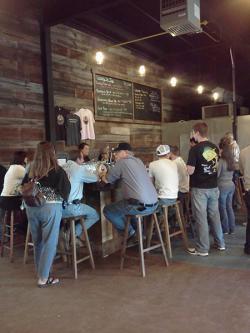 One unique thing to mention about DRBC is that we will be the first brewery in Johnston County. JoCo (as we fondly refer to it) is located about 20 minutes east of Raleigh. It has historically been a dry county but we can tell you first hand that the residents of JoCo are VERY excited to get a brewery!  Johnston County has quite a bit to offer. It is a large farming community which gives us the opportunity to buy fresh ingredients for our beer right from our neighbors. It is also home to 168,000 people.  In 2010, it was ranked the 58th fastest growing county in the US by the US Census Bureau. 58 out of 3,000+ isn't bad! Of those 168,000 JoCo residents, 33,000 live within Clayton.  All of those people have no brewery to call their own.
The brewery is a 15bbl brewhouse 2 vessel brewhouse designed specifically for Deep River Brewing Co. The brewery will be located at 700 West Main St in downtown Clayton, NC, with plans to open in early 2013. The building was built in 1902 and was originally a cotton spinning mill. We chose the building because of its location and its rich history. We are in the process of cleaning, painting, and general renovations. The brewery will feature a 1600 sq ft tasting room that will be open Friday and Saturdays. We will also offer tours during tasting room hours. Customers that come to the brewery will have a chance to try experimental beers and provide feedback and also taste new beers before they hit the market.
We plan to have two flagship beers; Riverbank Rye-it which is a Rye Pale Ale and Twisted River Wit which is a Belgian wit. The seasonal brews will be JoCo White Winter that is made with JoCo white sweet potatoes, 4042 Stout which is aged with locally sourced cocoa nibs, Backcountry Black IPA is hopped up with six hop varieties, Double D's Watermelon Infused Lager is a bright light bodied lager with a hint of JoCo watermelon flavor.
We have been doing tastings around the Triangle for the past year and the feedback on the beers has been incredible. One of the most common things we hear is "I don't usually like this style of beer but this is awesome!" That to us is a huge compliment and makes this whole adventure worth it. We have a funny story about a tasting we did at a festival back in February with the 4042 Stout. One lady came to the table and mentioned she did not like Stouts but we convinced her to try it. After her first sip, she made some very strange… uhhh... borderline inappropriate noises (but so funny!) to express her love for the stout. The next guy in line says, "I will take whatever she is having."