Media Contact: Donna Bailey-Taylor
919-989-8687
 
Smithfield, NC (April 25, 2016) -- The Johnston County Visitors Bureau (JCVB) will be participating in several events as part of the 33rd Annual National Travel and Tourism Week (May 1-7), which unites communities each year to celebrate what travel means to American jobs, economic growth and personal well-being.  Each year the JCVB sales teams travels to the NC Welcome Centers at I-95 North and South to interact with visitors showcasing local Johnston County products, hotels, dining and attractions.
Talking with visitors as they try locally grown strawberries from Smith's Nursery and Strawberry Farm, or learning about the opening of GALOT Motorsports Park near Benson, the JCVB sales team and industry partners will see more than 700 travelers at the welcome centers on May 5 and 6. Always a treat for visitors is meeting Ray Wheeler from Atkinson's Mill and finding out what a "hush puppy" is and children love the reptiles brought by Clemmons Educational State Forest in Clayton.  It's a fun day for everyone attending as we showcase all our destinations have to offer.
Across Johnston County, travel employs a prosperous and diverse workforce, from hotel employees, to restaurant, attraction and retail workers, and supports related sectors such as construction, manufacturing and finance.  "Just look at the numbers. Travel supports one in nine American jobs, including more than 1,700 jobs right here in Johnston County," said Donna Bailey-Taylor, President/CEO, Johnston County Visitors Bureau. "This week, we are celebrating what travel means to
our community, and we call on everyone—from elected officials to local residents—to join us in saluting this important industry."
Here are some of the 2014 tourism impact numbers from the Economic Development Partnership of NC/VisitNC:
The travel and tourism industry directly employs more than 1,700 people in Johnston County.
Total payroll generated by the tourism industry in Johnston County was $32.24 million.
State tax revenue generated in Johnston County totaled $11.63 through state sales and excise taxes, and taxes on personal and corporate income. Approximately $5.33 million in local taxes were generated from sales and property tax revenue from travel-generated and travel-supported businesses.
"If not for the $16.96 million in state and local taxes paid by tourists visiting Johnston County, each of the 60,700 county households would pay $282 more in taxes to replace the taxes generated by tourism spending," remarked Bailey-Taylor.  "Tourism has a direct impact for all citizens of Johnston County, thanks to the many visitors traveling through the county along interstates 95, 40 and 70 choosing our destinations for accommodations, shopping, dining, meetings, recreation, and visiting area attractions. Johnston County is primarily a leisure destination and our mission at the Visitor Bureau is not only to serve visitors as they travel on to final destinations, but to create and market hotel packages, festivals, trails and special itineraries to encourage weekend leisure trips and for travelers to select our destination over our competitors." 
Leisure Travel Research from the US Travel Organization states direct spending on leisure travel by domestic and international travelers totaled $650.8 billion in 2015.  Other facts include:
Spending on leisure travel generated $99.6 billion in tax revenue.
Nearly 4 out of 5 domestic trips taken are for leisure purposes (79%).
U.S. residents logged 1.7 billion trips for leisure purposes in 2015
Top leisure travel activities for U.S. domestic travelers: (1) visiting relatives; (2) shopping; (3) visiting friends; (4) fine dining; and (5) beaches.
"I am fortunate to have worked in the travel industry in Johnston County for nearly 20 years with the Johnston County Visitors Bureau," said Bailey-Taylor. "I know tourism has benefited from direct support from the room tax, with more than $1.2 million dollars in capital grant funds dedicated to build the visitor infrastructure in the county. That's why I'm proud to work for the tourism industry and advocate for the growth of tourism in the county. We hope local residents will show off our tourism assets to their friends and family when they visit. We encourage you to take them to a local museum,
a music venue, a stop along the Beer, Wine or Shine Trail or enjoy a visit to an area farm, or their favorite BBQ spot. Tourism is important to the well-being of our communities and small business owners, and all citizens can be ambassadors for tourism."
To learn more about National Travel and Tourism Week 2016 visit the US Travel Association site.
###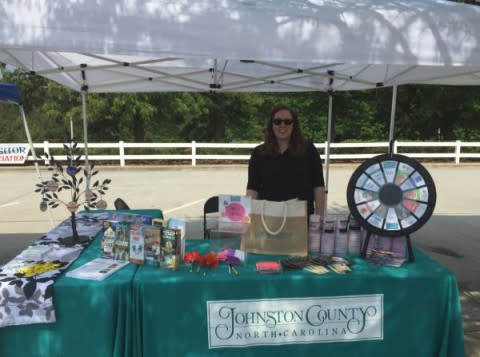 Photo caption: Sarah Campbell, Sports and Leisure Sales Manager, travels with tourism partners to I-95 Welcome Centers to promote places to stay, things to do, places to shop and local dining options for travelers.
____________________________________________________________________________________
The Johnston County Visitors Bureau is the official destination marketing organization for the entire county.  The bureau's mission is to attract and serve visitors to the county, therefore, increasing visitor spending for area tourism-related businesses.  For more information, contact Donna Bailey-Taylor at 919-989-8687, email dbtaylor@johnstoncounty.org, or visit the Johnston County Visitors Bureau website at www.johnstoncountync.org