Johnstoncountync.org Gets Makeover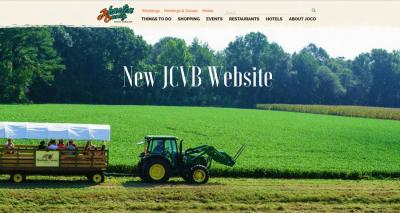 (Johnston County, NC) – The Johnston County Visitors Bureau has just completed a redesign of the johnstoncountync.org website and launched this new responsive site last week. New rotating graphics of the county's postcard designs, improved navigation, and new features the site is staged to engage users with what interests them most.
""With a new look and new attention-grabbing features, the Johnston County site is easier to navigate and more convenient for visitors and locals looking for things to do, places to eat, shopping or hotel packages," stated Donna Bailey-Taylor, Executive Director.
Johnston County is home to 34 hotels, tons of things to do, more than 250 restaurants, 100 outlets and antiques shops, and over 40 annual festivals. To help promote visitation to the county, the new website takes all of these attractions and organizes them so the information is easily accessible. This primary website for the county performs as the portal to the other micro sites the bureau manages for the towns of Benson, Four Oaks, Clayton, Kenly, Selma and Smithfield and the niche sites for festivals like the Ham & Yam Festival, Beer, Wine and Shine trail, and 301 Endless Yard Sale.
Updating the site with new features is critical to improving rankings with Google and other search engines like Bing. Some of the improved features are a new travel blog now part of the site, a Facebook feed on the home page, the event calendar API that feeds into the site and a "suggestions" module that will pop-up an article for a visitor based on their interests. For example, if a visitor to the site is reading about agritourism in the county, the site may pop-up an article about Smith's Nursery or the Tobacco Farm Life Museum. This feature will be customized throughout the site and seasonally change out suggestions for major festivals like Mule Days, Bentonville Reenactment or an upcoming performance at The Clayton Center or Paul A. Johnston Auditorium.
Johnstoncountync.org is a resource not only for visitors, but local residents wanting to stay connected to what's happening in the county or "deals around town" they may want to take advantage of. The Visitors Bureau is the official destination marketing organization for the entire county, and information on working with the bureau is also found on the site. To provide any feedback on the new design or to get a graphic logo to link your business to the site, please contact the Johnston County Visitors bureau via the website or call 919-989-8687.