Loretta Byrd
                                                                                          Benson Chamber of Commerce
                                                                                          919-894-3825
BENSON, NC (April 25, 2016) – The Southeast Tourism Society (STS) has named Benson Mule Days one of the STS Top 20 Event in the Southeast for September, 2016.
This year's festival is scheduled for September 21-25, and was submitted for consideration by the Johnston County Visitors Bureau, who is charged with promoting the county's tourism assets to attract visitors to the county.   "Benson Mule Days has been bringing visitors to the county from around the world for more than 60 years, and the largest annual event in the county is deserving of the recognition from the Southeast Tourism Society committee," stated Donna Bailey-Taylor, President/CEO of the bureau.
Mule Days, considered one of the largest festivals in North Carolina, celebrates the work of the farmer, local merchants, and, of course, the hard working mule. It marks a time of harvest and celebration for everyone who is part of the larger Benson community. The festival draws approximately 50,000 people to this charming community of 3,600 located at the crossroads of I-95 and I-40 just 30 minutes east of Raleigh NC.  Mule Days is full of family fun and activities for everyone young and old: rodeos, a mule jumping contest, arts and crafts, vendors, carnival rides, camping, parades, bluegrass shows and more.
Loretta Byrd, President of the Benson Chamber, said that the spirit of Mule Days hasn't changed much since its beginnings in 1950, " The first celebration was a few hundred participants with mule pulling contests, tobacco spitting contests, and the largest family contest. While some of the contests have changed, the Benson Chamber of Commerce continues to make Mule Days a fun, family oriented festival."  For information on this year's event, visit http://www.bensonmuledays.com to plan your visit to Benson this year.
Travel industry experts select 20 events per month, and STS publicizes them throughout the United States. The STS Top 20 Festival and Event Awards have highlighted programs around the Southeast since 1985, and Benson Mule Days will be published on two websites: EscapeToTheSoutheast.com and Travel Media Press Room.
"The Southeast Tourism Society's Top 20 Festival and Event list is an excellent guide for the Southeast's visitors and residents.  Events selected represent the best, and often most unique, activities in our region," said Bill Hardman, president and CEO of the Southeast Tourism Society. 
STS, founded in 1983 and headquartered in Atlanta, Ga., is a non-profit organization dedicated to promoting tourism to and within 12 states – Alabama, Arkansas, Florida, Georgia, Kentucky, Louisiana, Mississippi, North Carolina, South Carolina, Tennessee, Virginia and West Virginia.
###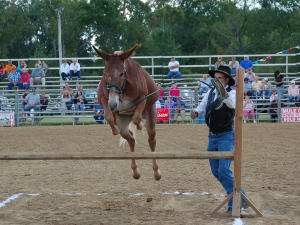 Photo Caption: A festival participant and his mule show-off in the popular and entertaining Mule Day Events.