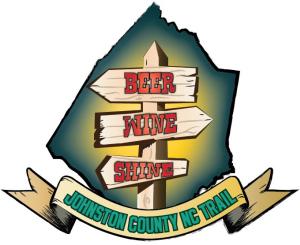 (Johnston County, NC) – After three years and over 1,000 people completing the Muscadine Heritage Wine Trail, the Johnston County Visitors Bureau has expanded the trail to include two new breweries and a distillery in the county.
In 2013, Deep River Brewing and Double Barley Brewing opened in Clayton and Smithfield as the first craft beer brewing companies in the county. Also in 2013, Gregory Vineyards began distilling moonshine to blend into a fortified brandy which is available for tasting in their winery.
"With the new breweries and 'legal' shine now available in Johnston County, we wanted to expand the trail with these new experiences and tastings," stated Donna Bailey-Taylor, Executive Director, "the new trail has more relaxed requirements and visitors will receive coupons worth $30.00 to use on return trips to the winery or brewery they loved best."
Visitors along the trail need only receive a stamp on their visit and are not required to purchase product as required before on the Muscadine Heritage Wine Trail. The wineries and breweries agreed that the main intent of the trail is to give the visitor a good experience, and gain a customer for the long term. After collecting stamps from the six stops, visitors will receive a 4 x 9 rack card with $5.00 coupons good at each location on the trail.
Participating venues are Adams Vineyards, Enoch Winery, Deep River Brewing, Double Barley Brewing, Hinnant Family Vineyard and Gregory Vineyards. Also listed on the trail for pick-your-own muscadine grapes is Myrick Vineyards near Selma, who has plans to open a winery in 2015.
Brochures promoting the Beer, Wine, and Shine Trail are available at area attractions, NC Welcome Centers and may be downloaded on the new website, beerwineshinetrail.com. Visitors and locals are encouraged to check back often to see what events are being planned at the wineries which host grape stomps, art and wine events, murder mystery dinners and pick-your-own grape seasons. The breweries also have special events, live music, food trucks, corn hole tournaments and more.
Wine and craft beer enthusiasts can join our Trail Email list for announcements of special events and news from the members of the trail, by going online to beerwineshinetrail.com.