Bentonville Battlefield

The last major battle of the Civil War, and largest land battle fought in North Carolina!
Bentonville Battlefield, a National Historic Landmark, was the site of the largest Civil War Battlefield in the state of North Carolina, fought on March 19-21, 1865.
The Battle of Bentonville, was the last full-scale action of the American Civil War in which a Confederate army was able to mount a tactical offensive against the Union Army. This major battle, the largest ever fought in North Carolina, was the only significant attempt to defeat the large Union army of Gen. William T. Sherman during its march through the Carolina's in the spring of 1865.
The Harper House (c.1850's) still stands; the home of John and Amy Harper functioned as a Union Field Hospital during the battle, as the Harper family lived in the rooms on the second floor.  Visitors to the site will discover the downstairs are furnished to interpret a functioning Civil War field hospital, while the upstairs have period domestic furnishings.
Bentonville Battlefield Pull-Offs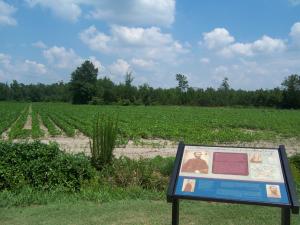 Visitors may drive throughout the rural area and stop at several Civil War Trail driving pull-offs, and walk the Confederate cemetery and union earthworks trails. The museum and visitor center offers displays and interprets many artifacts from the three-day battle.  Several events are held throughout the year from March to December, check the calendar of events listings often for the next special event. Free admission.  Gift shop on site featuring t-shirts, extensive book collection, and various items.
For the true history buff we have provided this suggested day trip itinerary, Stepping Back in Time and we invite you to explore more of Johnston County's rich heritage. 
For more information on hours, events, social media links, and video CLICK HERE.
Directions: From I-95, take Exit 90 to Hwy 701S. Travel approximately 12 miles to Harper House Road. Turn left. Bentonville will be on the left. Only the Harper House is not wheel chair accessible.