A variety of towns located along US 301 in the counties of Johnston, Halifax, Wilson, Nash, and Harnett are planning for this year's 5th Annual 301 Endless Yard Sale, taking place Friday and Saturday of June 16-17, 2017. Along the 100-mile stretch of highway, the communities join together with vendors offering deals, antiques, collectibles and more.

Organizers of the sale this year are focused on further community involvement up and down the sale to increase vendor and shopper attendance. Reports from townships and vendors who participated in last year's 301 Endless Yard Sale show that the event continues to grow. However, there are still sparse sections along the 100 plus mile event and town leaders are looking to change that. A trend organizers are hoping continues this year is the participation of non-profits and private residences. Local businesses aren't the only ones who can capitalize on sale traffic by setting-up yard sales and vendor booth spots in their parking lots and on their lawns.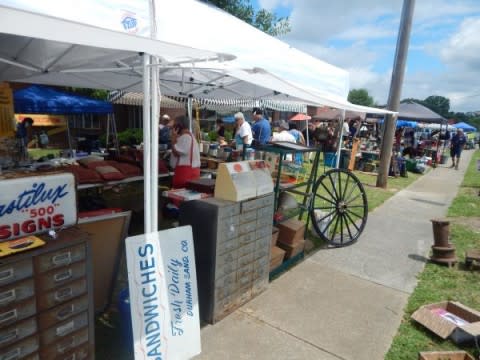 "Here in Johnston County businesses along 301 have been selling vendor spaces in their parking lots and having sidewalk sales for the last 4 years," stated Ashby Brame, who works for the Johnston County Visitors Bureau and helps organize the sale. "Where we've seen the sale grow is that now schools, like South Johnston's Booster Club, and churches have started opening their parking lots to vendors. In addition, residential stretches of country road outside the major towns that used to be blank now have more and more private residences working together with neighbors to offer very robust yard sales along 301."

The planning of this event also continues to grow in scope as participation and attendance increases. Town managers, tourism representatives, health department officials, and employees with emergency services all remain an integral part of the planning process. In addition, this year organizers hope to work with NCDOT to set-up a system along the route to track increased car volume the weekend of the sale to get the most accurate count of how many people attend the 301 Endless Yard Sale.

Preparations are underway for welcoming tons of visitors who are invited to explore the country roads of Halifax, Nash, Wilson, Johnston and Harnett Counties to look for that unique collectible along the 301 Endless Yard Sale. Towns are working on providing additional events and amenities for vendors and shoppers. Downtown Smithfield will be having a concert event Friday night the 16th. The Wilson Fairgrounds will be offering on-site spaces for vendors wishing to camp-out with their booth. Smaller towns like Micro, Lucama, Elm City, and Enfield hope to have an increased vendor showing this year.

It officially starts Friday, June 16th and runs through Saturday beginning at 7am and ending at 5pm daily. For more information on the event and contacts in each town's vendor locations, visit the official website, www.301endlessyardsale.com.