Last week we did a round-up of Fall festivals and activities coming to JoCo as the weather gets cooler. This week we'll be focusing in on one of those events that is just a few weeks away.

The town of Benson, North Carolina celebrates Benson Mule Days® the 4th Saturday of September each year. This year it will take place September 21st through the 25th.  Mule Days was also recognized by the Southeast Tourism Society this year as a September 2016 Top 20 Event. The festival is considered one of the largest festivals in North Carolina and will kick-off with a carnival, trolley rides, and concert Thursday night.

This festival, which draws approximately 50,000 people, is full of family fun and activities for everyone young and old. The weekend is packed with rodeos, a mule pulling contest, arts and crafts, vendors, street dances, carnival rides, camping, parades, bluegrass shows and more.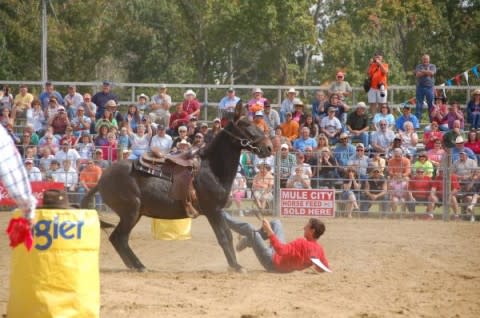 The parade alone attracts about 20,000 people and takes place Saturday, September 24th at 10:00a.m. The parade will feature bands, floats, antique tractors, and hundreds of horses, mules, and buggies. Following the parade visitors can make their way to the Singing Grove Park where a Bluegrass show is being presented.

Visit the arts and crafts vendors as well as food and commercial vendors.  It is always fun to walk into the local businesses which offer a variety of products in our area.  There are three rodeos, the first of which begins on Friday night followed by a Saturday night performance.  On Sunday there is a Youth Rodeo.

As a rural community, Benson, North Carolina has long been known for its farm heritage.  The trading of mules was one of the town's main occupations. The memories and a love for tradition led Nowell Smith and Willis McLamb to discuss with Lewis Lawrence, the first manager of the newly formed Benson Chamber of Commerce, the possibility of setting aside a day to celebrate the mule. In 1950, the Benson Area Chamber of Commerce agreed to sponsor the first Mule Days. The festival continues to be a spectacle that garners international attention. Visitors come from as far away as Alaska, Germany, and California to see and also participate in Mule Days.

For a complete schedule of this 67-year-old event visit www.bensonmuledays.com, call (919) 894-3825, or e-mail the Benson Chamber at Loretta@benson-chamber.com.