It seems a very long time ago now, actually almost seven years, since I really and truly sat down with Lynn and Paul Auclair and discussed their business Deep River Brewing Co. Known locally as Johnston County's first 'legal' brewery and known across the state as one of the best. No doubt, Paul and Lynn have been growing Deep River into a powerhouse of craft brewing with a loyal following and a consistent quality of product. 
When I asked Lynn to take a look back at some of the quotes and stats in their 2015 blog she said it was crazy to really look at the growth in such a stark way. As an employer alone Deep River has grown from a team of around 12, to 23 staff members; 18 of which are full-time. Deep River has also, as of December 2021, doubled their production capacity - the brewhouse was originally a 15 bbl (465 gal) system and they recently upgraded to a 30 bbl (930 gal) mostly automated system. In addition, they recently doubled the size of their walk-in storage cooler.
But all this growth wouldn't be possible without the passionate people who call Deep River their brewery; locals who visit the tap room regularly, clubs who meet there, and loyal customers all across the state. Most of the success of Deep River lies in Lynn and Paul's tireless work ethic and unwavering vision for Deep River. 
But it's got to be said that their volume of potential customers has also increased over the last seven years, "We are thrilled to see the immense growth in Johnston County especially in Clayton. We have met so many new people and introduced NC Beer to so many newly relocated families over the years, but especially over the past two years," said Lynn.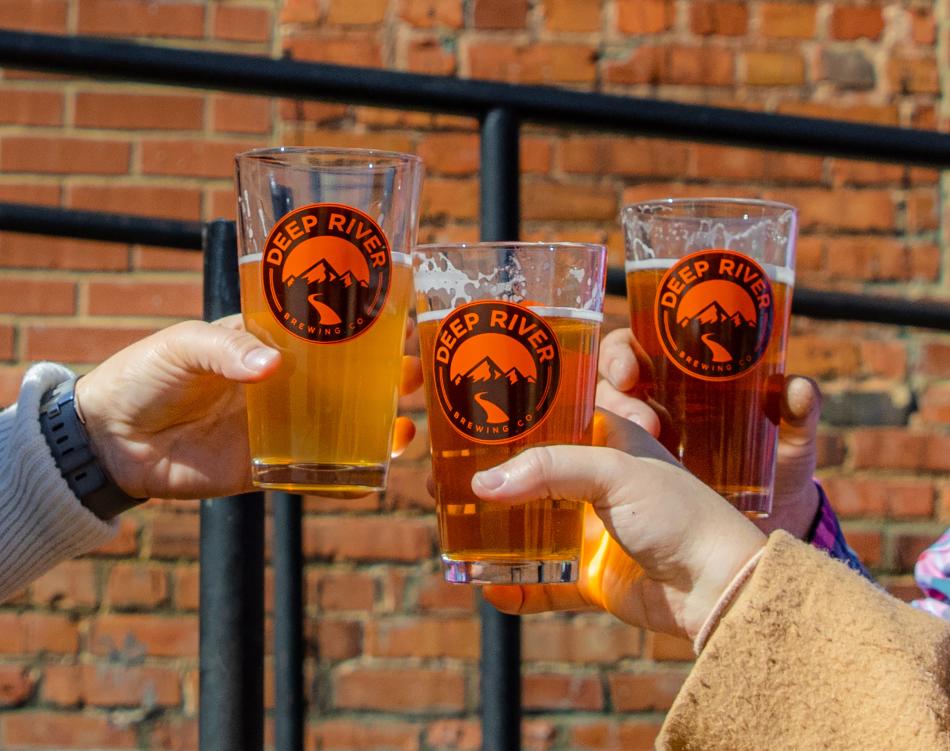 In 2014 the state had 115 breweries. It now has 380. Which means Deep River's competition has tripled. But Paul and Lynn had a vision when they opened Deep River and they've worked hard to stick to it as they grew to compete. They were both very upfront in 2015 that two big components of the business plan were 1) no investors and 2) in-house distribution. Both of these stemmed from their focus on passion over profit. 
I asked Lynn about the distribution aspect of things as they've grown, "we still self-distribute in a large portion of the state. We teamed up with Tryon Distributing, an all-craft beer distributor, back in 2018 to help bring our beer to places like Asheville, Charlotte, the Outer Banks, and Wilmington. They have done a tremendous job getting our beer into the hands of consumers on the Western and Eastern sides of the state."
That makes sense as both the back and the front of the house expands at Deep River. Taproom seating capacity expanded from 1,900 sq ft to almost 4,000 sq ft and in 2020 the bar area went from 12 taps to 24 taps - all of which are brewed in-house, no guest spots. That provides added space, and two semi-private areas to rent out for private events. Deep River also uses the new space to host Sip & Shop events, Mats & Taps yoga classes, Charcuterie Classes, Pints & Paints events, and more throughout the year.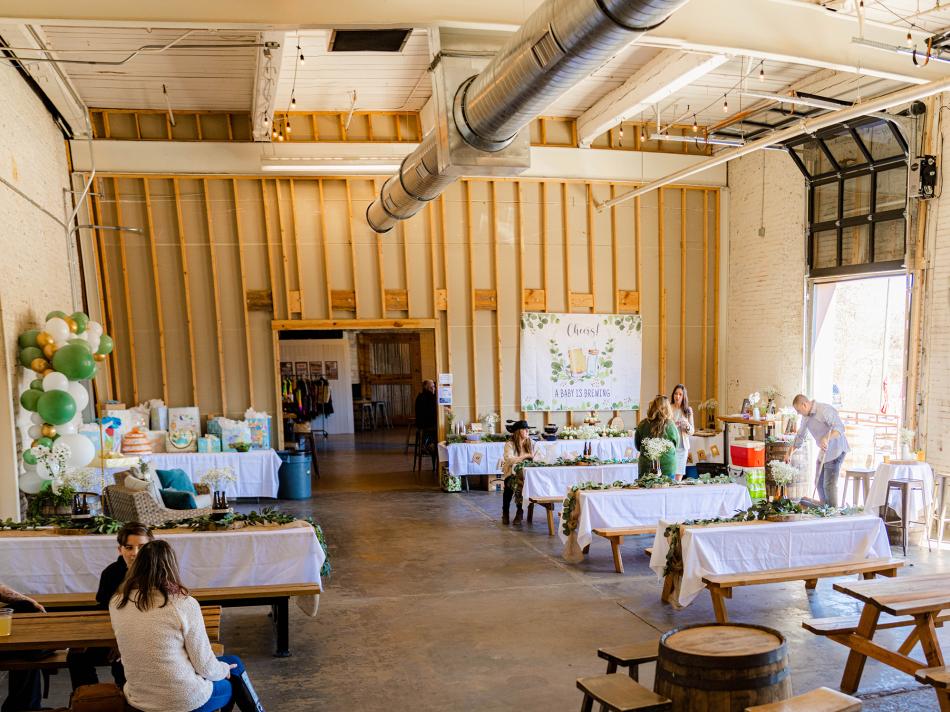 In addition to all that, Deep River recently installed a grain silo system on-site to allow them to buy their base malt in bulk which cuts cost in more ways than one. Amongst the insanity of this growth, Paul and Lynn remain friendly, approachable, and hands-on. Deep River still works diligently to make sure the focus remains on its beer, which continues to win awards and is sought-after across not just NC, but other states (stay tuned for future announcements regarding out of state sales). 
The range of brewing ability speaks for itself; just take a look at their 2022 beer release line-up and you'll see that Deep River works to mix style and flavor profiles with boldness. As Lynn puts it, "Deep River is still dedicated to making a large variety of styles of beers to appeal to the ever expanding palettes of our consumers."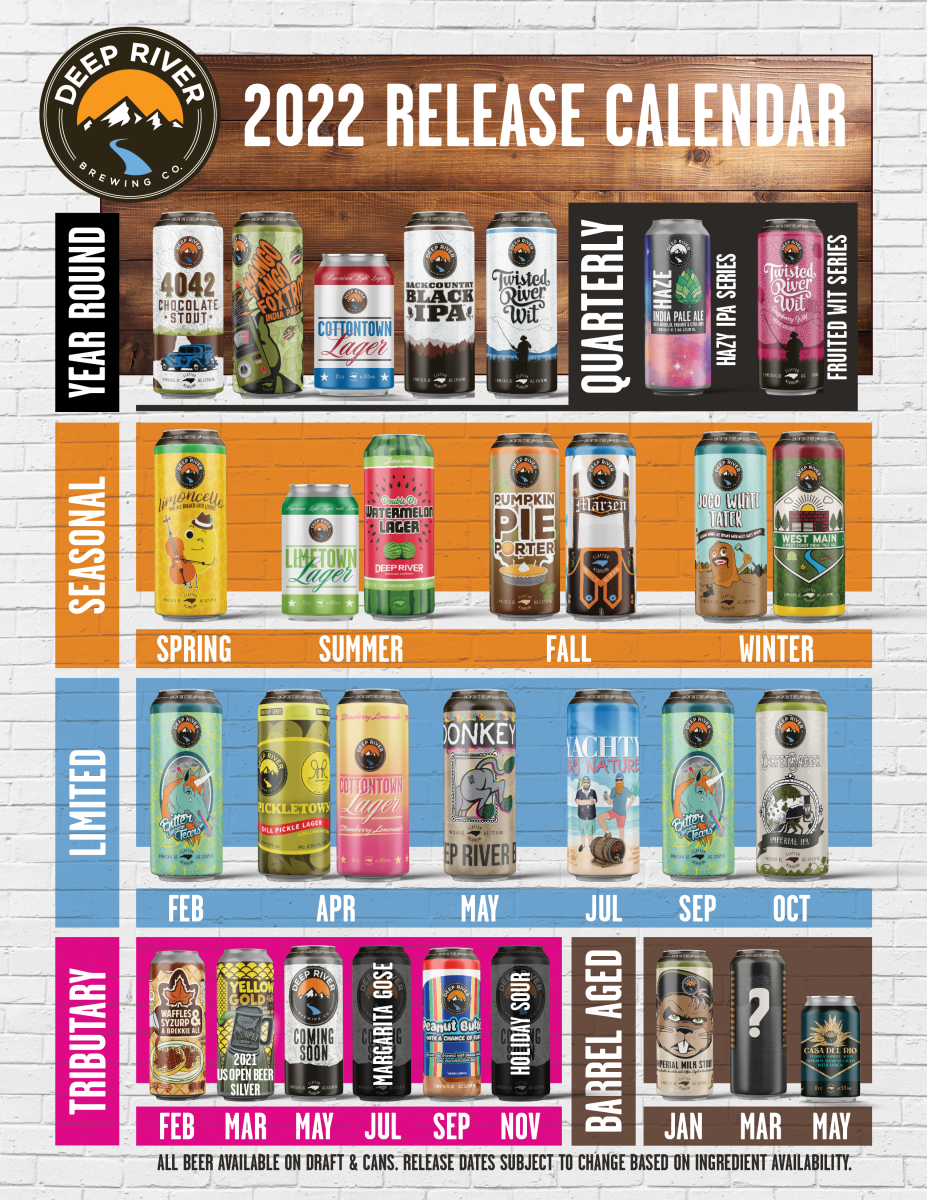 For those looking to purchase Deep River, their year-round and seasonal lineup of beers are readily available at most major grocery stores now including Lowes Foods, Food Lion, Harris Teeter, Whole Foods, Trader Joe's, Publix, and more. Their specialty beers can be found at most bottle shops around the state as well.
If you're looking to experience Deep River in person, April would be the perfect time to visit. Deep River turns nine years old on April 6th, and this year's theme is "On Cloud 9". The brewery is planning a weekend long bash April 8th-10th that includes giveaways, bands, food trucks, and a special nine year anniversary beer.
"Seeing families that once came in with babies years ago and are now coming in with 9-year-olds that want to work here some day...it's very heart warming," said Lynn. "It's probably one of our favorite parts of being a neighborhood brewery. So many customers have become good friends or what we call framily".
Deep River is also a stop along the JoCo Beer, Wine, & Shine Trail. A self-guided tour of the county's 4 breweries, 2 wineries, and 2 distilleries. Learn more about how you can explore the trail here!