Beer Here. Beer There. Beer Everywhere.

A few very wonderful circumstances come about to make NC Beer Month so amazing that it should bring a hop-filled tear to your eye. That's right, you cry beer. Or, at least, you should.

First, Spring has sprung people. Warm, sunshine hazy, blue sky breezy days turn in to deliciously cool evenings in which to sit outside on the patio of your favorite craft brewery from Murphy to Manteo sipping a cold one.

Second, North Carolina is one of the best states within which to enjoy an entire month dedicated to drinking and enjoying craft beer. There are over 160 breweries and brewpubs in this great state.

Third, brewers from these multitudes of breweries will be brewing special beers in large and small batch quantities in celebration of NC Beer Month. Just imagine, it's easy if you try, that somewhere there is a beer brewing that you've never tried and might never have again. It's waiting for you, maybe at a brewery you've never even been to. But, you can go and you can explore and you can taste it... during NC Beer Month.

What a time to be alive. Am I right?

If you caught my last blog about NC Beer Month, you already know about the amazing beer-fueled events happening in Johnston County during the month of April. And if you didn't read my last blog, flag on the play, you can read it now by clicking here. Enjoy it with a cold one.

But, because I love Johnston County beer so much. Too much? No. I want to bring you, dear readers, even more ways to taste and experience the magic that is Deep River and Double Barley. Like any super popular, highly sought-after, and well distributed brewery (I'm not braggin') you can find Deep River and Double Barley outside of the county they call home. You may even be able to find them in the county you call home *mind blown*. Below you will find all the events that both breweries will be participating in for NC Beer Month across the state of North Carolina.

And remember to like our Beer, Wine, and Shine Trail Facebook page for updates on NC Beer Month and Johnston County craft beverages. Leave me messages about how much you like my blogs, or our JoCo breweries, or just craft beer in general. I'm not picky... except when it comes to my beer.

Double Barley

April 7th - Tap Takeover at Lowe's Foods in Pinehurst

April 8th - Tap Takeover at Back Street Pub in Beaufort

April 9th - 30th Anniversary Celebration for Weeping Radish Farm Brewing
                Tasting, Neighborhood Bottle Shop with live music from Abby Davis 3pm-6pm

April 10th - 4th Annual Bull City Food and Beer Experience in Durham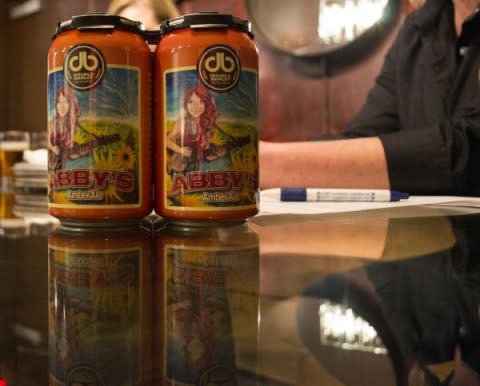 April 12th -  Joint Tap Takeover with Nickelpoint at Town Hall Burger and Beer in Durham
                   Tasting at the Hilton Garden Inn on Miami Blvd. in Durham

April 15th - Tap Takeover at Growler Grlz in Durham
                  Beer Dinner at Beaufort Grocery in Beaufort

April 20th - Tasting at Lowes Foods on Strickland Road in Raleigh

April 21st - Tap Takeover at Lowes Foods on Tryon Road in Cary

April 23rd - Brewgaloo in Downtown Raleigh

April 26th - Tasting at Bull Craft Bottle Shop in Durham

April 27th - Tap Takeover at Ultimate Ales in Mooresville

Deep River

April 7th - 5pm-7pm Sams Quik Shop Tasting and Tap Takeover Event
                6pm Mellow Mushroom Tap Takeover in Cary
                7pm Baileys Chapel Hill Brewery of the Month Tap Takeover

April 8th - 12pm-2pm Harris Teeter @ Cameron Village Free Tasting
                4:30pm Tap takeover at Lowes Foods' Beer Den in Burlington

April 9th - 5pm Tap takeover at the Chapel Hill Lowes Foods

April 12th - 5pm Fresh Market Tasting in Cary
                  6pm-8pm Beer Dinner at the Carolina Ale House in Downtown Raleigh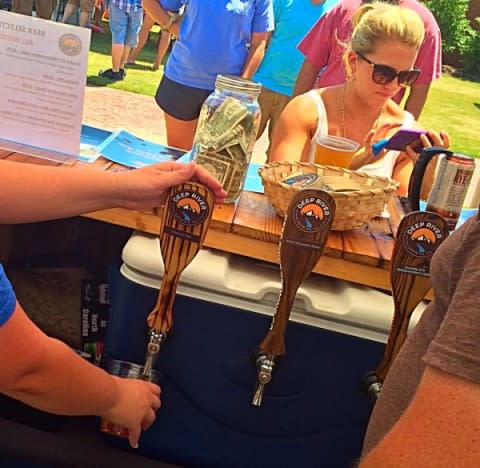 April 13th - 5pm Charlie Goodnights: Laugh Local, Drink Local Event

April 14th - 5pm Tasting at Total Wine in Durham

April 15th - 5pm-8pm Raleigh Beer Garden Tax Relief Tap Takeover
                  6pm-8pm Tasting at Total Wine on Capital Blvd in Raleigh

April 17th - 3pm Tap Takeover at the Durham Hotel Roof Top Bar
                  12pm-5pm Food Truck Rodeo at Pharmacy Beverage in Cary

April 20th - 6pm Pint Night at Tyler's Taproom in Apex

April 21st - 5pm-7pm Tasting at Southern Season's

April 22nd - 4pm-6pm Tasting at Harris Teeter Green Level Church
                   5pm-7pm Tap Takeover at Beer Dispensary in Apex
                   5pm-7pm Tap Takeover at Whole Foods in Durham

April 27th - 6pm-8pm Tap Takeover at T Mac in Cary

April 30th - 12pm-8pm Anniversary Party at Tyler's Tavern in Fuquay Varina
                  5pm-7pm Tasting at Bottle 501 in Durham