If you've been to, or heard of, Farm Fest then you know that The Farm in Selma, NC puts on one heck of a show. Last year, their first ever New Year's Eve bash was a packed-house success. This year's event will be no different. Dance and groove to the sounds of Jim Quick and Coastline. Enjoy small bites provided by Backyard Bistro catering. Cheers to the new year in style. And watch the ball drop on the big screen at midnight!

The Farm asks that you come dressed in your festive attire (no jeans please) and celebrate 2017 with wonderful music and great friends. Doors will open at 8:00PM and there will be a cash bar including beer, wine, and soft drinks.  You must be at least 18 years of age to join the party. Taxis will be available outside after the event for those that will need a ride home.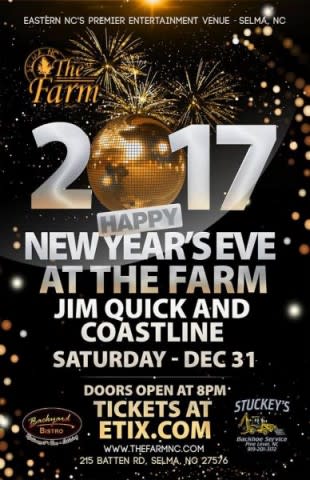 This year, the Johnston County Visitors Bureau has worked with area Smithfield hotels to offer an exclusive hotel rate for visitors that have tickets to The Farm event and need accommodations in the area. Participating hotels are located just miles from the venue and include Baymont, Best Western, Country Inn & Suites, Holidays Inn Express, Sleep Inn, and Super 8.

Trent Lassiter, General Manager at The Farm Entertainment Venue is ready to put on the event again, "We are excited to be ringing in 2017 at The Farm!  This is our second year hosting a New Year's Eve event like this and it's sure to be a good time."  

The Farm's other events like Farm Fest and Beach Fest draw hundreds of people from all around the eastern part of the state.  People are looking for unique events to attend and The Farm's packed calendar proves that Lassiter is willing and ready to offer it, "Lots of people from our area, not to mention visitors and travelers on I-95, used to have to drive over to Raleigh and other places for a NYE party such as this. But now, they can toast the new year in Johnston County with a fun night of entertainment at a great venue."

To find out more about The Farm's events and concerts throughout the year, visit their Facebook page.