Independently owned restaurants continue to grow in popularity, spurred by passionate owners and chefs who are dedicated to creating fabulous culinary experiences. Good food offered in a great atmosphere is always a win, unless you don't know the restaurant is there! That's where the Clayton Food Tour comes in.
Partnering with local restaurants and shops, the Clayton Food Tour offers patrons the opportunity to experience a wide variety of restaurants in one evening. It's more than dinner out, it makes a great date night! My husband and I joined the last tour to see what it's all about. Despite living in Clayton for 13 years and being fairly well connected to the tourism industry, we found a few local places we didn't know we'd been missing! Traveling around town by limousine, we made some new friends along the way, like a couple who recently moved here from "the other coast." 

Our tour kicked off with fresh beverages at Juice Vibes. We enjoyed the "Big Bad Wolf," a refreshing blend of carrot, orange, apple, celery and lemon juice, which was light and tangy. We also got to sample one of their most popular smoothies, "All Hale to Kale" which includes kale, pineapple, banana, raw agave, lime, and coconut milk. It's topped with coconut flakes and hemp seeds. Give kale a chance with this fabulous, healthy drink! Juice Vibes is located at 11692 US 70 Business in Clayton, across from Lowe's.
We stopped at another restaurant I've never visited, but which is quickly becoming our go-to for carryout, Sak's Deli, which opened last April. Owner, Matthew Masisak, is dedicated to exceeding customers' expectations every time, and for me, he certainly did that. We sampled many dishes at Sak's Deli, all of them delicious, but if you've not visited yet, can I recommend the #15 --- Sak's Pizza Steak with homemade marinara, mozzarella and parmesan. This sandwich is made from the same steak as their Philly Cheesesteaks with the added goodness of sauce! Flavorful steak topped with warm sauce and gooey cheese --- oh yum! Sak's Deli is located at 876 Gulley Drive behind the Clayton Starbucks. Yeah… you know where that is.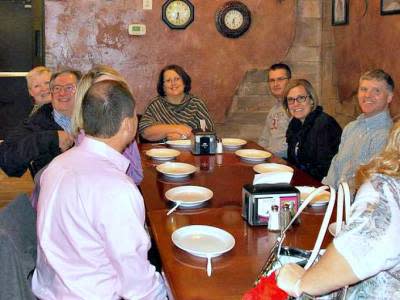 Getting to know each other at Sak's Deli
Our culinary adventure continued with stops at:
La Cucina Italiana, by the new Harris Teeter in Flower's Plantation, which has the most amazing pizza crust EVER! The restaurant has gotten 5-star ratings on every review site for good reason.
Clayton Beverage Company, at 11679 US Business 70 West near Lowe's, offers more craft beer than I knew existed… probably since I'm not a big beer drinker. The owner and staff are committed to a quality experience and offer beer on tap or by the bottle or case. For the beer connoisseur, a visit here is a great idea!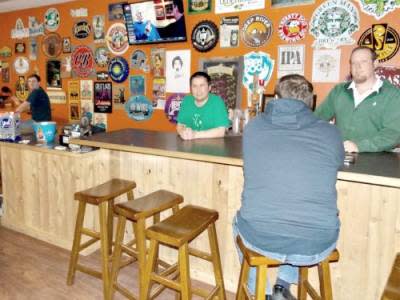 Answering questions about Craft Beer at Clayton Beverage Company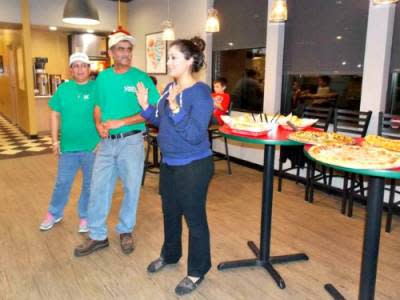 Owners and staff welcoming us to La Cucina Italiana
Of course, no culinary experience is complete without dessert, and our tour included two stops. The limo driver dropped us off at Brick & Mortar, in downtown Clayton, where we enjoyed a sampling of cheeses, homemade cannoli and other pastries with a coffee liqueur. As always, the atmosphere and food were top notch. From there, we walked up the street to Sherry's Signature Cheesecakes at 120 E. Main Street, where we enjoyed coconut cheesecake and brownie bites in the casual dining area on the main floor. From here, we said good-bye to our hosts, Cindy and Melissa, and headed home stuffed!
About Clayton Food Tours
The monthly food tours allow up to 22 participants, providing plenty of personal attention and ample opportunity to enjoy the food. While there is some restaurant overlap, each tour is designed to encourage a unique experience. Some, like ours in January, travel throughout the greater Clayton area using a local limousine service. Others are focused on downtown eateries, allowing guests to enjoy a comfortable walking tour of all this town has to offer. 
Cost: $39/person, which includes dining, transportation (as appropriate) from downtown to the dining venues, take home menus and a discount card good for one visit to each participating establishment.
Unlimited passport: $149/person, which includes 4 dining experiences and relevant transportation, priority booking, two 50% off discounts for friends or family to use, and additional discounts to use at Clayton area restaurants and businesses. 
The next food tour, scheduled for February 17, has a Valentine's Day theme.
We enjoyed the food tour, ate way too much and made new friends along the way. If you are new to Clayton or want to learn more about the culinary trend this foodie town has to offer, dinner through the Clayton Food Tour is a great way to do that! Clayton is also very close to the Raleigh area, so Clayton Food Tours would be a convenient and refreshing night out for couples or groups in the Triangle. Definitely include this on your list of Things to Do in Raleigh or the Johnston County area. Bring your appetite!