It's time for the Smithfield Ham & Yam Festival in Downtown Smithfield, scheduled for May 6th with a wealth of activities for the entire family.  For the complete schedule of events and all things Ham & Yam, visit the official visitor website for the festival, www.hamandyam.com.

Ham History

The Ham & Yam Festival is a celebration of the agricultural history of Johnston County. The area was once a rural farmland where ham producers and sweet potato growers made a living. Because of this, the focus of the festival remains food. Attendees can find many varieties of hams and yams at the festival – barbecue from the cook-off, country ham biscuits, sweet potato cheesecake pies, country ham pimento cheese, sweet potato smoothies, sweet potato lemonade, baked sweet potatoes, sweet potato funnel cake, and more! If you don't know the history of the Ham & Yam festival you should read an older, but still relevant article, by Smithfield native Emily Wallace. You can access it here. If you do know the history of the Ham & Yam festival, then you know that this will be the 33rd year.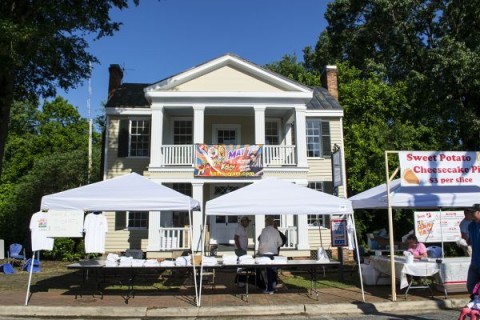 A lady doesn't divulge her age, but I will say that the Ham & Yam Festival has been going on longer than I've been alive, which means the Ham & Yam festival has been a staple of my life as a Johnston County native. I can see in my interest and anticipation for the festival how I've aged over the years. As a child, my joy in attending the festival was an impending glee regarding what wonders I could persuade my mother to buy me: sand art, a princess ribbon crown, possibly something I could have monogramed. As an adult, I take pleasure in a slow perusal of the vendors, looking for locally-crafted things I could use in my house: oh, look, handmade kitchen towels… I'll take 8, thanks. Growing up has some hard truths to it. Maybe this year I'll buy a flowing, sparkly ribbon crown just to prove a point to myself.


Family Fun in the Triangle

Ham & Yam is also about arts and entertainment. There are craft vendors, as well as games and rides, a 5K race, a What's That Yam Thing? Contest, pig races, and more. Three stages include performances throughout the day.
See you soon in Downtown Smithfield! conveniently located near I-95 and Highway 70, just 30 minutes from downtown Raleigh.
Save