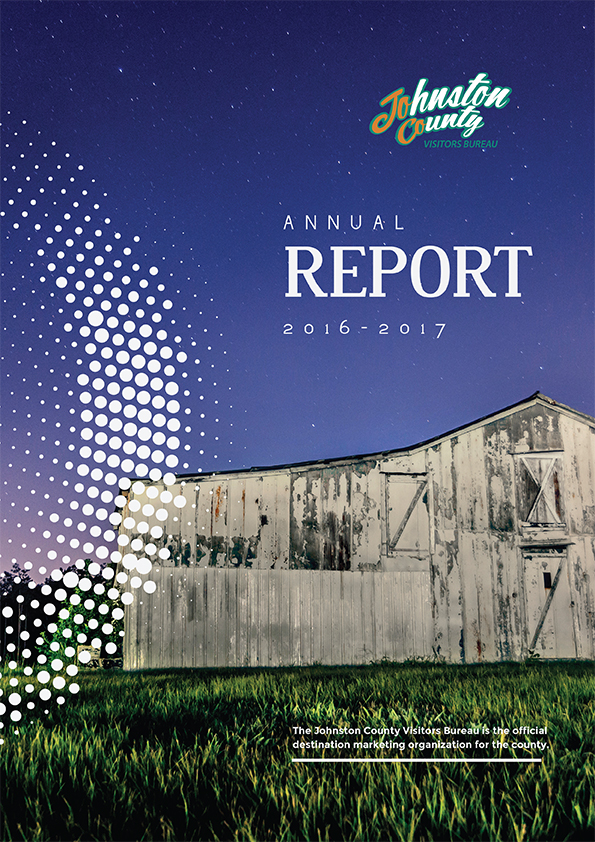 As the Holidays arrive and we all ready ourselves for shopping, baking, and enjoying family and friends, the staff of the Johnston County Visitors Bureau is reflecting on last year's highlights.  We have reviewed our visitor spending numbers from the VisitNC team, and note that revenues continue to rise as visitors from near and far leave behind dollars in our local economy. To learn more - Click on the image to download our Annual Report.
We have much to be thankful for in Johnston County -- we are blessed to have a healthy visitor industry that is growing! And here at the bureau, we greatly enjoy the tourism industry partners that engage with us making our marketing programs beneficial to all.  We believe that by marketing together we are stronger than our individual efforts. So here is to an outstanding 2017 that is nearly behind us, and to an even more fruitful 2018.
In 2018, we will embark on a new data research project on our visitors to streamline and boost our marketing efforts. Our primary challenge is to provide the most efficient marketing messages that engages the potential visitor to buy our product -- which is Johnston County.  The key to successful campaigns is to deliver the right message to the most appropriate customer and at the right time. If you are interested in learning more about this research and even more about the Visitors Bureau, feel free to give us a call at 919-989-8687. 
Please tag us on your social media efforts with #VisitJoCo - Happy Holidays to all!