Staff looks back but plans for the future
The 2018-19 Johnston County Visitors Bureau (JCVB) Annual Report is now available online for review of the activities of the visitors bureau.  The report features information on destination development projects, publicity campaigns, and sales and marketing highlights conducted by the staff, as well as, a financial review of revenues and expenditures. This year's report also includes a one-page update on the 2% tourism funds for the Towns of Benson, Kenly, Selma and Smithfield. The following link is available for public access: JCVB Annual Report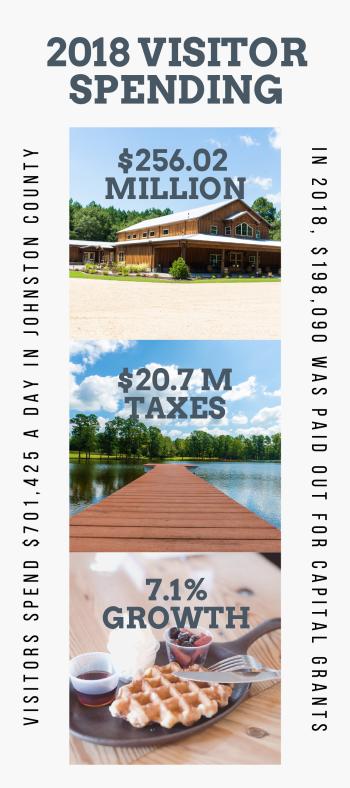 "Tourism marketing dollars are generated by visitors staying in area hotels, and mandated by legislation these dollars must be invested in marketing the county and tourism-related development projects", stated Donna Bailey-Taylor, President of the Visitors Bureau. "In 2018, visitor spending by domestic travelers was $256 million, which was a 7.1% increase over 2017, the 3rd highest increase among North Carolina counties."
In 2019, the Visitors Bureau invested in a Strategic Plan to lead the county's tourism marketing efforts and development for the next three years.  The Tourism Authority board of directors recognized the need for staff to remain involved and even sometimes spearhead projects around the county as tremendous growth continues and the county's population is projected to reach 250,000 in the next ten years. 
"We are aware of many tourism development projects being discussed throughout the county, from Archer Lodge to Princeton and all points in-between.  The Tourism Authority board awards capital grants to help fund these projects for the betterment of our communities, which benefits residents as well as offers new experiences for visitors," noted Bailey-Taylor.  "We know new hotels are on the horizon, improvements to parks and recreation facilities are being discussed, when completed the Mountains to the Sea Trail will connect Clayton to Smithfield, public art projects will bring color and culture to our towns, and the new Eastfield Crossing development in Selma will have a huge impact on Johnston County over the next 5-10 years."
Beyond just being a marketing agency, the bureau looks ahead to what may disturb or influence change for tourism in the county. The Visitors Bureau team will be developing campaigns to mediate the impact of road construction on local businesses, and the disruption facing visitors trying to navigate orange cones along US 70 (future I-42), I-95, and I-40.  Also important to the landscape of the county is the impact of growth on our agricultural community.  Agritourism and on-farm experiences celebrate our heritage which is a key element to maintain as growth spreads in the county.  The bureau will use more direct messaging about each of these issues in 2020, with email campaigns to residents.
The Johnston County Visitors Bureau is the official destination marketing organization representing visitor industry businesses across the county.  For information on working with the Visitors Bureau's many programs, applying for Matching Marketing Grants or Capital Grants, or to place listings or events on the website, visit www.johnstoncountync.org/about or call 919-989-8687.