The staff of the Johnston County Visitors Bureau prepares a financial overview for the County Commissioners as each fiscal year is completed. A presentation is made on the year's accomplishments and the bureau's future goals for growing tourism in the county. The following report is for the FY 2021-22 and we welcome any questions or requests for additional information. Our year was a "recovery" year for hotels and the county tourism partners continue to face challenges with a looming recession, high gas prices, supply chain issues, and workforce recruitment.

Most of all we continued to stress that we're all in this together - and we will be an advocate for our partners and always be their biggest cheerleader! The following link is available for public access: JCVB Annual Report.

This year's Annual Report, as in past years, will include the numbers and highlights, but will provide educational content for residents and the tourism-related businesses in Johnston County on how the Visitors Bureau works on behalf of the county. Being in my job for over 25 years, it occurred to me recently, that I can not assume new business owners, residents, and community leaders know who we are, what we do, and why tourism is an important economic development sector for the county. Tourism marketing campaigns launched by the Bureau invites visitors to experience our attractions, stay in our hotels, shop and dine with our partners, explore our unique downtowns, attend our festivals, and the result is these visitors bring new revenues to the county as visitor spending.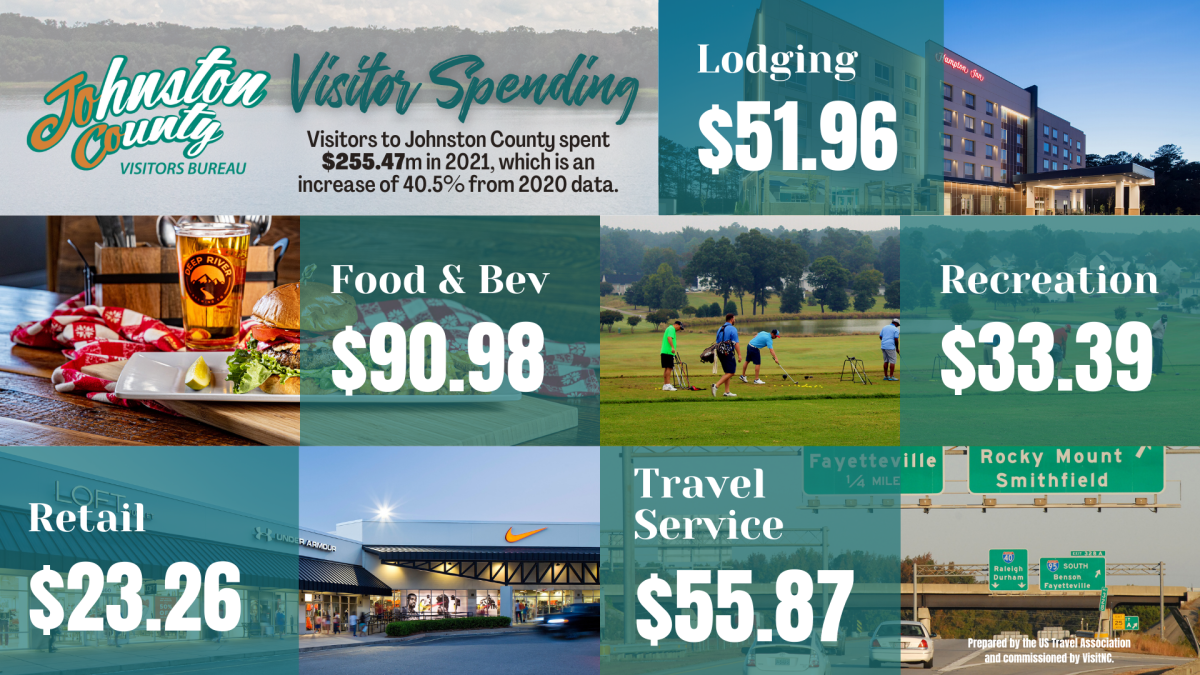 In 2021, visitors to Johnston County spent $255.47 million, which was an increase of 40.5% from 2020 spending. Breaking it down, that equates to visitors spending nearly $700,000 a day in our county on lodging, dining, attractions, recreation, retail shopping, and travel services. The visitor spending study, commissioned by Visit NC and conducted by Tourism Economics in collaboration with the U.S. Travel Association, provides preliminary estimates of domestic and international traveler expenditures as well as employment, payroll income, and state and local tax revenues directly generated by these expenditures. The statistical model draws on detailed data from VisitNC as well as data derived from federal and state government sources, nationally known private and non-profit travel organizations, and other travel industry sources.

The study suggested strong recovery was seen statewide compared to 2020 with visitor spending across the state up 45 percent. Each of the state's 100 counties experienced increases in spending from 2020 to 2021. Tourism spending generated $11.7m in state tax and $9m in local tax receipts to the county's general fund. Taxes saved per Johnston County resident are $92.34. More than 2,000 people are employed in tourism sector jobs, with an annual payroll of $65.9m.

We invite you to sign up for our "Tourism Does That?!" newsletter, which is sent out to share what's happening with the bureau each and every month. It's a new tool and very informative! The Johnston County Visitors Bureau is the official destination marketing organization representing visitor industry businesses across the county.  For information on working with the Visitors Bureau's many programs, applying for Matching Marketing Grants or Capital Grants, or to place listings or events on the website, visit www.johnstoncountync.org/about or call 919-989-8687.