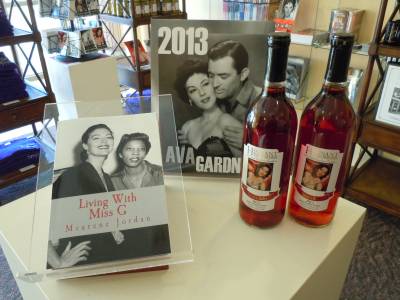 The holiday season is approaching quickly, which means the stress and hassle of finding the perfect gift for family members and friends. The Ava Gardner Museum, located in Downtown Smithfield, is the ideal place to find unique and affordable gifts.

"Ava Gardner was born on Christmas Eve, 1922 in eastern Johnston County just seven miles east of Smithfield.  Ava showered gifts on her nieces and nephews from around the world and she loved the holidays", stated Todd Johnson, Museum Director. "We always stock up during the holidays for shoppers looking for that unique item to give."
Holiday gifts at the Ava Gardner Museum feature the book Living with Miss G, the 2013 Ava Gardner calendar, and "Santa's Baby" wine from Hinnant Family Vineyards.
The gift shop at the Ava Gardner Museum has many "stocking stuffer" gift options to choose from including T-shirts, Christmas ornaments, and movies featuring Gardner. There are three new items featured this year: Living with Miss G, the book written about Gardner by her personal assistant, the 2013 Ava Gardner Calendar, and a special Hinnant Vineyards holiday wine with Gardner featured on the label.

Gardner's personal assistant, Mearene "Rene" Jordan, writes about first-hand adventures she had with Gardner. It was a major draw during the Ava Gardner Festival this year and is a must-read for classic movie enthusiasts.  Price for the book is $20.00.

The 2013 Ava Gardner Calendar has 13 rare photos of Ava Gardner, including many with Gregory Peck from films they starred in together and from their private lives, with trivia and facts about Gardner's life and career scattered amongst the days of the year. The calendar is offered for $10.00.

Every year Hinnant Family Vineyards creates a special holiday wine and this year's wine, "Santa's Baby," is a Red Table Wine named in honor of Ava's birthday. The bottle showcases a photo of Ava Gardner on the front label and a recipe for Hinnant Holiday Cider on the back label.  Cost for the specialty wine is $10.00.

All three items may be bought at the Ava Gardner Museum and the wine, of course, at Hinnant Family Vineyards. If you can't make a trip to their gift shops, then shop online at www.avagardner.org or www.hinnantvineyards.com For more information about the museum or holiday shopping items call 919-934-5830.

The Ava Gardner Museum is located in Historic Downtown Smithfield at 325 E. Market St., and the museum is open Monday-Saturday, 9-5pm and Sunday 2-5pm.  Admission is $7.00 for adults and $6.00 for seniors, military and students, $5.00 for children.