Chef Scott Crawford has officially opened the doors to Crawford Cookshop – located at 401 Main Street in burgeoning downtown Clayton – his most casual restaurant to-date. Crawford Cookshop celebrates simple, delicious "Americana" style food from a wood-fired grill – with signature Crawford style.

"Crawford Cookshop is the silver lining that came out of pandemic; we're excited to now have a home for the comfort foods we love cooking and eating, in a setting that's ideal for families and groups to enjoy weekly, in the heart of this charming Clayton community," explained Scott Crawford. Visit the site here.

Crawford tapped North Carolina native Chef Bryan Slattery to lead Crawford Cookshop as Chef de Cuisine. "Chef Slattery is a consummate professional with a knowledge and curiosity for modern American cooking -- making him a perfect fit for this fun, casual concept rooted in the seasons, around wood-fired grill."

Slattery, a Culinary Institute of America graduate and former Crawford mentee at the Forbes 5-star Cloister at Sea Island in Georgia, recently served with Michelin star-rated Chef Brandon Sharp at Carolina Inns' Crossroads Chapel Hill, honed his butchery skills at Carolina Butcher Shop in Angier, and his barbecue techniques in his backyard with his father over the past two decades. "I couldn't be more excited to join my former mentor Scott Crawford, now with the opportunity to lead his kitchen at Crawford Cookshop. Our food is delicious, fun and has integrity – which feels very at home here in Clayton," said Slattery.
The Menu

Begin with snacks at Crawford Cookshop – like Pimento Cheese on brioche toast, house made pork rinds with caramelized onion dip and spicy boiled peanut hummus. Or choose from wings three ways – smoked chicken wings with Alabama Sauce, fried hot chicken wings with fermented chili or grilled duck wings with hot honey, brown butter and peanuts.

Appetizers deliver bold flavors too – like grilled oysters with chorizo butter & sourdough crumbs, saucy pork ribs, and beef tartare with potato chips.

Salads will be big and plentiful, and always feature what's in season. Try local lettuces with Green Goddess Dressing and Ricotta Salata or Caesar with grilled romaine hearts, and add smoked trout salad, grilled chicken or beef short ribs to make it meal.

Crawford's house-ground and wood-fired Burgers – "classic" and "premiere" – will be on the menu every day, alongside sandwiches like his Crispy Catfish Sandwich with pickled okra tartare sauce.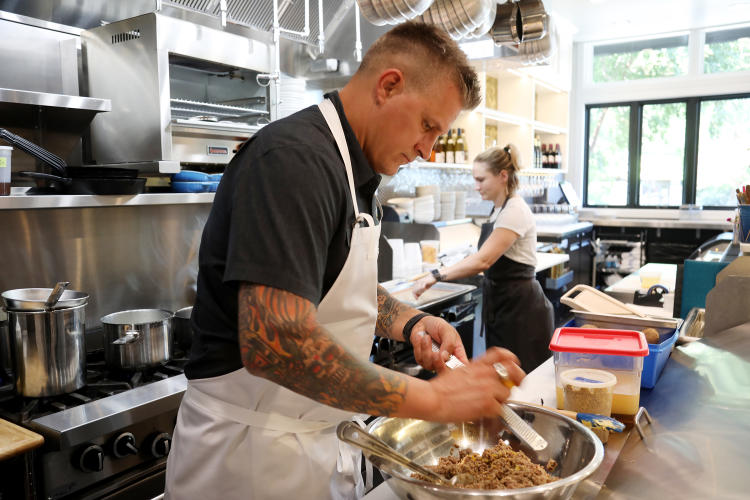 Credit: Juli Leonard

Guests will also choose from a selection of hearty entrees, ranging from wood roasted trout, roast chicken, venison meatloaf and grilled Brasstown Ribeye – each composed with savory sides like mushroom bread pudding, smoked potato puree and creamed collard greens. And weekly specials – Crawford's Fried Chicken on Thursdays and Smoked Prime Rib on Fridays – will begin in the new year.

Pies, puddings and ice creams complete the experience – including Chocolate Buttermilk Pie, warm Bread Pudding with salted caramel ice cream, and soft serve ice cream sundaes – and have signature Scott Crawford style as well, with candied peanuts, macadamia crumble and maple-bourbon sauce.

Don't miss the hyper local draft beer list, approachable wine list and classic cocktails from Crawford & Son's seasoned bar man, Jordan Joseph.
The Location

"I'm pleased to be working with the Atlas Stark team on the building, and again with Louis Cherry Architecture on the interior and exterior design," explained Crawford.

Set in a charming 1904 building in the center of main street in downtown Clayton, Louis Cherry Architecture designed Crawford Cookshop in the hallmark Crawford Hospitality style – minimalist, in tones of gray, with sleek seating and hidden lighting. With flexible seating for 76 indoors and 40 outdoors, Crawford Cookshop's bright and airy floor plan, with a large U-shaped bar for 12 and garage doors fully open to the covered patio with fireplace, make it comfortable and accommodating for any season, and any occasion.

In the last few years many of JoCo's downtown areas have seen a renaissance born from entrepreneurial spirit from both long-time locals and newer residents leading to a boom in businesses along main streets in Benson, Smithfield, and Selma. But Clayton has been ahead of the curve with a downtown area boosting multiple unique restaurants, a brewery, a vintage cocktail lounge, a cupcake bakery, multiple local retail stores, and even a robust weekend farmer's market and community garden. So, it's no surprise that Crawford looked to Clayton for his third Triangle-area venture. JoCo is happy to have him and we're excited to welcome his team into the community!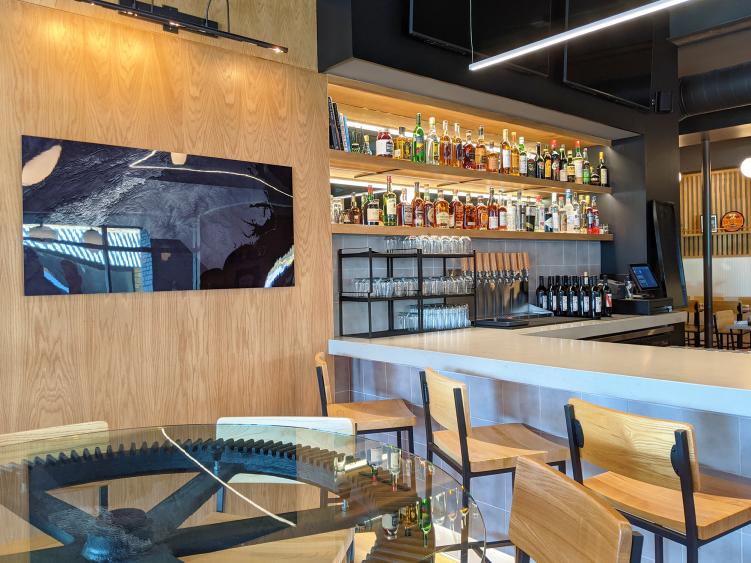 Scott Crawford is the Chef/Owner of award-winning Crawford and Son and Jolie in Raleigh, NC.  A five-time James Beard Foundation semifinalist for "Best Chef: Southeast," Crawford earned the coveted Forbes Five-Star award at three properties prior to introducing Crawford Hospitality, and has earned accolades such as Esquire "Best New Restaurant," Newsweek's "101 Best Places to Eat in the World," Triangle Business Journal's "CEO of the Year" and the News & Observer's "Restaurant of the Year." 

His leadership extends beyond the kitchen; he serves on the Honorary Committee of Healing Transitions – a place for recovery in downtown Raleigh, on The Sunday Supper board, and was the Founder of the Ben's Friends Raleigh chapter, and is committed to cultivating a healthy work-life balance in the culinary industry, and mentoring food and beverage professionals.

Crawford Cookshop will be open Tuesday-Saturday from 5PM to 10PM, reservations are available through their website. Parking is available in the lot next door, and on Main Street.

In the new year, look for Saturday and Sunday brunch, and lunch in the future. Dishes are designed for dine-in, take-out and delivery, with a twenty-mile delivery radius, and can be ordered online.  (Online ordering will begin in new year.)


Follow Chef Scott Crawford on Instagram @ChefScottCrawford, on Twitter @chefcrawford, and on Facebook at Scott Crawford. Stay tuned for Chef Crawford to share social media handles for Crawford Cookshop specifically in the coming month! The VisitJoCo team will also be sharing news and updates as they are made available on our social media on Instagram @VisitJoCo, on Twitter @JoCoTourism, and on Facebook at JoCo Visitors Bureau.