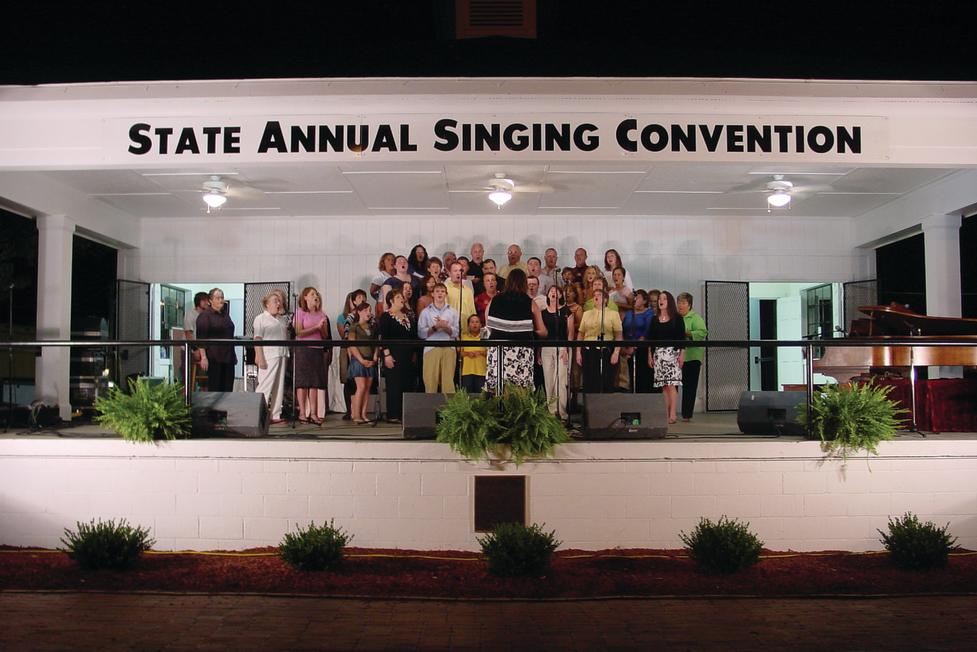 Almost 100 Years of Song

According to their website, "The State Annual Singing Convention, which brings thousands of people to Benson each year, began modestly in a tobacco warehouse in 1921. About 200 people listened to two choirs that day. Since that time, the State Annual Singing Convention has grown and become one of the largest and oldest gospel sings in the United States."

The almost 100 year old event attracts participants and spectators from all over the southeast. It is a force that can't be stopped. In fact, in 1943, during World War II, the organizers decided to cancel the competition. However, after notices were placed around the state in area newspapers and sent to area churches over 3,000 people showed up on the fourth weekend in June. Organizers proceeded with the competition to entertain the faithful followers of the Sing. You can visit the Benson Museum of Local History to learn more interesting facts like that one and the long history of the singing convention.
 


BYOLC - Bring Your Own Lawn Chair

This year's convention, nicknamed the Benson Sing, is expecting over 50 amateur, semi-professional and professional competitors. The ninety-eighth State Annual Singing Convention will be held Friday, June 22nd through Sunday, June 24th in the Singing Grove, a beautiful city park at 400 East Main Street in Benson, North Carolina. No admission is charged, and people are encouraged to bring a lawn chair to sit and enjoy the music.

On Friday, the following groups will each present thirty minute concerts starting at 7pm: The Josh Harris Family, Full Reliance, The Shockey Family, Crimson Cross, The Horrell Family, Tate and Marthieah.

On Saturday, national recording artist The Martins (pictured below) will be featured in a special concert at 7pm with The Ferguson Family opening at 6:30pm. Many other talented semi-professional and amateur groups will appear during the weekend.


Sing Your Heart Out - How to Participate

As customary, informal (round robin) singing begins at 10am on Saturday and Sunday and continues daily with only two exceptions: (1) during group competition and (2) during the special concerts. All groups are welcome and encouraged to sing in the contests. People are welcome to come out and watch at any time. On Saturday and Sunday competing junior and senior group categories include duets, trios, quartets, families, church choirs, juniors, and live accompaniment and begin both days at 2pm. In addition, the Convention is introducing a Bluegrass Gospel category into its lineup this year on Saturday and Sunday.

Groups singing in competition are asked to fill out a registration form in the office in the Singing Grove by 1pm each day. There is no online registration this year. Please call, fax, or email if you have questions. There are no solos due to time restraints. There is no entry fee to compete in the contests.

More Information on The Sing

The State Annual Singing Convention, Inc. website, www.gospelsingingconvention.org, has important information for 2018. You can also visit them on Facebook at State Annual Singing Convention – Benson Sing. Please call (919)-894-4389, or send an email to info@gospelsingingconvention.org or danny@neighborsassociates.com for additional information.

If you're interested in more summer events, shows, and concerts in the Johnston County area, visit johnstoncountyevents.com.