The 22-23 Annual Clayton Sculpture Trail has been turned into an easy-to-navigate map on our website. Find it below. Each location has the name of the sculpture and the artist listed on the map. The Clayton Sculpture Trail changes every year and is a free self-guided art trail that extends through Downtown Clayton and beyond.

Public consumption of art and beautification are the driving factors behind the trail which is organized by the Public Art Advisory Board selection committee comprised of local artists, residents, business owners, elected officials, civic leaders, and town staff. The Clayton Public Art Advisory Board received more than 80 applications from across the country for this year's trail. These applications were boiled down and only twelve sculptures from North Carolina, Florida, Georgia, New York, and Pennsylvania were chosen during the final selection process.

"Ask yourself, what do these pieces do for the Town?" said Public Art Advisory Board Chair, Sara Perricone. "It says something about Clayton, that artists from across the country want to bring their pieces to our Downtown. It elevates our Town to a new level."
 

This year's trail includes 12 works by artists from North Carolina, Florida, Georgia, New York, and Pennsylvania. Each sculpture is accompanied by a plaque on which you will find a QR code; scan the code for access to a video via your smartphone and learn more about each piece and its artist as you stand with the sculpture - just like the video above. It's like a large outdoor art museum.

Floramingo by Joni Youngkins-Herzog is an expression of storytelling and cultural influences. The piece is inspired by Florida and the flora, fauna, people, and things you can find there. This sculpture, located in Horne Square, is a pop of color that is steeped in rich details. The leg is constructed out of buoys and covered in lottery tickets and pennies that Joni collected during her time in Florida.

Glenn Zweygardt, the artist behind Town Square's Malachite Voyager shared insight into the personal, historic, and international influences that brought his piece to life. The ruby-tinted "eye" of Malachite Voyager is a rare glass originally used in railroad stop lights that was developed in the 1920s in Corning, New York.

Zweygardt was also one of two Americans invited to Jingdezhen Institute in China, in 2001, to create international work. While there, the sculptor bought and imported two tons of Malachite, the rich green mineral rock you can see in the sculpture.

"This sculpture is an international and national example of what you can do with technique, knowledge, application, and creation," said Zweygardt.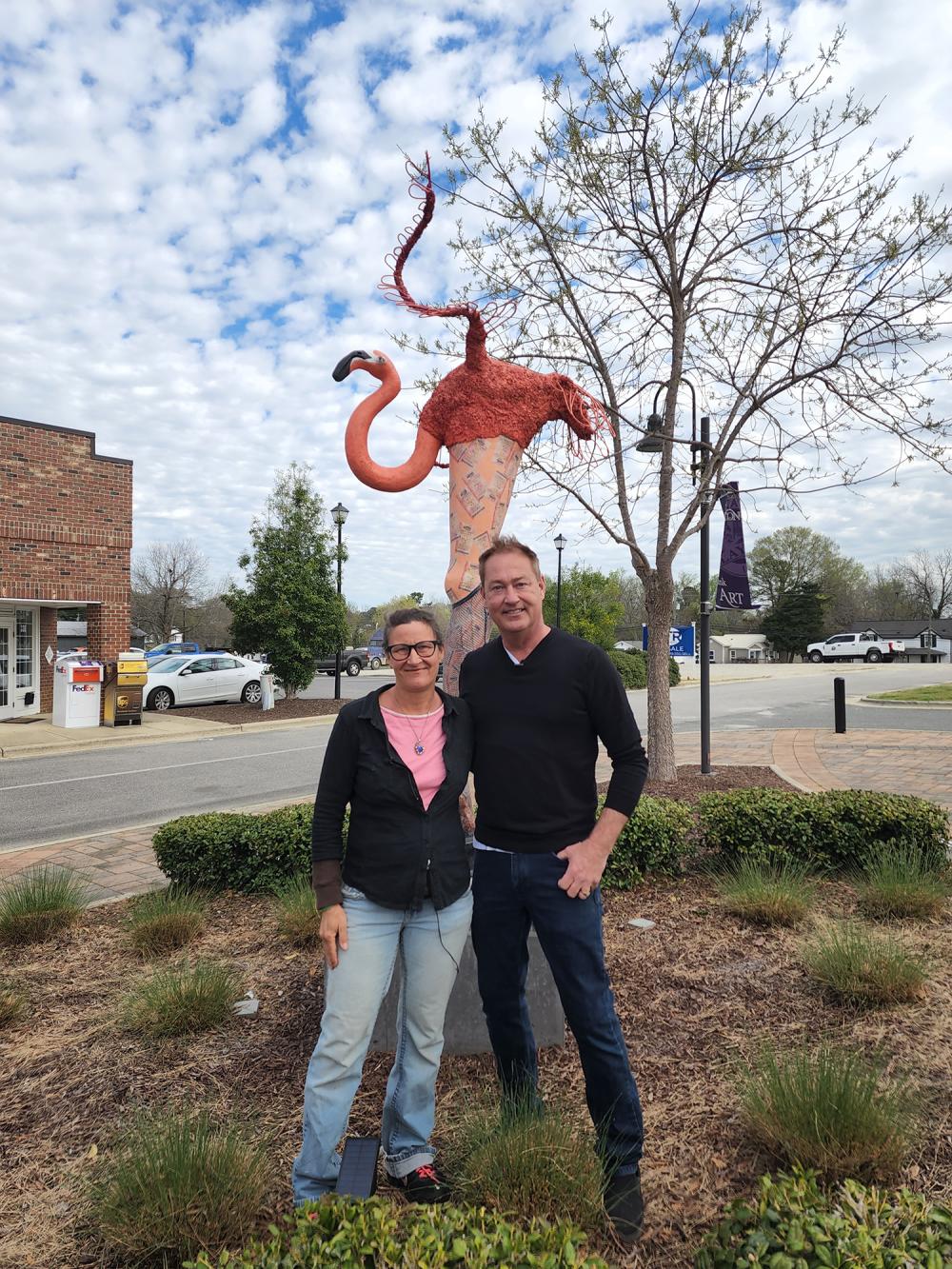 The Sculpture Trail's nationwide reach is partly due to Jim Davis, who was hired by the Public Art Advisory Board in 2020. Davis worked to connect the Town with innovative artists who would bring diversity to the Sculpture Trail candidate pool. With Davis's connections, the Town has cultivated an artistic reputation and is known as a community that welcomes artists from all backgrounds.

Each year, the Public Art Advisory Board nominates seven to nine individuals to form a selection committee representing the Town Council, the Chamber of Commerce, Downtown business owners, and Clayton residents. The selection committee is then encouraged to choose sculptures that create a sense of discovery and surprise and bring life and movement to the Downtown landscape. Kinetic devices, dynamic shapes, and bright colors are designated desirable attributes.

While this program continues to grow, the Public Art Advisory Board upholds its deep affinity for North Carolina artists. The board will always ensure local sculptures are featured on the sculpture trail.

Use the map below to take the trail and see some of this stunning art for yourself!