**Note: Johnston County Hams is closed, but Lady Edison products are still available**
I was going to start this blog off with the phrase, "can you think of anything more southern than ham?". But then I started to think about sweet tea, pecan pie, fireflies, and moonshine. So, I took a step back. The history of ham reverberates back in time to an era and place far from the American South. There is no denying however, that the South has a tradition of taking the pig and making it our own. One first thinks of barbecue. I'm going to talk about curing.

Master of the Cure

Let's begin by understanding the difference between curing meats and being a Curemaster, like Rufus Brown from Johnston County Hams in Smithfield, NC. According to the website Johnston County Hams are the epitome of a very Southern tradition. Our hams are the result of a traditional curing process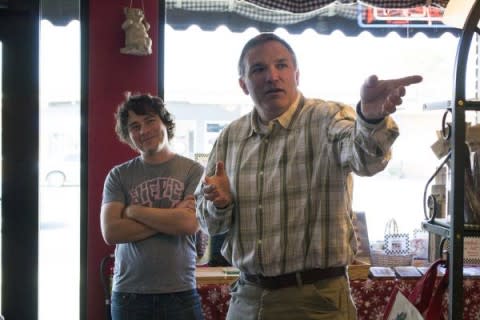 developed, perfected and handed down from generation to generation for hundreds of years dating back to the first American colonists. While many understood the process, and curing meats was a widely used practice, a few curemasters were able to fine tune their recipes, practices and techniques to a point of pure mastery.

It is this mastery that southerners are so proud of and the reason that ham finds itself at the center of our family dinners and cherished recipes. This tradition and taste is honored at events like the Ham & Yam Festival, held every May in downtown Smithfield. Johnston County Hams was started in 1946 but began receiving national attention in the late 60's. Curemaster Jesse Brown refined the curing process down to a science, consistently producing a finely aged, delicate, not-too-salty cured ham. His son, Rufus Brown carries on the cure legacy at Johnston County Hams.

And now, a partnership between Rufus Brown and Sam Suchoff is poised to usher in a new era of high quality and delicious pork. The product is called Lady Edison and she is the Hoofed Temptress of North Carolina. It sounds sexy, intriguing, exciting. It sounds like it goes great with red wine. Since you already know Rufus and his incomparable background in curing, you should know that Sam runs The Pig restaurant in Chapel Hill, NC. As Sam tells it, "I first met Rufus 7 years ago when I called up Johnston County Hams to see if they would cure out some hams for a friend of mine.  He's been my ham guy ever since!" An instant camaraderie.

A Savory Product. A Sustainable Idea.

Lady Edison is a labor of love and a product whose quality is based on patience and time. Sam uses his contacts as a barbecue restaurant owner to partner with hog farmers that sustainably raise hogs and are members of the North Carolina Natural Hog Growers Association. This means that the pigs are raised on open pastures without the use of antibiotics or added hormones. The reason the partnership works so well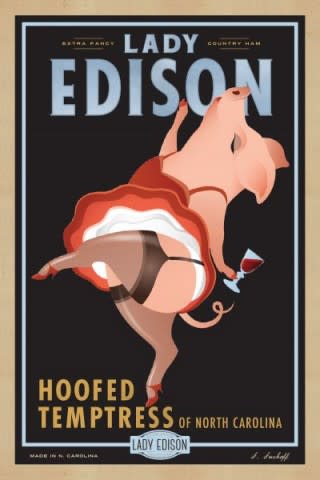 is that every part of the pig is utilized. Hogs are purchased whole by Sam and then processed at Acre Station Meat Farm (locally owned and operated in the eastern part of the state). Sam then takes the bacon, barbecue, and other useful parts for his restaurant, while Rufus takes the hams to his ham shop in Johnston County to start the process of making Lady Edison. Before I discuss the process, it may be helpful to explain to those not in-the-know that pork curing is also called putting-up or hanging hams. This is because the curing process demands that hams are literally hung in the air to cure.

According to Sam and Rufus the process involves the hams being hand rubbed with a dry blend of sea salt and sugar... and held at near freezing temperatures for 40 days. These "winter days" allow the cure to penetrate the meat as it extracts moisture. The hams are then rinsed and hung at spring-like temperatures with a "steady breeze" that facilitates the equal penetration of salt throughout the ham and removes excess moisture. Next, the hams are hung in the smokehouse and exposed to a light hickory smoke—imparting signature flavor before the final aging process begins. This final stage of maturation occurs in a warm and semi-humid aging room where the hams hang over hickory sawdust. It's these conditions under which the ham really comes into its own.

Lady Edison is a savory pork experience, more buttery than salty. It's comparable to its Spanish counterparts and the serving recommendation is thinly sliced and raw like prosciutto. Rufus and Sam's partnership has already proven fruitful. Lady Edison products can be found on menus in over 25 restaurants across the state and country. Raleigh restaurants like Gravy, Asheville restaurants like Bull & Beggar, and even places as far off as Manhattan and Kiawah Island. Restaurants and chef's that use the product in tapas, salads, and other dishes report rave reviews. I've tried it myself and can speak to the deliciousness. The extra aging on the Lady Edison product gives a supple texture and a melt-in-your-mouth flavor that would pair well with cheese and, as I earlier surmised, red wine.

There is nothing more central to a Christmas dinner or an Easter lunch, nothing more coveted at a cover-dish, than a country ham or country ham biscuit. Lady Edison invites you to try an extra fancy country ham. A ham above the rest. In the South we take pride in doing certain things real slow. But, that's because patients often lends itself to reward. Your next dinner out, look for Lady Edison on the menu at your favorite restaurant and give the Hoofed Temptress of North Carolina a try.