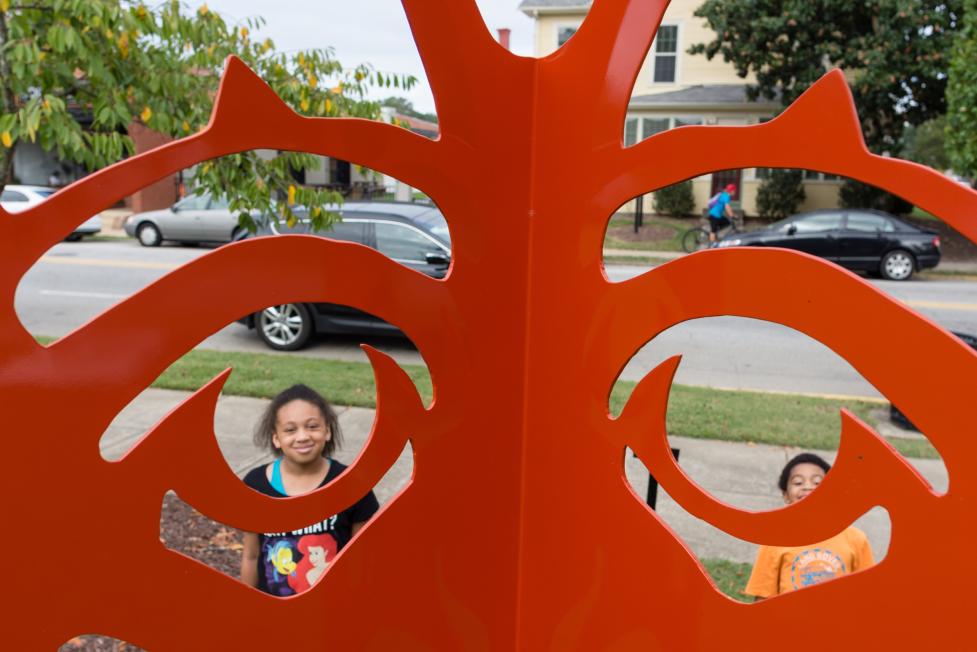 The 6th Annual Clayton Sculpture Trail has been turned into an easy-to-navigate map on our website. Find it below. Each location has the name of the sculpture and the artist listed on the map. The Clayton Sculpture Trail changes every year and is a free self-guided art trail that extends through Downtown Clayton and beyond. Public consumption of art and beautification are the driving factors behind the trail which is organized by the Public Art Advisory Board selection committee comprised of local artists, residents, business owners, elected officials, civic leaders, and town staff.

Each sculpture is accompanied by a plaque on which you will find a QR code; scan the code for access to a video via your smartphone and learn more about each piece and its artist as you stand with the sculpture. It's like a large outdoor art museum. Many of the art is centralized in the downtown area within a half a mile radius which makes the trail very walk-able. Downtown Clayton is home to local shops, restaurants, social hot spots, and more, so make a day out of it.

Unique to this year's sculpture trail is the Icarus Stele sculpture, number 9 on the map. This piece by Paris Alexander was almost left off of the trail but was saved by Mike Stojic and Maleah Christie of Revival 1869 - A Drinkery; they liked the statue so much they lobbied to have it placed in the alleyway outside their bar on Main Street. The Icarus Stele is the first sculpture to be chosen for the trail and placed on private property with permission from the business owners. Mike and Maleah made sure to put it in a place that is accessible to the public and they hope that other business owners will see the value in public art and open up their own spaces to the trail.

Maleah Christie spoke to me about their decision while we watched the artist install it, an experience in itself, "this piece wasn't selected by the committee for any of the public locations on the trail and all the spots were filled, but I loved it so much, so I spoke to Mike and we decided to display it at Revival."

Use the map below to take the trail and see some of this stunning art for yourself!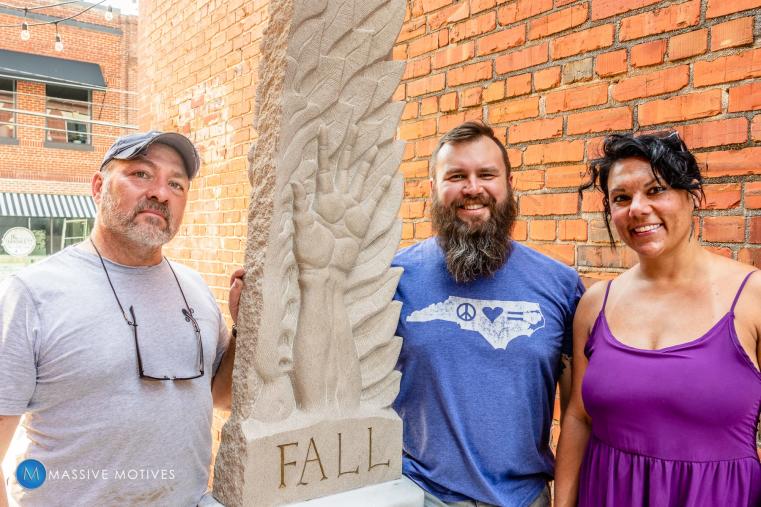 Mike Stojic and Maleah Christie of Revival pose with the Icarus Stele and artist Paris Alexander.