Chef and farmer, Blake Gotliffe along with his wife Megan, started Under the Oak Farm in the spring of 2015 in what is essentially their backyard. The 3,000 square foot (and growing) farm is located in a quiet neighborhood in the town of Clayton, NC. You only have to see Under the Oak farm, a large garden really, and eat just once at the restaurant of the same name to truly understand the magnitude of what the Gotliffe's are working to accomplish in Johnston County.
The Oak Tree Takes Root in Clayton
Blake grew-up in Raleigh, went to Wake Tech Culinary School and ended-up working at Standard Food in Raleigh under Scott Crawford, who some might recognize as a James Beard nominated chef. Blake continued to grow and learn at Standard Foods while Megan worked as a pastry chef in the Raleigh area before deciding to open her own business making custom cakes for all occasions. In the middle of all this, the couple bought a house in Clayton.

The new home came with a nice backyard and a large oak tree. While Blake continued his work at Standard Foods he also decided to start a life-long dream of planting a garden. The garden did so well he began selling his produce to Standard Foods and at the Clayton Farm & Community Market.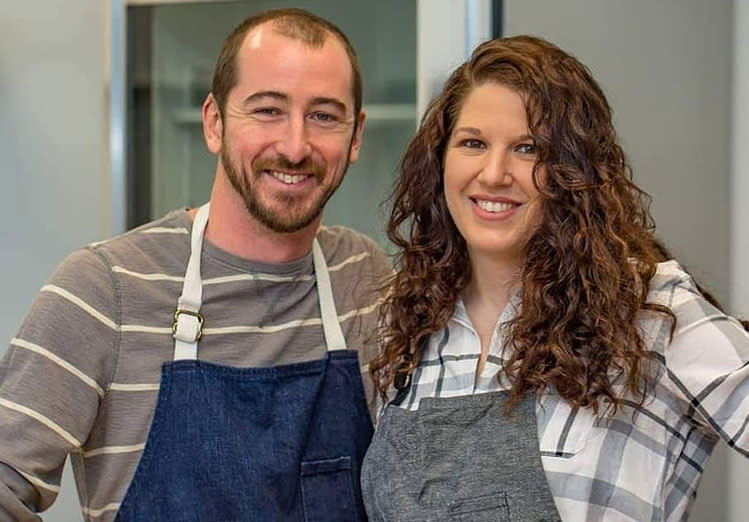 "Once I started selling, I obviously had to name the business. A friend of mine told me that a garden is a hobby, but once you start selling to people, you're a farm. I was taking a break from working in the garden and I went to lay in the shade of the giant oak tree in the back. I just thought, well, I'll name it Under the Oak Farm," says Blake.
Blake began using his farm to source his own culinary endeavors – recipe experimentation, fermentation, and even catering. He ended up catering a charity event with other well-known chefs and people were very complimentary about his food in relation to some of the other chefs dishes, which gave him the confidence he needed to "go it alone". So, 2 years after he started at Standard Foods, he left and opened his own catering business.
Under the Oak Grows Into Smithfield
Blake and Megan bought the space in Downtown Smithfield where Under the Oak restaurant now is, but only for the sake of having a commercial kitchen for their catering and cake business. They catered out of the kitchen for 6-8 months. Until when, in February, Blake decided to open up the front part of the space to patrons for a counter service lunch business.
Blake explained the leap of faith was part of a dream he had always had, "my first year of culinary school, I visited an organic farm with all locally-grown, organic produce and realized how much better the quality and the taste was because of that. That became the dream, to own a farm and a restaurant and to focus on hyper-local sourcing."
And the dream continues to grow, just a few months ago Under the Oak began a Friday and Saturday seated dinner service. Lunch and dinner at Under the Oak, as well as any catered Under the Oak event, works on the same principle of fresh, local ingredients worked lovingly into recipes that might surprise you. In the Spring and Fall, 50% of the produce in the dishes in the restaurant come from the farm. Dishes like the Beet Salad, which Blake says he has to often convince people to try.
"I have customers now that were hesitant about some of the different things I was doing with the food, but now they say to me that they hated beets, but my beet salad made them love beets, so now they'll try anything I make. It makes me feel good to earn their trust."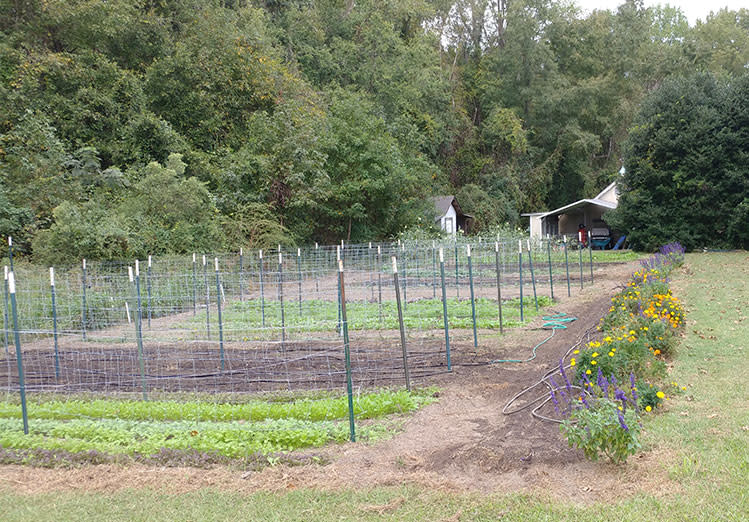 The Oak Tree Grows to Encompass All of JoCo
Blake, of course, can't source everything from his own backyard, so he sources from other, often much larger JoCo backyards (farms) like Chickadee Farms, Moore's, and Smith's Nursery. If you haven't tried Under the Oak in Downtown Smithfield yet, you are seriously missing out. The JoCo Burger is all the rage among the locals these days. Not to mention the well-attended, ticketed, multi-course dinners Blake and Megan have been putting together at the restaurant with themes like NC Seafood and Deep River or Double Barley beer pairings. Blake also offers pickling and fermentation workshops as time allows and hopefully soon to come: whole hog butchering classes.
When I asked Blake what he likes about having a restaurant in JoCo versus Raleigh he said it has been exciting to bring his recipes and ideas to new palates, "Smithfield, well, all of JoCo really, is a new audience for me and they've been really receptive to some of the food items I felt like I've brought with me from the Raleigh food scene - fresh seafood like oysters on the half shell and scratch-made deli meat. I think there is a demand here for what we're offering at Under the Oak that isn't being offered anywhere else in JoCo."  
Blake also has big plans ahead as time and resources allow. Much like growing a garden into a farm, it takes more than one season and more than one crop. What's next? Well, definitely more events at the farm and the restaurant, a full bar concept coming soon to the restaurant, and dropping the café from the name (the restaurant first opened at Under the Oak Café). Much like the oak tree it's named after reaches up with its branches, it seems the sky is the limit for the Gotliffe's and this new endeavor we're deliciously pleased to have in JoCo.