Did you know that Johnston County is home to one the United States' premier wake boarding parks? That's right! Hexagon Wake Park at Tucker Lake is one of only 30 cable wake parks in the US. In an area known for Civil War history, tobacco farming and mules, this park offers a unique opportunity to enjoy this active sport in a safe, environment. 
If you have never heard of a wake park, allow me to explain. Hexagon is a cable wake park. Just like those wake boarders you see skimming across Lake Jordan behind speedboats, Hexagon offers the same thrill, but there's no boat needed! Since there's no boat to maintain and it doesn't use gas, it's less expensive than traditional wake boarding.
Cable wake boarding uses an overhead cables system to pull wake boarders across the water.  Personally, I like the consistency with cable wake boarding too. Speed is easily controlled, which gives beginners like me some confidence.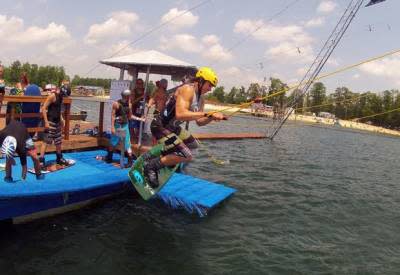 The Hexagon Experience
Hexagon Wake Park at Tucker Lake uses a straight line cable to teach the basics to new wake boarders and a hexagonal shaped continuous running cable wake system. The straight line cable gives beginners a chance to learn the feel of the cable system and how to stand on a board. Basics mastered, boarders move on to the continuous hexagonal shaped system. It's faster and offers jumps and rails for advanced boarders.
Hexagon Wake Park is located at 3025 Allens Crossroads, Benson, NC. Guests should park in the lot opposite the wake park office. At check-in, guests must complete a liability release form — this is an adventure sport after all. 
Once fitted with a board, helmet and life jacket, a training video explains the basics: how the helmet fits, what to expect at the water and how to stand up. In my opinion, this is not the best set-up for such an important feature. The video plays on a small TV high on a wall in the corner of the store/registration area, where nearby noise and activity distracts. My son, who has been cable wake boarding before, was fine with it. My daughter, a first-timer, really didn't understand what she watched and got distracted by everything going on around us. 
I spent some time reviewing the safety instructions and tutorial with her, then we headed out to the dock and the straight-line training cable.
My son did great -- he got to his feet no problem and headed off to the Hexagon cable to try the "real" one.
Going... going... gone! He found his feet!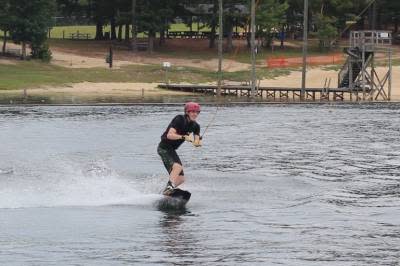 Ben mastered the Hexagon! Next trip --- jumps and rails
My daughter did not fare so well. She tried, but she never got on her feet.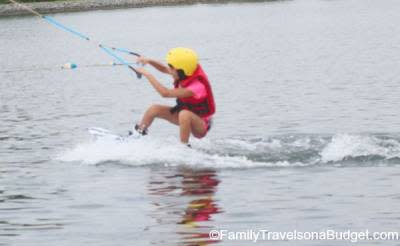 Almost on her feet -- but she didn't lock those knees. Nice try!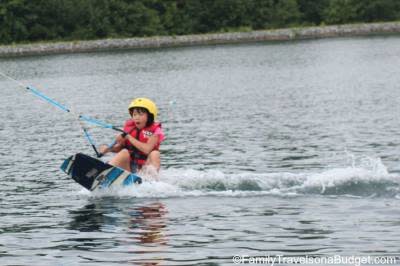 Look at the face! Such determination.
The key to successfully wake boarding is NOT to think! The cable does all the work. All the rider has to do is let it —- let the cable pull you to your feet, then lock in those legs and enjoy the ride. If you think too much, you'll try to stand up and topple forward. If you resist and pull against the cable, you'll tumble again. 
Hunter, a Hexagon staff member, tried everything he could to help her. When she wanted to quit (the first time out), he talked her into taking a break and trying again. It just wasn't her day.
Back to my son… his first three attempts on the Hexagon cable looked much like my daughter's on the training cable. He just couldn't figure it out. The staff member worked with him (amazing young man -- wish I could remember his name), fixing his stance, showing him how to hold the handles, and teaching him to listen for the click signaling that he was hooked in to the cable. Just like that, he was on his feet. He made a full circuit, and didn't wipe out until he mis-judged a turn toward the end.
The wake boarders in line cheered him on! There's a special camaraderie among this group of people. (We noticed this in Illinois too!)
Location
Hexagon Wake Park is located at 3025 Allens Crossroads, Benson, NC, convenient to Interstate 40, Exit 328B. Out of town visitors have ample hotel options in nearby Benson or at the I-40/State Route 42 interchange. 
The facility
The bath house/changing room is located at the far side of Tucker Lake Park, so I suggest you arrive ready to board: swim suit, rash guard and sunscreen. 
There are no lockers at Hexagon Wake Park. We took our duffle bags, towels and camera to the wake board area and set them on a picnic table. If you aren't comfortable with that, just lock valuables in your trunk.
Recommended ages
While there are no age restrictions, boarders under age 10 must pay for an extra coaching session their first visit. I have seen very young kids successfully boarding, but it all depends on their personality. I wouldn't force a timid child to try it. Adults, unless you have physical limitations, I really think you should try! If I can do it, anyone can. 
Rates
Rates for Hexagon Cable Park vary. All wake boarding rates include admission to all the amenities at Tucker Lake Park. Come for the wake boarding and stay for the slides! 
I strongly suggest a 2-hour session for first-timers as it can take a while to figure out how to stand up. For complete rates, click here. 
You will not be on the cables the full time! Every time you fall, you have to get back in line and wait your turn to board again. My son said that after a run, the break is good to rest hands and muscles before another ride.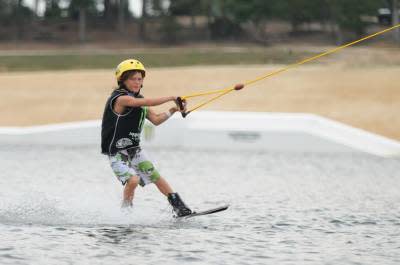 Hexagon Wake Park is a bit of a secret to locals, but not to the rest of the world. The owner of the Illinois park has visited. A family from Wilmington was there for their third visit of the summer. We met an 11 year old boy from California who declared it the highlight of his vacation! Locals, this is your park too! Come on out and see how easy it is.