Welcome to Clayton
From the community of Clayton, we extend a warm welcome to the Cycle NC riders! We have put together a website just for you on the schedule of events during your brief stay with us. The site also includes things to do, places to shop, and dining options in Downtown Clayton. Our merchants and business owners are happy to see you, and several have offered deals and coupons!  Check them out and enjoy your stay! 
And we invite you back to Clayton for a ride along the Mountains to the Sea Trail...we even have a suggested An Artful Day in Clayton Trip you may consider.
Schedule of Events
12:30pm-4:30pm     Welcome at Clayton Community Center
 Enjoy music and food trucks as you make your way into town.
1:00pm-9:00pm      Shopping and Dining in Downtown Clayton
Just a short bike or shuttle ride from camp you can enjoy many great local restaurants and shops in Downtown Clayton. Be sure to check out the Special Offers page for coupons/deals.
1:00pm                   Shuttles service starts
6:30pm-9:00pm      Clayton Town Square Concert
Enjoy the FREE concert with live music, Deep River Brewing, and more food options.
9:30pm                    Last shuttle leaves downtown
In Case You Need It....
Hospital
Johnston Health Clayton
2138 NC Hwy 42 W
Clayton, NC 27520
919-585-8000
Ride Service
Ride share services such as Uber and Lyft are available.



Yellow & Checker Cab  (919) 934-2552
Drug Store
CVS
11911 US Hwy 70 Bus W., Clayton, NC 27520
919-359-2900
Walgreens
11306 US Hwy 70 Bus W., Clayton, NC 27520
919-550-3910
Walmart Pharmacy
805 Town Center Blvd., Clayton, NC 27520
919-550-7337
Beddingfield Drugs
95 Springborrk Ave., Ste 101, Clayton, NC 27520
919-553-6224
Laundry
TR Lee Laundry
352 W. Main St.
Clayton, NC 27520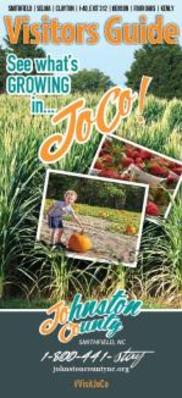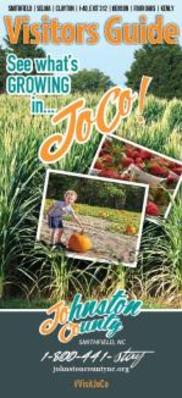 Get your free Visitors Guide today to learn about Johnston County and all it has to offer!
Get the Guide

Sign up for our Event Newsletter