JoCo Breweries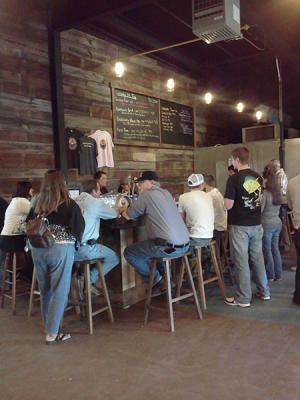 Just a few years ago, the first brewery opened in Johnston County, Deep River Brewing Co., located in Clayton and they haven't stopped growing their business and producing new and innovative brews ever since.  Owners Paul and Lynn Auclair were engineers by trade but now passionately brew with local crops like watermelon and white sweet potatoes.

The summertime beer, Double Don Lager, is made with watermelon from Johnston County. The winter seasonal beer, JoCo White Winter, relies on the white sweet potatoes from local farmers. The Twisted River Wit, a Belgian "witbier" with hints of citrus, is the gateway beer at the brewery. It is one of the two year-round brews. Another favorite beer, particularly among women, they found, is the 4042 Stout, a seasonal beer named after the NC Highway that runs through the county. It is a chocolate milk stout aged in cocoa nibs.

"The first legal brewery in Johnston County" is a slogan that hints at a history of moonshining that made Johnston the "Banner Whiskey County" in the state in the early 1900s. As late as the 1950s, North Carolina annually produced the most bootleg booze in the country. Even more than a century ago, the county distinguished itself for its views on alcohol. In 1908, its voters led the state in opposing statewide prohibition.

The brewery represents a new chapter in the county's alcohol history, as well as drawing on its rich history of rural lifestyles.  "The history of our area is unique," Auclair said. "Doing tastings in the area, we had a lot of people who told us about the rich history of moonshining in the county and they told us we're the first legal brewery here."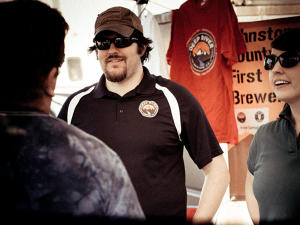 The brewery is open on Thursday-Friday from 5 to 9 p.m. and Saturdays from 1 to 9 p.m with a variety of food trucks, brewery tours, live music and activities like corn-hole.
Deep River Brewing Co.
700 W. Main St., Ste. 102
Clayton, NC  27520
(919) 585-2296
deepriverbrewing.com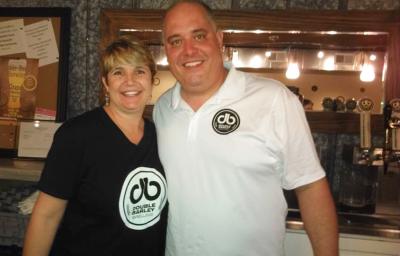 In 2013, the second "legal" brewery opened in Johnston County near Smithfield.  The Double Barley Brewing Co., owned by Larry and Cheryl Lane opened in another unused industrial site, with a "lounge" and beer garden for their patrons.  It's a breathtaking outdoor space shaded by trees and sun sails. Imagine listening to music while kicking back in comfy chairs and chilling out with your friends.

Double Barley Brewing began when Cheryl gave her husband a simple homebrew kit for his 40th birthday gift. Six months later, Larry stumbled upon the kit in the attic and you can guess the rest of the story. Who knew it? Larry could brew great beer and Cheryl was pretty good at sampling. Life was about to change forever.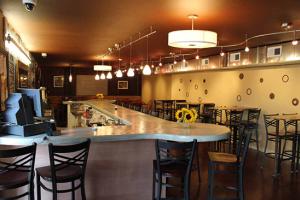 Wanting to own their own business they created a detailed business plan, fine tuned dozens of recipes, found a location in Wilson's Mills, N.C. and designed an awesome taproom and beer garden. It has also been a labor of love – a love for craft beer, the community and a desire to bring them together.
Brewery Hours:  Wed-Friday: 4pm-10 pm, Saturdays: 1-10pm, Sundays: 1-6pm
Double Barley Brewing Co.
3174 US Hwy 70W
Smithfield, NC 27577
(919) 934 3433
doublebarleybrewing.com
Popular at Double Barley-- Thrilla' in Vanilla Porter
A smooth, medium bodied beer with distinct bourbon-soaked vanilla-bean flavoring. Slight sweetness balanced nicely with malt bitterness. Pours a tan head that tastes like vanilla whipped cream.

Thrilla's Story: One of our oldest friends reviewed the business plan and had only two suggestions (1) include finger puppets of ourselves in the business plan and (2) rename the vanilla porter. We took both very seriously and immediately put them into action. Little did we know that brainstorming would lead us to the epic fight in Manila. We loved the name Thrilla' in Vanilla' and what really cemented it for us was picturing vanilla beans "duking" it out! Trust us, this beer is knock out!

Style: Spiced Herb or Vegetable Beer – 21A
ABV: 8.0%
IBUs: 27.4
Color: 29.6 SRM