Get Outside the City for Farm Fun
Agriculture in Johnston County defines our heritage and continues to be a way of life for many families.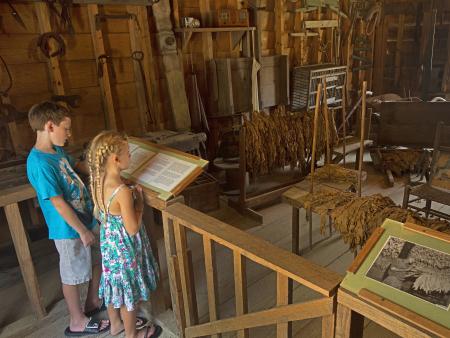 For over 200 years, local farm families have been living off the land, growing row crops, harvesting turpentine, cotton and tobacco. In just the past ten years, local farmers have discovered the educational and entertainment value of their farms. From corn mazes, on farm tours, farmer's markets, haunted houses, and Christmas hayrides, visitors are exploring the beauty of our lands and learning about farm life.
In 1983, the community leaders of Kenly along I-95 thought travelers along the interstate would enjoy a diversion to see how farmers made a living. And they were right! They offered van tours to area farms and hard-working farmers took some time from their day and explained how crops were rotated, what equipment they used and the history of their family farm.  From this idea the Tobacco Farm Life Museum opened in 1986, before the phrase agri-tourism was coined.  Today, visitors will enjoy a 6,000 square foot exhibit hall and a restored farmstead which includes sleeping quarters, detached kitchen, tobacco barn, pack house and blacksmith shed.
For on-farm experiences, Smith's Nursery and Strawberry Farm is open year round and has several pick-your-own seasons including strawberries, blueberries, blackberries and pumpkins. Boyette Family Farms is a working wheat farm until harvest time in September, and then it transforms into the Clayton Fear Farm until the end of October, and for the holiday season, they offer hayrides for enjoying Christmas Lights on the Neuse River.
Click here for more Agritourism Venues available in the county and we hope you experience them and get to know the heritage of our county!