Bike Routes
Getting out on the country roads of Johnston County is already a popular destination for cyclists.
 
The Johnston County Sports Council has completed four NCDOT adopted Bike Routes in the county for residents and visitors to enjoy.  These routes span the four corners of the county and connect cyclists to several key visitor attractions as well as the Mountains to the Sea Trail in both Clayton and Smithfield.  We hope bikers will return often and explore more of our attractions when time allows. Here's a summary of the routes, pick one to try for each visit to JoCo!
#1    Smithfield Bentonville Loop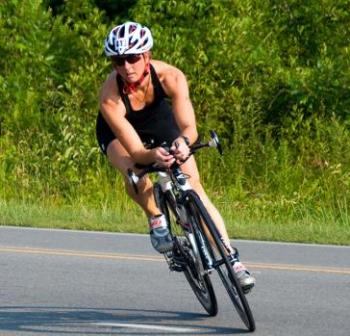 Riders begin their trek at the Smithfield Town Commons located in the heart of Downtown Smithfield, along the Neuse River.  Take the neighborhood ride out on Third Street to Brogden Road, the birthplace of Ava Gardner 'til you reach the Richardson Bridge Rd. Boat Ramp.  Cross over the Neuse River into the Bentonville Community, site of the last major Confederate offensive of the Civil War.  Bike along the Carolina's Campaign Civil War Driving Trail which takes you by the Bentonville Battlefield State Historic Site.  Leaving this area's rich history travel by Howell Woods, a recreation destination for another visit for hiking, biking, bird-watching and more.  Travel on to the quaint community of Four Oaks then head back to Smithfield along US Highway 301.

View this loop on Google Maps

#2    Clayton, Archer Lodge, Wilson's Mill Loop
Horne Plaza is the jumping off spot for this bike trail which takes you along the trailheads for the Clayton River Walk Greenway which is part of the NC Mountains to the Sea Trail.  Travel north out of town to the growing community of Archer Lodge through rolling terrain and beautiful farm lands.  Once considered for the State Capital, Stallings Station was located in this area.  Head southeast towards the Town of Wilson's Mills, crossing over the Neuse River then you will make a  turn back towards the Town of Clayton, back to the downtown community which is dedicated to culture and the arts.  Enjoy the public art installations and maybe a show at The Clayton Center -- check our calendar for events for show dates and times.

View this loop on Google Maps

# 3    Pine Level, Micro, Kenly Loop
Great parking is available at the Sam Godwin Park in Pine Level to begin your bike ride, with a great stop just minutes down the road at Hinnant Family Vineyard and Winery. Travel through rich farm lands all the way to the Town of Kenly, home to the Tobacco Farm Life Museum that offers heritage events showcasing farm heritage, crafts, and farm life programs.  Once you travel through Friendly Kenly, return back to Pine Level along Lowell Mill Road, which will take you back by the winery.

View this loop on Google Maps

#4    Benson Wine and Shine Loop
A great place to start this bike trail is the Benson Singing Grove in the heart of Downtown Benson, and travel north out of town on Main Street/Hwy 50 to Benson Hardee Rd.  This farming community has been producing tobacco and sweet potatoes for over 250 years and remains predominantly agriculture in nature.  Travel out to the Gregory Vineyards & Winery and enjoy the scenic vineyards and farm...just a lovely spot to rest if you have some time.  Continue west to the community known as Elevation, heart of sweet potato country and loop back south to Benson. This route will take you near Tucker Lake, and Broadslab Distillery which are two great stops for another visit to the area as well. Back in Benson, rest at the Grove and take a stroll along the charming Main Street for a bit of shopping.

View this loop on Google Maps
 
Complete this form and hit submit
to download the JoCo Bike Route Maps.
Or click here to receive
a complementary copy by mail.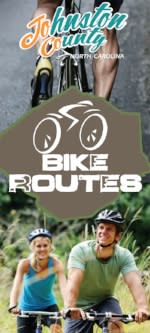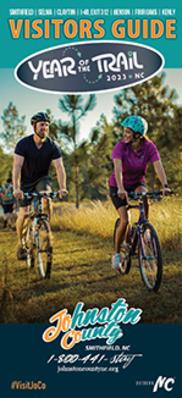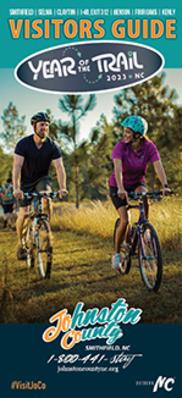 Get your free Visitors Guide today to learn about Johnston County and all it has to offer!
Get the Guide

Sign up for our Event Newsletter