This past summer I visited Madrid in order to follow the life of Ava Gardner in the period from 1953 to 1968, when she lived in Spain. For a long time, I have wanted to travel to a place where Ava lived and was happy. My husband has been to Madrid many times on business and has been each time amazed at this beautiful city. When he sent me photos of Ava's favorite bar, Museo Chicote, during his last stay in Madrid, it was crystal clear to me where we needed to go on our next vacation. On August 8th the time had come. With an Ava Gardner's Madrid Map in hand, we followed Ava's tracks.

The first stop was Museo Chicote. I can well understand why she enjoyed it there. The atmosphere is indescribable and the staff very friendly. For me, Ava could still be felt here. Her laughter and exuberance were literally tangible. I would have loved to have had her favorite drink and stayed there for a while. But since our son is still a minor, that was not possible. After a few photos, we left again.

A few meters away from the bar is the fashion house Loewe, known for its high-quality fashion goods. Ava was a customer there and one of the bags she bought from the store became a top seller. For unknown reasons, the fashion house is now temporarily closed.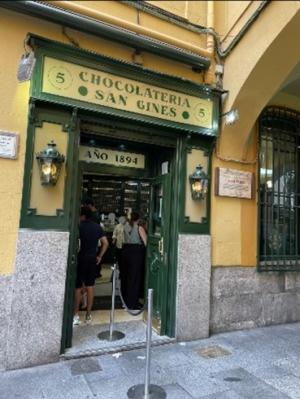 Our way now led us to Chocolatería San Ginés, a place with 125 years of history and famous for a particularly delicious hot chocolate. Ava spent one or the other boisterous night in the cozy chocolatería. Unfortunately, the line to even get in was way too long.  

On the second day, we headed to the confectionery La Mallorquina. Ava loved their cakes and pies and shopped there regularly. Unfortunately, during my visit, with the hustle and bustle that was going on, I didn't notice that there were stairs leading up to where a Tea Room was located - so sad. Ava was a welcome and frequent guest there with her friends.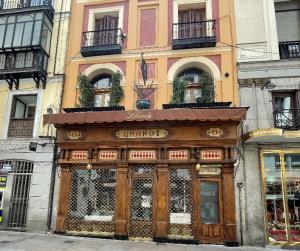 We continued to Lhardy, a restaurant with traditional dishes like stew. We were faced with a closed door as the restaurant was closed at noon. We decided to move on, and not come back as the evenings belonged to my family and their interests.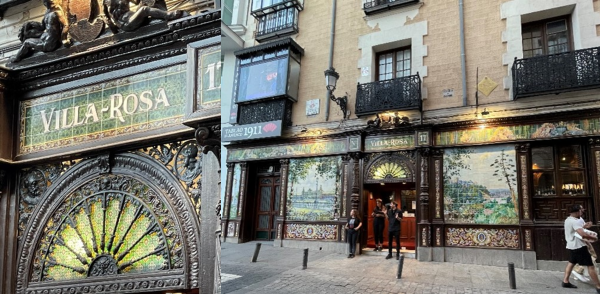 So further to the Villa–Rosa, which is the oldest flamenco tablao in the world. Ava was a frequenter here. Some say that she even used to go on stage and dance to the flamenco music. We had not reserved a table; the place was fully booked and so we could not get in.

Day 3 began with the question of whether we would look at the next destination only from the outside or also from the inside. For my family, it was immediately clear not to go inside. I was not sure, because after all, it is another stop in Ava's life. It was the bullfighting arena Las Ventas. It is known that Ava was enthusiastic about bullfighting and tried it herself. I am familiar with this Spanish tradition, and I know that even today many people are enthusiastic about it. I can't say that about myself. When we were there, I struggled with myself for a long time whether I should go in, but the hope to see something of Ava made me go in. If you don't look left and right, try to block out what atrocities have happened and are still happening here, it's a very idyllic and quiet place. However, I ran through as if a bull was after me, eyes always straight ahead. You can get into the battle arena itself, but I didn't do that. I stood at the gate and tried to find the place where Ava was standing when she "practiced" with a small bull. Presumably, however, this took place in a smaller, sort of practice arena, because I couldn't see anything similar. There was nothing to see of Ava, but on one wall all the bullfighters were immortalized and that's where I spotted Luis Miguel Dominguin who was in a relationship with Ava during her time in Spain.

The next stop was even more beautiful. Parque del Retiro is a wonderful, large park. It is said that Ava spent a lot of time there with gypsy performers who allowed her to indulge her passion for flamenco.

The last destination of our trip was Ava's Penthouse Duplex at 11 Calle Doctor Arce. Here Ava had parties all night long with guitar music and stomping flamenco dancers that drove the neighbors to despair. Here I could picture Ava spending her nights with friends, dancing and laughing. I sat on the bench in front of the house for a long time, looking at it and smiling. Eventually, though, I had to part with this location and we went back to our hotel.
Considering the short time we had spent in Madrid, it was an incredible experience. Not to forget the patience my family had in allowing me to see much of Ava's world in Madrid. We will definitely come back and revisit many of the places in more detail.