Current Exhibits
Ava Collections Showcase features items loaned to the Museum by private collectors as well as some recent Museum acquisitions that haven't been exhibited before. Devoted fans of Ava Gardner collect items related to both her professional and personal life. Private collections contain many different kinds of artifacts including photographs, movie posters, film costumes, and other personal pieces that belonged to Ava like clothing, accessories, letters, and décor. Some of these special items are included from lenders from around the world including some Gardner family members.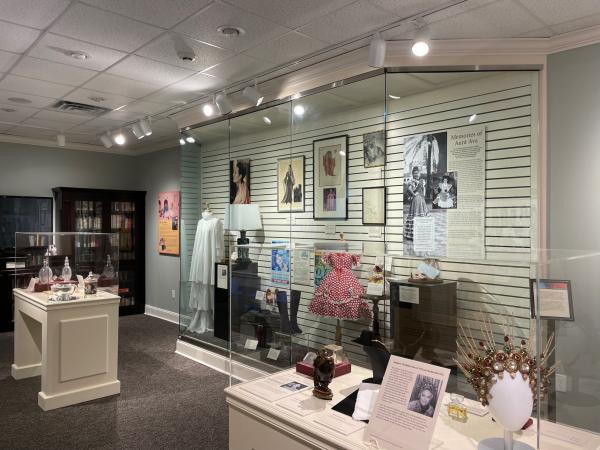 Ava in Costumes: Dressing the Part is a two-part exhibit featuring costumes from Ava Gardner's long career in films and television. The exhibit traces Ava's career through a selection of costumes she wore in various film and television roles. The exhibit uses the costumes to summarize the trajectory of Ava Gardner's acting career, from her early film appearances to the height of her popularity and through her later career, while also spotlighting the work of costume designers. The exhibit was originally opened in 2021 and was updated with an additional costume and other artifacts on loan to the Museum in 2022.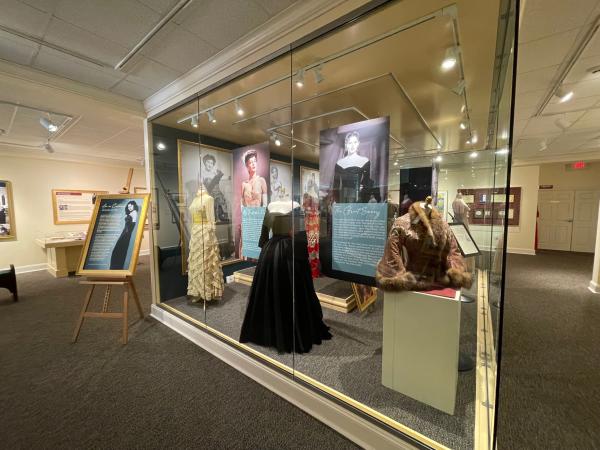 Ava's Film Costumes – This portion of the exhibit features seven unique costumes from Ava Gardner's film career, highlighting the variety in her roles and how her career evolved over the years. Other artifacts related to the films are also included. A virtual version of this exhibit with additional artifacts and photographs is available online here.
          Ava's Television Costumes – This portion of the exhibit explores Ava Gardner's shorter career working in television through four costumes representing a diverse range of roles. A virtual version of this exhibit with extra artifacts and photos is available online here.
Love and Marriage: Ava's Husbands shares artifacts from each of Ava's three marriages or items related to her husbands. While so much has been written about her marriages from an outside perspective, the artifacts in this exhibit offer a more intimate glimpse inside Ava's relationships and the meaningful connections she shared with each of her husbands: Mickey Rooney, Artie Shaw, and Frank Sinatra. Many of the items included belonged to Ava herself and were items she kept from her marriages. 
Memories of Aunt Ava provides insight into one of Ava Gardner's favorite roles, that of a doting aunt. The exhibit includes artifacts on loan to the Museum from Ava's great-niece, Ava Thompson, and her great-grandniece, Ava Silver. The items included were given to Ava Thompson or Ava Silver by their famous aunt. The exhibit also features stories and recollections of their close relationships.
Ava: My Real Story aims to separate fact from fiction by highlighting Ava Gardner's North Carolina roots, lasting friendships, charitable work, and mixed feelings about the media. The exhibit includes an interactive kiosk which visitors can use to browse images of Ava Gardner that give insight into her personality and private life away from Hollywood.
Ava in The Night of the Iguana explores one of Ava Gardner's most critically acclaimed roles and features stories and artifacts that take visitors behind the scenes to show life on the film's remote set in Mexico.
The Art of Ava explores how Ava Gardner has inspired art in many forms including painting and sculpture. The exhibit includes Ava-inspired artwork created for movie posters and film promotions as well as original fan art.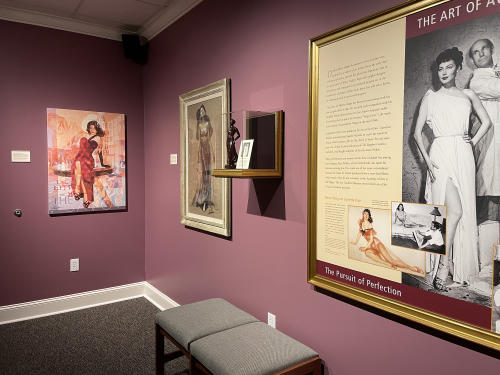 Ava Gardner's Life and Career (Permanent Exhibit) is the Museum's main long-term exhibit which traces Ava Gardner's life from her early years in Johnston County and her discovery to her Hollywood career, marriages, travels, and later years in Spain and England.
More Virtual Exhibits
Ava and the Aviator: Ava's Friendship with Howard Hughes delves into the unique relationship between Ava Gardner and billionaire aviator Howard Hughes. The exhibit features a number of artifacts that Hughes gave Ava over the course of their 20-year friendship. It's available in our online gift shop here. 
Ava's Life Changed Forever: Pandora and the Flying Dutchman provides a detailed look at one of Ava Gardner's films, Pandora and the Flying Dutchman. The exhibit explores Ava Gardner's role in the film and its impact on her life and career, shares how the film was marketed internationally, and includes information about its recent restoration. Artifacts in the exhibit include Ava's personal items from the film, advertising materials, and fan ephemera. It is available in our online gift shop here. 
Other Exhibits
Ava Gardner Mural and Rose Garden is a permanent outdoor exhibit installed in 2022 to celebrate Ava Gardner's 100th birthday. Read articles and watch videos about the development of this special Museum project here.