2022 Ava Gardner Festival Recap
Message from Executive Director Lynell Seabold
On behalf of the Ava Gardner Museum staff and board of directors, we want to thank all who contributed to and attended our 2022 Ava Gardner Festival. The many weekend events celebrating Ava Gardner's centennial birthday took months to coordinate, and we extend our sincere thanks to our sponsors, especially our title sponsor First Citizens Bank, for making our 2022 festival truly something special and our best one yet. Without the support of our sponsors and attendees, we would not have been able to make the festival worthy of Ava's 100th birthday, so we thank you all from the bottom of our hearts.
On a personal note, I want to thank the hard-working board of directors, staff members, volunteers, musical artists, and partners of the Ava Gardner Trust that help make all of this possible. The amount of time, effort, and energy put into this celebration is much appreciated, and I am grateful for the extraordinary teamwork and dedication that culminated in our hugely successful festival weekend.
I hope you all enjoy reading this recap of all the exciting activities and events we hosted during the 2022 Ava Gardner Festival weekend. This special event was the kickoff of our year of celebrating Ava's 100th birthday. Follow along with us in the weeks and months ahead to learn about all of the other ways we plan to continue saluting our favorite movie star and North Carolinian, Ava Gardner!
Festival Highlights:
 
"A Musical Tribute to Ava Gardner"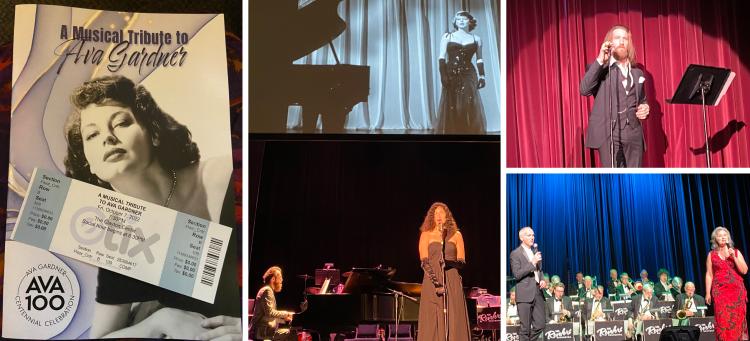 Ava Gardner truly adored music – from the big band sounds of her youth to popular jazz of her early Hollywood years through the powerful torch songs of the 1950s. All of her husbands were talented musicians, and she loved being with them as they performed in night clubs and concert venues. She counted such musical pioneers as Dizzy Gillespie and Duke Ellington among her friends. "A Musical Tribute to Ava Gardner" concert at The Clayton Center was a celebration of Ava's life through music! The musical event, produced by former Museum board chair K. Todd Johnson, featured the NC Revelers Orchestra with guest performers John Arthur Greene and Angelique Alexander. This collaboration also included gifted pianist Jonathan Levin presenting a medley of songs featured in Ava's classic films. The entire event was emceed by D.H. Johnson, chair of the Benson Foundation for the Arts.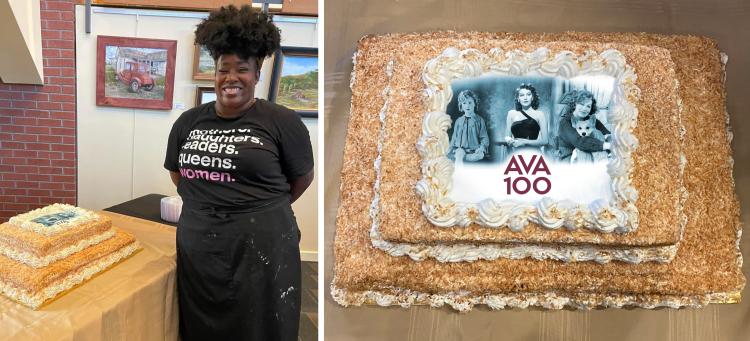 Before the concert, the Museum hosted a special reception in conjunction with the Clayton Cultural Arts Foundation. The event featured selections from the Ava Gardner Signature Wine Collection, light refreshments, and Ava's 100th birthday cake made by award-winning, local baker Tie Whittaker of Buttermilk Boutique. The layered, coconut cake was adapted from a Gardner family recipe which Ava personally loved.
 
Ava Gardner Mural & Rose Garden Dedication Ceremony
The second day of the festival began with a special ceremony and dedication outside the Museum. Smithfield Mayor Andy Moore began the presentation by sharing thoughts about the impact and importance of Ava Gardner to the people of North Carolina. Next, Johnston County Clerk of Court Michelle Ball read an official proclamation from North Carolina Governor Roy Cooper declaring October 8, 2022, as "Ava Gardner Museum Day" in the state of North Carolina. Finally, the Museum's Executive Director Lynell Seabold officially dedicated the Ava Gardner Mural and Rose Garden, telling the audience about this special "Ava 100" project and thanking the many individuals and organizations who helped bring it all to life over the last year.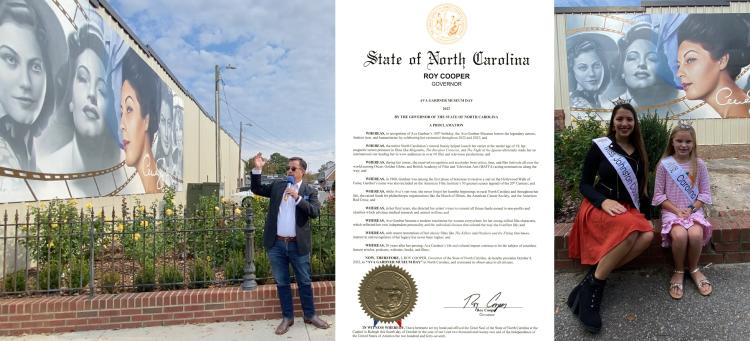 Memories of Ava from the Gardner Family
Following the outdoor ceremony, everyone gathered inside the Museum for a presentation by Ava Thompson, Ava Gardner's great-niece and namesake and the co-trustee of the Ava Gardner Trust. She shared personal memories and mementos related to her beloved aunt Ava with a captivated audience. After her presentation, Ava met with festival attendees and answered their questions about the real Ava Gardner.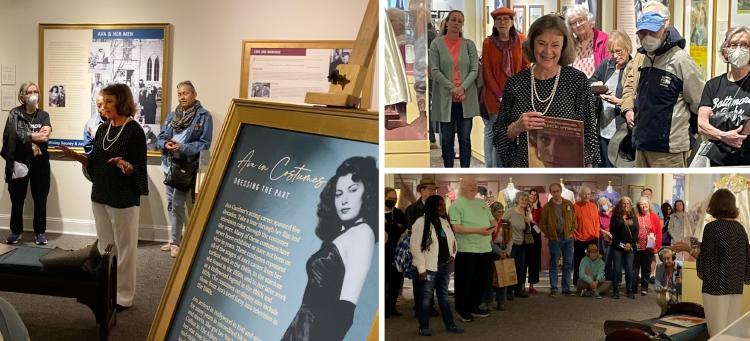 Ava Gardner Heritage Tours & Tastings with Seven Jars
Festival goers had three opportunities during the weekend to step aboard a tour bus with one of the Museum's experts for a one-hour, guided trip through Ava's hometown. Participants traveled to the Grabtown and Brogden communities, just seven miles east of Smithfield, where Ava was born and raised. Other points of interest throughout the town of Smithfield included locations near and dear to Ava and her family. The tour concluded with a group visit to Ava's final resting place in Sunset Memorial Park.
Throughout Saturday, Seven Jars Distillery and Winery, a boutique, craft distillery from Charlotte, NC, provided samples to festival attendees from the officially licensed line of award-winning Ava Gardner beverage products. Developed in partnership with the Ava Gardner Trust, these beverages include the Ava Gardner Select Bourbon Whiskey and four different offerings in the Ava Gardner Signature Wine Collection.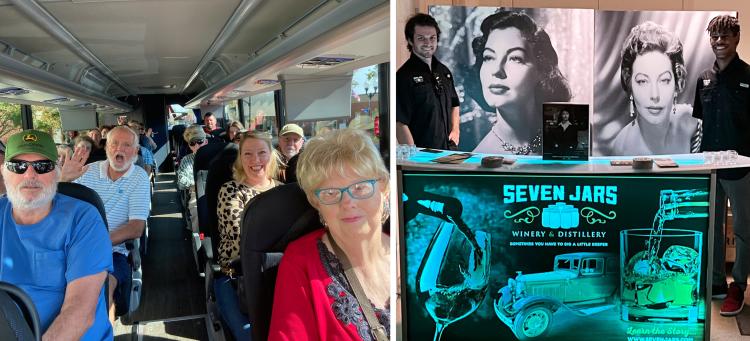 Ava Gardner Film Screenings
During the festival, the Museum hosted three film screenings at the Smithfield Cinemas. This lineup featured Ava Gardner's breakout film The Killers (1946), her international hit film Pandora and the Flying Dutchman (1951), and one of her most well-known films, The Barefoot Contessa (1954). The screenings included introductions by Museum board member Lora Stocker who shared interesting facts about each film's cast, crew, and production.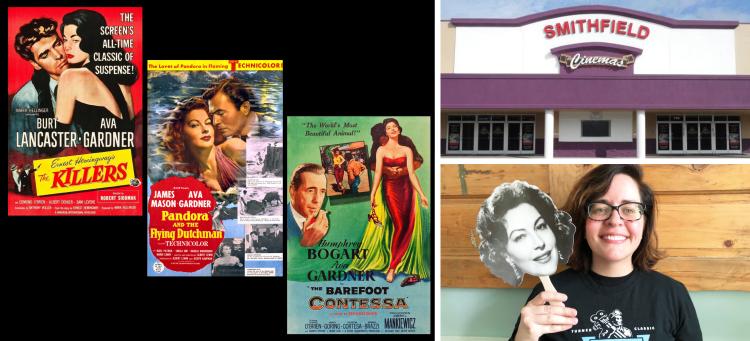 New Museum Exhibits
The 2022 Ava Gardner Festival included the unveiling of three new exhibits. In honor of Ava's Centennial, these exhibits include highlights from and artifacts related to the entire breadth of Ava's life, from her hometown roots, to her marriages, and her lasting legacy.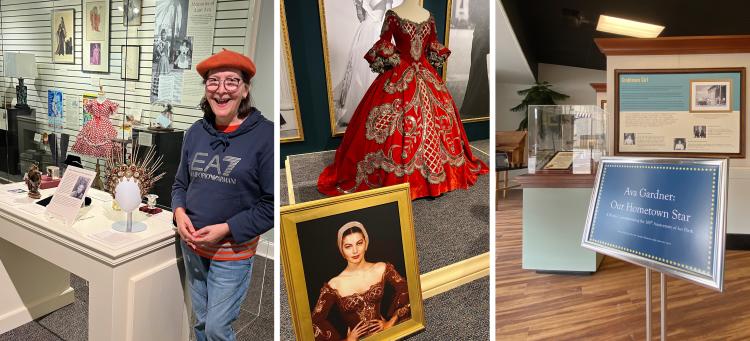 "Ava Collections Showcase" features items loaned to the Museum by private collectors as well as some recent Museum acquisitions that haven't been exhibited before. Devoted fans of Ava Gardner collect items related to both her professional and personal life. Private collections contain many different kinds of artifacts including photographs, movie posters, film costumes, and other personal pieces that belonged to Ava like clothing, accessories, letters, and décor. Some of these special items are included from lenders from around the world including some Gardner family members.

"Love and Marriage: Ava's Husbands" shares artifacts from each of Ava's three marriages or items related to her husbands. While so much has been written about her marriages from an outside perspective, the artifacts in this exhibit offer a more intimate glimpse inside Ava's relationships and the meaningful connections she shared with each of her husbands: Mickey Rooney, Artie Shaw, and Frank Sinatra. Many of the items included belonged to Ava herself and were items she kept from her marriages.

"Ava Gardner: Our Hometown Star" is a temporary exhibit in partnership with the new Johnston County Museum, which is located next door to the Ava Gardner Museum. The exhibit shares about Ava's early years in Johnston County and her lifelong connections to home. It features a number of artifacts from the Ava Gardner Museum collection. The exhibit is located in the lobby of the Johnston County Museum.
 
"Ava Memories" Video Presentation
Earlier this year, the Museum launched a new initiative called the "Ava Memories" project as part of our efforts to commemorate Ava's 100th birthday. For this special program, we've been collecting video tributes from Ava Gardner's family, friends, costars, and close associates as well as some classic-film experts and "super fans" from around the world. We compiled the digital tributes collected to-date in a new video presentation which we were thrilled to debut for in-person visitors at the Ava Gardner Festival. We look forward to sharing these videos with our followers on social media soon to mark "Ava 100" in December.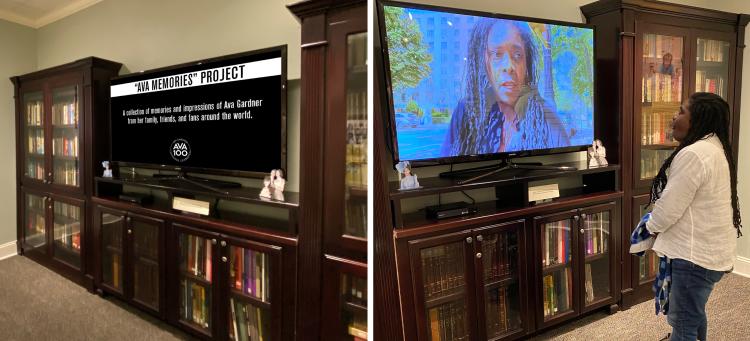 Ava Gardner's Gravesite & NC State Historic Marker
Prior to the festival, Museum board members and Gardner Family members Joe and Beverly Creech spent weeks cleaning all of the headstones in the Gardner Family plot, including Ava Gardner's final resting place, at Sunset Memorial Cemetery in Smithfield, NC. On the day of the festival, bouquets of fresh roses, sent by Ava's close friend and former personal assistant Carmen Vargas, were laid on Ava Gardner's grave by members of the Gardner family and Museum team. On Friday morning of the festival, the North Carolina Highway Historical Marker honoring Ava Gardner was reinstalled, following a series of repairs after a motor vehicle accident, by the North Carolina Department of Cultural Resources and NC Department of Transportation.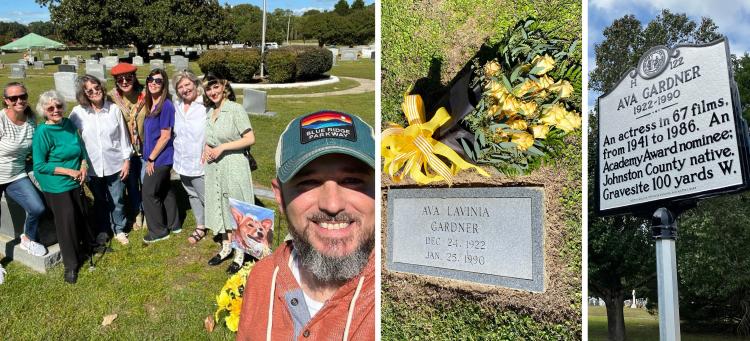 New "Ava 100" Merchandise
The Museum gift shop was fully stocked with popular and brand-new merchandise for the festival weekend – including our latest Ava Gardner calendar and new "Ava 100" items like t-shirts, buttons, and stickers. Additionally, the Museum debuted an exclusive new line of Ava Gardner poster-themed merchandise made in collaboration with Benton Card Company of Benson, NC, a historic poster printer who supplied to theaters throughout the United States.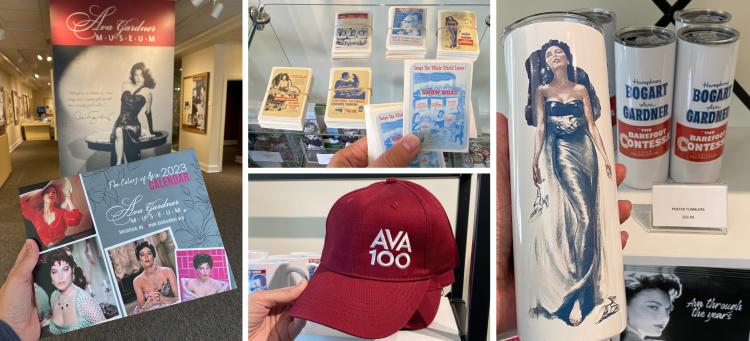 Conclusion
This year's Ava Gardner Festival was truly one for the record books! We were thrilled to celebrate with so many of Ava's friends, family, and fans from around the world. Stay tuned to our website and social media channels for more news on upcoming events as we continue our "Ava 100" celebrations!