Tobacco Farm Life Honors Farmers in 2019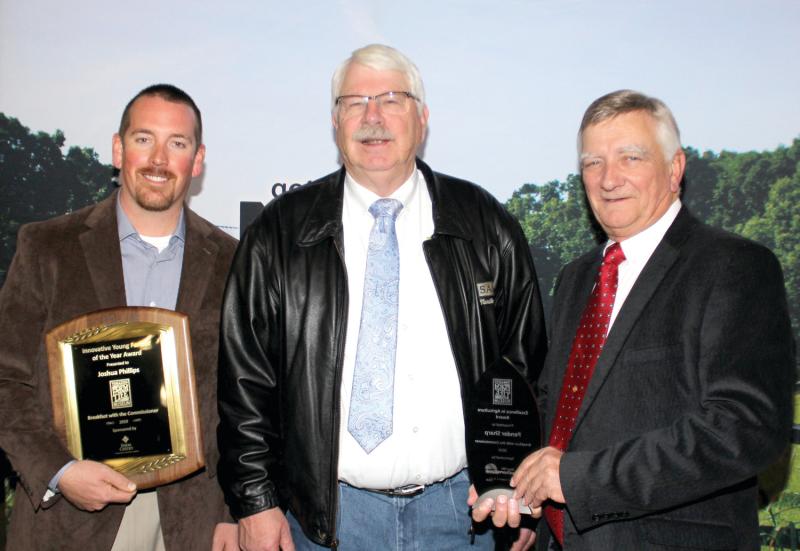 N.C. Agriculture Commissioner Steve Troxler, center, is shown with award-winners Joshua Phillips, left, and Pender Sharp following Friday's Breakfast with the Commissioner fundraiser for the Tobacco Farm Life Museum.
Pender Sharp of Sims-based Sharp Farms received the Excellence in Agriculture Award sponsored by Southern Bank. Sharp, who is manager and treasurer of his family-owned farm, was honored for his involvement in the promotion and growth of North Carolina's agriculture community.
"Pender Sharp always goes above and beyond in helping the tobacco industry fight for what is right for our families," said Troxler.
Joshua Phillips of Kenly-based Sonlight Farms and Holland Farms received the Innovative Young Farmer of the Year Award sponsored by Farm Credit Associations of North Carolina.
Phillips was chosen for the award based on his dedication to the progression of technology and accuracy in agriculture and educational outreach and for sharing the story of agriculture to young people at Sonlight Farms.
 
Battens Win National Outstanding Young Farmer Award

Brandon and Jessica Batten were among four national winners selected from a group of 10 finalists for the National Outstanding Young Farmers award based on their progress in an agricultural career, extent of soil and water conservation practices and contributions to the well-being of the community, state and nation, according to a press release.
The program is sponsored by John Deere, administered by the Outstanding Farmers of America and supported by the National Association of County Agricultural Agents and United States Jaycees. The four national winners were announced and later interviewed for an upcoming episode of "This Week in Agribusiness" on radio by guest master of ceremonies Orion Samuelson.
Brandon Batten attended South Johnston High School in Four Oaks and wife Jessica is from Fayetteville where she attended Jack Britt High School. The couple has a son, 3-year-old Camden, and recently had twins.
After graduating from N.C. State with a master's degree in agricultural engineering in 2010, Brandon Batten completed agriculture leadership development and farm management programs. He is an agriculture advocate on social media and serves on the Strickland's Crossroads Volunteer Fire Department, state Farm Bureau committees, Tobacco Farm Life Museum board and Johnston County Cooperative Extension advisory board. He is a Future Farmers of America alum.
Batten collaborated with the N.C. State extension service in trials to test his new ideas of farming methods. His modernization of the drying systems in tobacco barns and his progressiveness in farming techniques earned him the state's Innovative Young Farmer of the Year award in 2017.
Working with his father and uncle at Triple B Farms, Brandon Batten manages the daily operations and makes the budget and cropping decisions. The farm has expanded to include soybeans, wheat, corn, rye, hay and cattle on 870 acres.
Mechanical harvesting and leaf-handling equipment is utilized in the tobacco operation along with GPS guidance on tractors. Batten also flies a drone to aid in crop scouting and began a custom drone service called Flying Farmer LLC.
Jessica Batten is an environmental engineer. Her knowledge has helped the farm develop its conservation plans, including grassed waterways and infiltration strips to catch and sequester any nutrients from runoff.
"We were surprised and very humbled to receive this award, especially after meeting the other finalists," said Brandon Batten. "It was really exciting to be chosen as a winner. We have learned a lot about farming. It is a team effort and involves a lot of give and take to make it work.
"I have been on the farm since I could walk. I would like to thank God for blessing me and allowing me to make a living doing something I wanted. I also want to thank my grandfather and my father for having the trust in me to work with me and for being open to new ideas."
National award winners receive a savings bond and the opportunity to travel to Washington during National Ag Week in 2020.

Tobacco Farm Life Museum Honors Local Farmer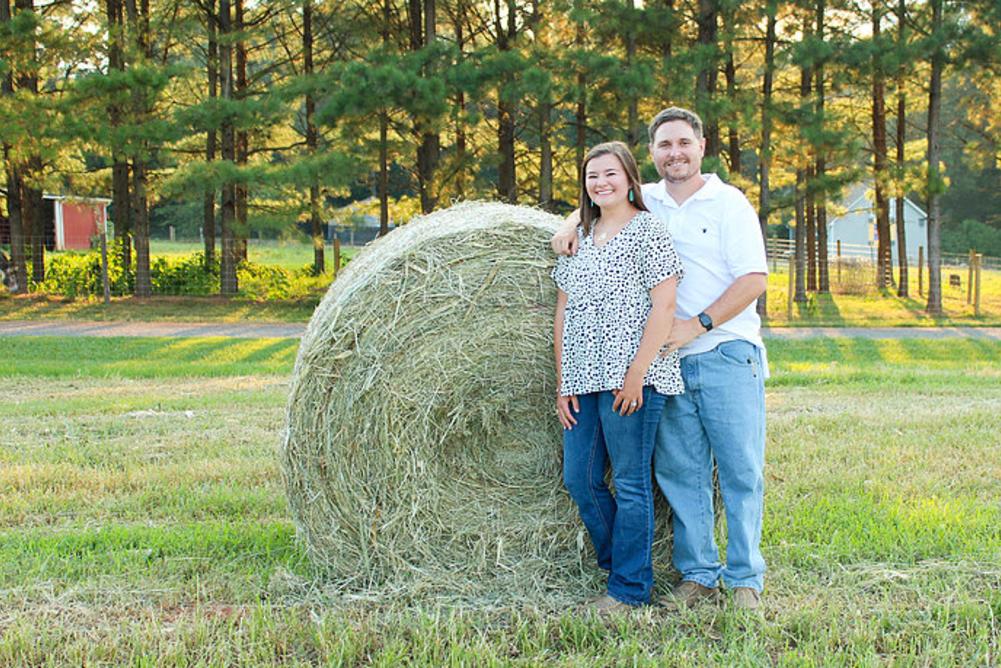 Harrison Jenkins is a fourth-generation farmer in Iredell County, part of a 100-year farming family legacy. Harrison attended NC State University where he obtained his Bachelor's degree in Agriculture Education. He and his wife Taylor, alongside his parents and sister, operate Westward Farms which is a diverse operation consisting of field crops, commercial poultry houses, and specialty livestock. Growing up, Harrison was always involved with the farming operation and always knew that he wanted to continue his involvement in agriculture. In 2014-2015, Harrison served as a State FFA Officer for North Carolina. He is currently an agriculture teacher at Statesville High School where he is able to share his passion for agriculture to students who have little to no experience with the industry.
Harrison's family farm began as a dairy farm, purchased and grown by his great-grandfather. Though the dairy farm is no longer in operation, the operation has diversified and expanded throughout the years through poultry houses and field crops. Since graduating college, Harrison has worked with his father to incorporate new and innovative aspects of farming, including bagging and selling deer corn, an independent spraying program, GPS assisted equipment, and new accounting and record keeping systems. Harrison's goal is to continue growing the family farm by implementing new technologies and techniques, all in the hopes of cultivating a further sustainable operation that will be passed down for another four generations and more.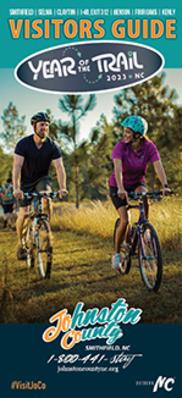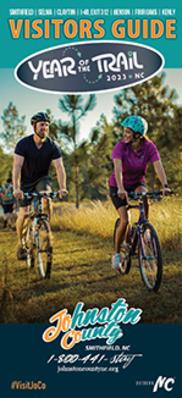 Get your free Visitors Guide today to learn about Johnston County and all it has to offer!
Get the Guide

Sign up for our Event Newsletter