Sales & Service
Welcome Center Visits and National Tourism Week
North Carolina's nine Welcome Centers  located on Interstate highways just inside the state line promote tourism related businesses to visitors already in the state actively seeking travel information.  The JCVB works with all the Welcome Centers to provide them with visitor information and keep them updated on what is happening in Johnston County.  We visit the I-95 North and South Centers multiple times a year.
The first full week of May is recognized as National Travel & Tourism Week.  The JCVB celebrates this every year by going to the Welcome Centers at I-95 North and South.  Tourism partners are invited to join us and promote their businesses to travelers stopping at the centers.
 
Call Center Visits
The Visit NC 1-800 number that travelers can call for information on visiting North Carolina is answered by prisoners at the N.C Correctional Institution for Women in Raleigh.  The JCVB regularly visits the call center to keep them updated on what is happening in Johnston County.  
Group/Meeting Services
The JCVB works with incoming groups and meeting planners to help enhance their trips to Johnston County.  We assist with finding meeting venues, hotel reservations, restaurant options, other service providers and more.

AENC Trade Show
The Association Executives of North Carolina is an association of meeting planners which we interact with throughout the year. An opportunity for our partners to participate is the AENC annual trade show. Each December the JCVB attends the trade show to promote meeting venues and service providers in Johnston County.
Hotel Packages and Website Coupon
Currently the JCVB has 2 hotel packages: Girls Weekend and Sip & Stay.  Please visit the links for more information on each package Coupons from these packages and an additional coupons our partners would like to offer can be put on the website to help drive more visitor traffic to your business.
Distribution
The JCVB distributes visitor information all over Johnston County. We can provide a visitor information display for your business at no cost to you if you are interested.
For more details on how to work along side our sales team, contact our office at 919-989-8687.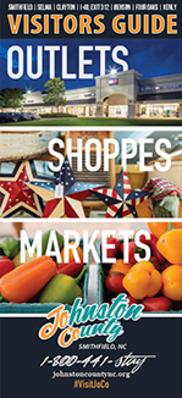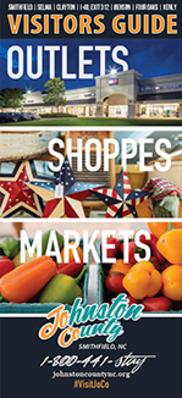 Get your free Visitors Guide today to learn about Johnston County and all it has to offer!
Get the Guide

Sign up for our Event Newsletter