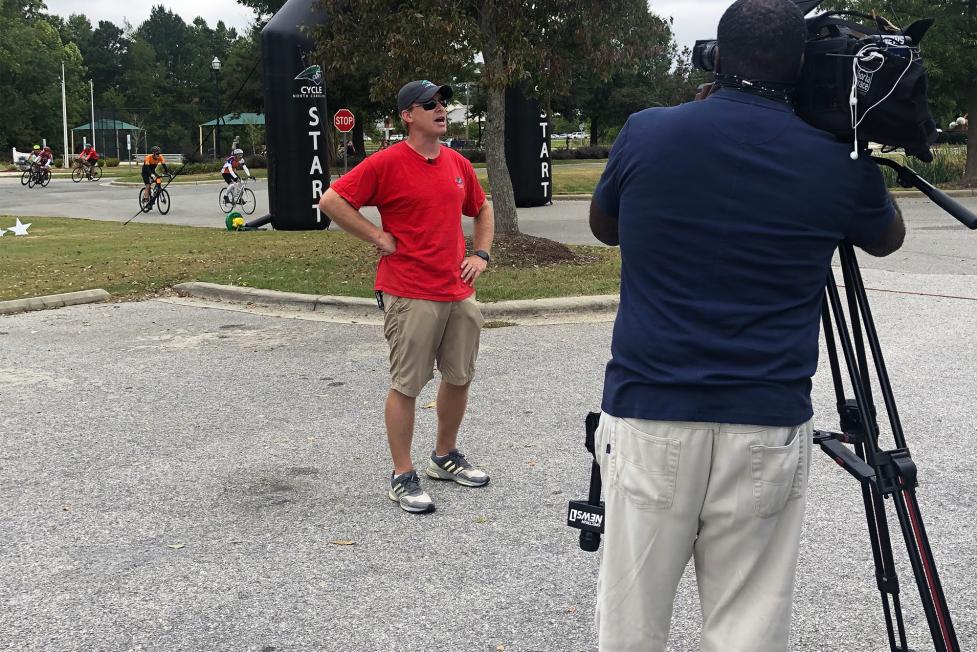 What is CycleNC?
Cycle North Carolina offers one of the largest cross-state bicycle tours in the United States. The rides are designed to promote North Carolina's scenic beauty while providing substantial economic impact to small towns across the state.
In addition to the ride, daily excursions offered the opportunity to take a break from the ride and experience North Carolina. Participants varied from cyclists wanting a day off to rest or simply explore different areas of the state, to friends/family of the cyclists who weren't riding but were traveling with the group. 
The JCVB works with towns & recreation departments to bid on events like CycleNC. CycleNC stopped overnight in Clayton in 2019, and we hope to host CycleNC again in the future! Not only does the JCVB help with booking but they assist with transportation cost, entertainment cost, and on-site day-of coordination and visitor support. 
 
The 2022 Ride
Smithfield hosted CycleNC as an overnight stop on their Mountains to Coast ride; rescheduled from 2020 this sporting event brought over 800 cyclists to the Smithfield area. Participants camped overnight at the Smithfield Recreation & Aquatics Center, stayed in Smithfield hotels, lunched on local food truck fair, and were entertained by the musical stylings of local artist Rebekah Todd.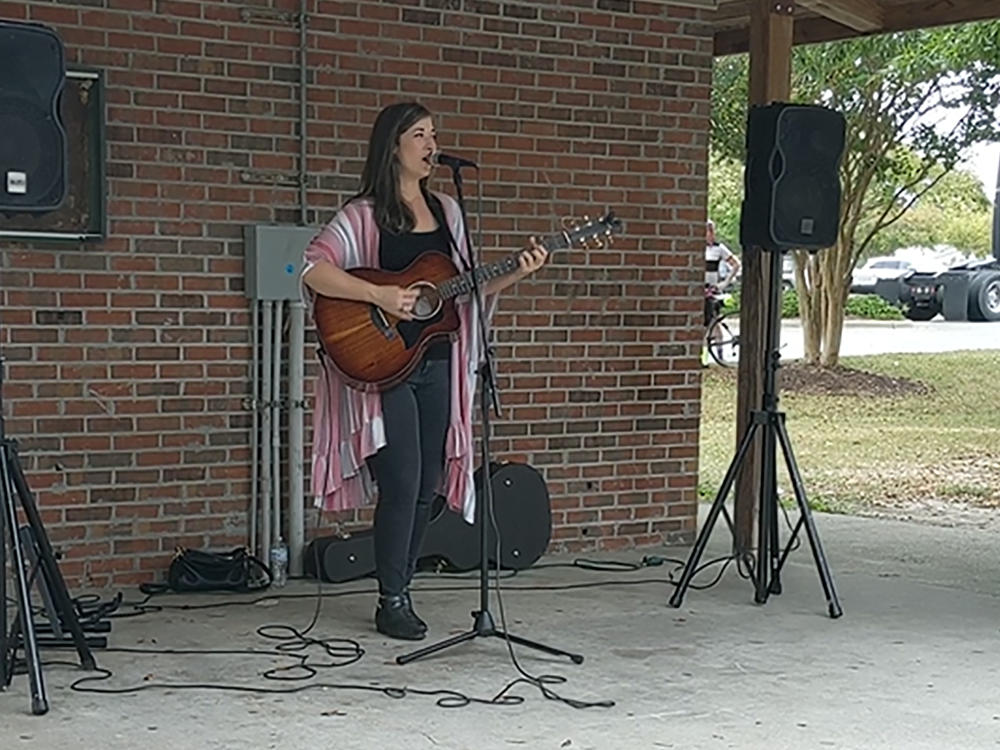 Starting in Sparta, the 2022 ride also had overnight stays in Mount Airy, Reidsville, Roxboro, Creedmoor/Butner, and Wallace, ending at North Topsail Beach. Along the route were rest stops in towns between overnight locations, including Clayton and Brogden.
For the fifth year, Visit NC sponsored the Cycle NC/Visit NC Excursions. A dedicated motorcoach departed from the overnight host city in the morning and stopped at a few attractions and a destination for lunch each day before arriving at the next overnight host city in the late afternoon. Participants paid a fee to help offset costs to the attractions that hosted them. 
They also had the opportunity to shop and learn more about the state for future visits. Riders and their support team spent the evening exploring and dining in Downtown Smithfield. 
 
Cycle NC by the Numbers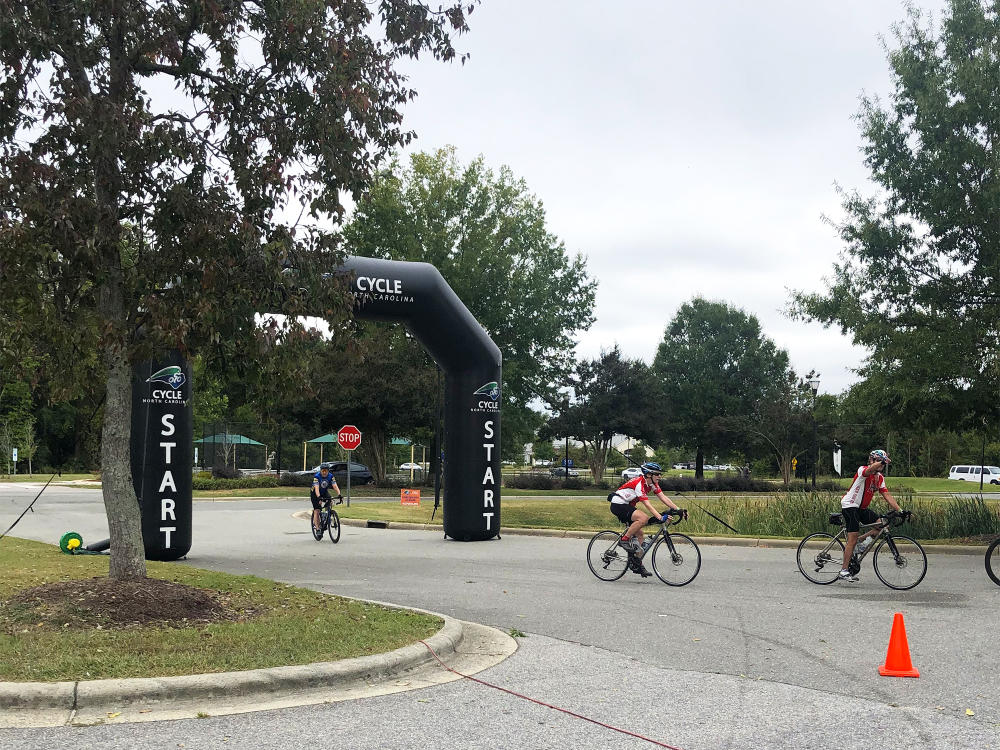 Participation: 827 riders
Oldest Rider: 85 years-old
Youngest Rider: 8 years-old
Male/Female Ratio: Male 75%, Female 25%
Approx. Hotel Rooms: 100
 
Sports events like CycleNC are an opportunity to spread the economic impact of the event across communities on or near the route of the ride. CycleNC's participation includes not only over 800 riders, but 40 support staff and nearly 100 friends and family members or riders who travel the route throughout the entire event to provide rider support. Economic Impact for events like CycleNC is calculated in the following way using historical data from VisitNC:
 
# of Day Trip Visitors X Avg. Spend by Day Trip Visitor
+
# of Overnight Visitors X Avg. Spend by Overnight Visitor
=
Take the Sum of Those Numbers X Economic Impact Factor Number
 
CycleNC brought in 827 riders, plus 40 support staff, and 100 additional participants for a total of 967 visitors. The group also booked 100 hotel rooms into the destination for non-campers. Assuming 2 people per booked hotel room, that's 200 overnight guests and 767 day trip visitors who did not stay in a hotel but camped at SRAC. Therefore the equation looks like this:
(767 x $50) + (200 x $215) = $81,350 x 1.7 = $138,295 Total Economic Impact
Here are the responses on the Smithfield overnight from 158 survey participants from CycleNC. They were asked to rate each host town based on satisfaction of their experience.
 
| | | |
| --- | --- | --- |
| Answer Choice | Response Count | Percentage |
| 1 (Excellent) | 90 | 57% |
| 2 | 55 | 35% |
| 3 | 7 | 4% |
| 4 (Poor) | 4 | 2% |

From Our Partners

We aren't usually open in the evenings so not sure about an increase. However, we had a good evening and about 40% of our customers were cyclists. - Gloria, Gilded Pear
We did see a positive increase in business the evening of the event. Overall it appeared to attract more folks to downtown than I thought it would, considering there are limited evening options outside of dining for cyclists downtown currently. - Joseph, Sami's Pizza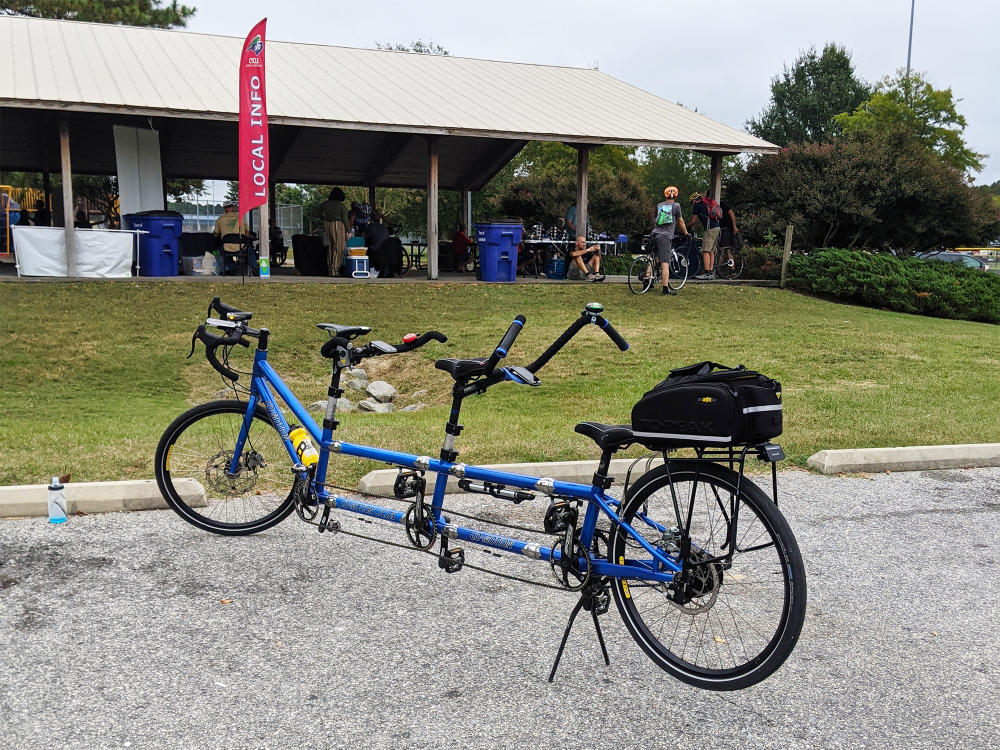 Sports is Economic Development
Unlike the large meetings market, even small towns can benefit from sports; bringing in travel ball teams and other travel-based sporting events. Communities across JoCo are building trails, pickleball courts, disc golf courses, and working to better market their sports inventory to interested parties. 
Over the course of our Capital Grants Program, the JCVB has awarded $352,500 in grants related to sports and recreation in the county; facilities additions and updates benefit both residents and visitors.