Traffic Notice

N.C. Department of Transportation contractors closed the U.S. 70 West loop to Interstate 40 East on July 6, 2022, to allow crews to build the new turbine-style interchange for I-40, U.S. 70, and Toll N.C. 540. A signed detour will direct drivers to exit U.S. 70 West and take N.C. 42 West to get on I-40 East. For real-time travel information, visit DriveNC.gov or follow NCDOT on social media.
The new turbine-style interchange, which will again allow drivers to get to I-40 East from U.S. 70 West, is expected to be complete by late 2023. Motorists need to slow down and pay extra attention as they travel near the work zone and allow extra time for the detour.

Maps & Directions

Today most everyone has a GPS at their disposal, but if you like to have a map in hand, just give us a call.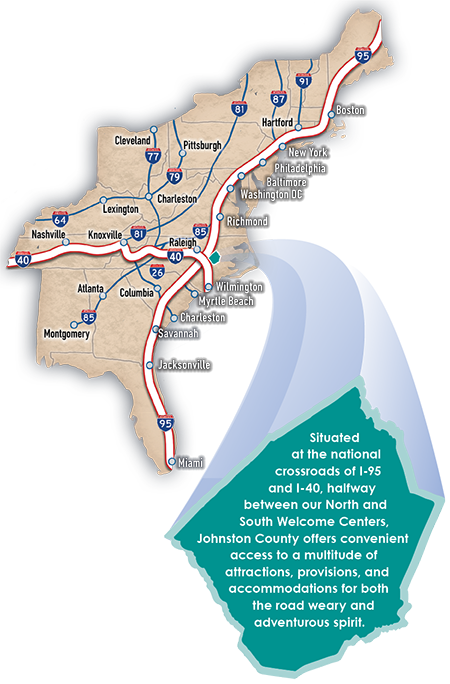 It's a straight shot along our major Interstates 95 and 40 to Johnston County, making our county the North-South and East-West connection in North Carolina.
Johnston County is located in the Piedmont Region of North Carolina, just 30 minutes from Raleigh, our state capital.  RDU International Airport is 30-45 minutes west from Johnston along the I-40 corridor with 400 daily flights. AMTRAK in Selma offers two daily trains for rail passengers.
Mid-way along I-95, Smithfield in Johnston County is approximately the 0 mile marker between New York City and Jacksonville, Florida. 
Don't pass us by - we invite you to explore what awaits beyond the highway!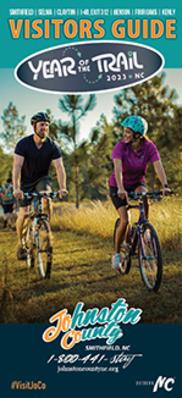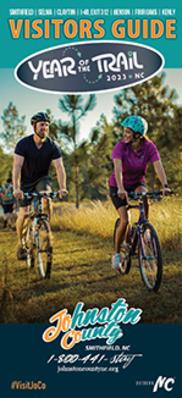 Get your free Visitors Guide today to learn about Johnston County and all it has to offer!
Get the Guide

Sign up for our Event Newsletter