Traveling with Pets?
Are you looking for Pet Friendly Hotels in Johnston County? Browse the list provided below, and click for information on all our camping and RV parks which are pet-friendly.
You will also find pet-friendly attractions, restaurants with sidewalk and patio seating, and community parks and dog parks to enjoy when visiting Johnston County. We have curated the following list of places to go and things to do by interstate exits and towns...so while you are visiting and over-nighting in the area, check out what's near by for you and your pets to enjoy.
And thanks to OutdoorNC there are Leave No Trace principles specific to exploring with you pet to review.
 
Benson, I-95 Exit 79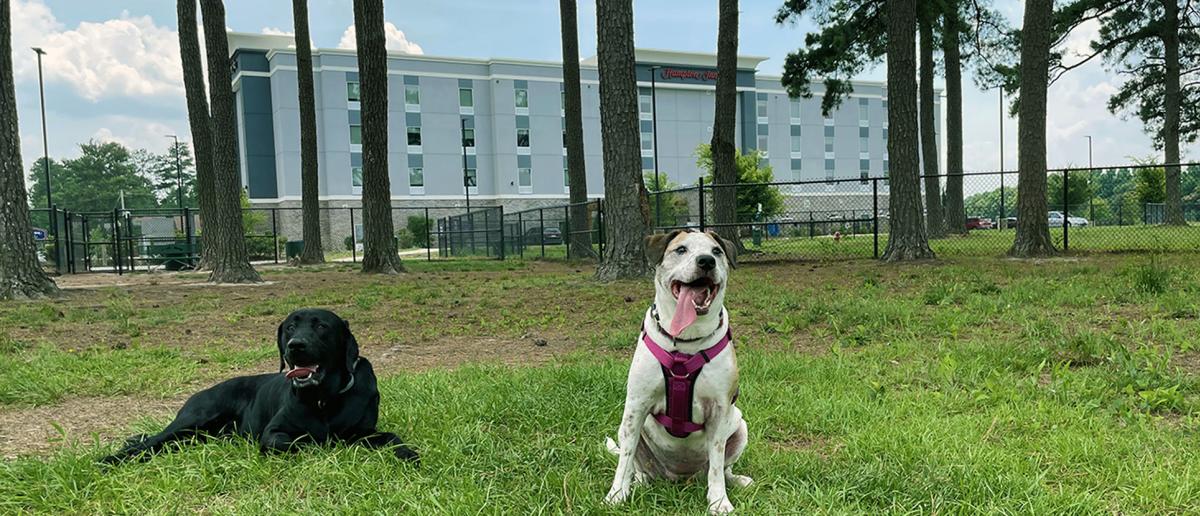 The beautiful Downtown Shopping District of Benson is conveniently located off of I-95, Exit 79 and I-40, Exit 325 and with the new Hampton Inn being adjacent to the Benson Dog Park, Benson makes for a great location for traveling with pets. Stay overnight and let your dog run and play to their heart's content.  Suggestions of other pet-friendly activities in Benson, we suggest dinner at one of the follow restaurants or brewery which offer patio or sidewalk seating: Cornerstone Café or Fainting Goat Brewing Co. (open Wednesday-Saturday)
Before leaving the Benson area, take the tour at Broadslab Distillery and learn about the moonshine industry and Jeremy Norris' story -- it's a must see attraction in the area.
Four Oaks, I-95 Exits 87 & 90

Local recreation options and camping with your pets are what you will find in Four Oaks, NC. Howell Woods offers cabins for families, hiking, bird watching, kid's activities and more for the whole family and your pets.  Trails are now part of the history lesson available at the state's largest Civil War battlefield at Bentonville, where you can enjoy hiking along trenches and enjoy trails on the Cole Plantation, the newest pull-off site on this 6,000 acre battlefield.
Smithfield/Selma, I-95 Exits 95 & 97
The Smithfield/Selma exits along I-95 have the most options for overnight lodging and camping for visitors traveling with pets, so please see the chart below for listings. While in the area take your pets for a walk along the Buffalo Creek Greenway in Historic Downtown Smithfield and enjoy lunch or dinner at SoDoSoPa, the restaurant has patio seating to accommodate pets.  Also in Smithfield is the Dog Park along US Hwy 301 and several parks that are dog-friendly, click the link to the Smithfield Community Park for information.
Kenly, I-95 Exits 106 & 107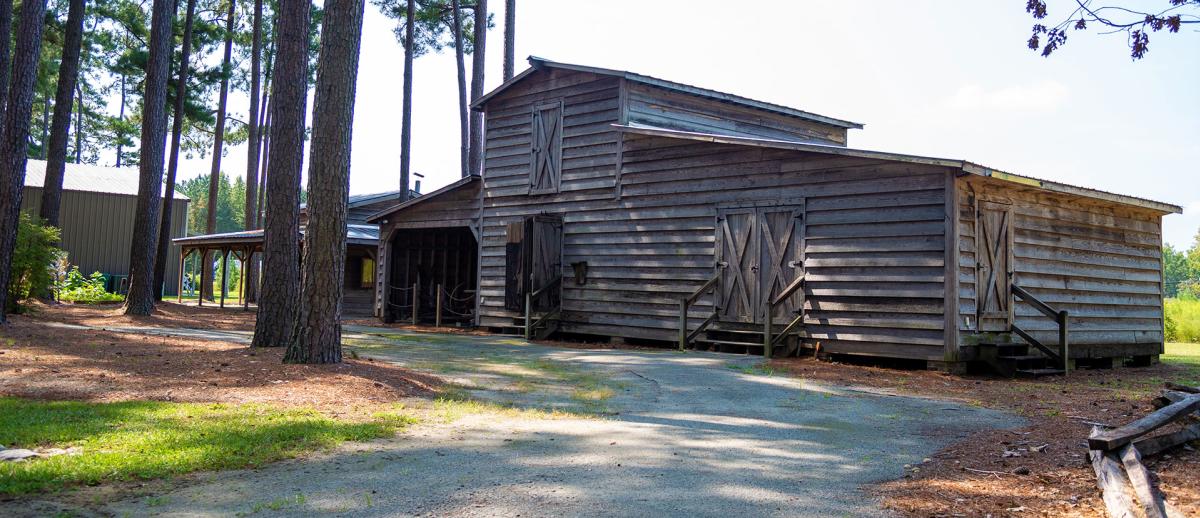 Stretch your legs along the restored farmstead at the Tobacco Farm Life Museum and enjoy a history lesson on the Eastern North Carolina farm family. They host events throughout the year as well, so please check the event calendar.  The local Parks & Recreation facility has a paved walking trail for an outing as well. Kenly has several pet-friendly motels, please check the listings below for making plans to stop.
Clayton, US 70 Highway

Clayton is known for a variety of parks like Clemmons Educational State Forest, and greenways like the Clayton River Walk on the Neuse, so getting outside with your pets is a breeze in Clayton. For some dining options while in Clayton, check out patio seating at Festejos-Mexican Bar and Grill, the Cleveland Draft House, and Boulevard West coffee house to choose from.  Accommodations for pets are located in the I-40, Exit 312 area, with a Garner address in the hotel listings.
For some stops to enjoy along the Beer, Wine and Shine Trail while in Clayton, check out Deep River Brewing and InStill Distillery in Downtown Clayton, they have food trucks and live music with patio seating.
I-40, Exits 312 & 319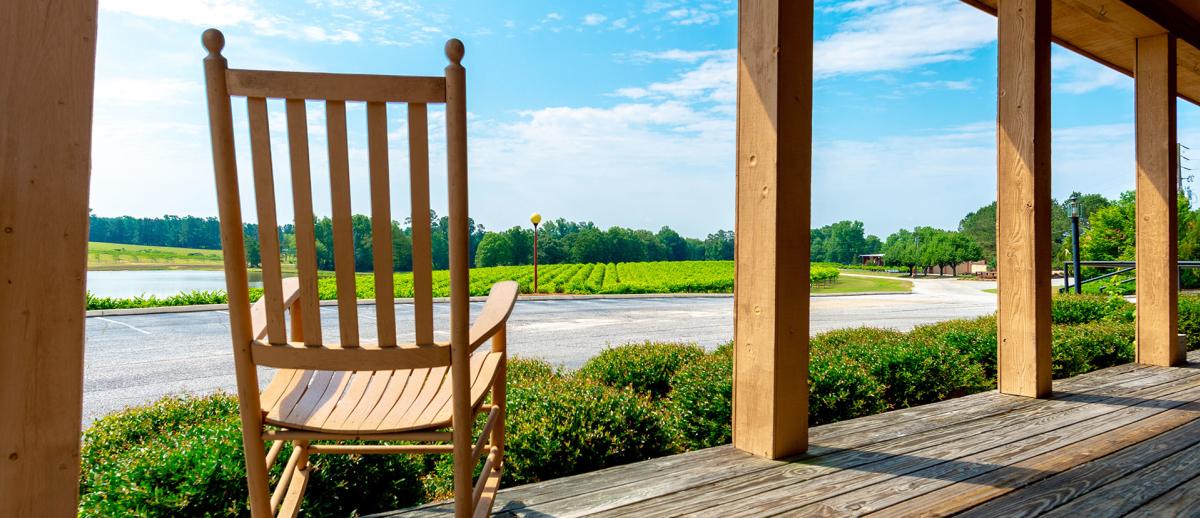 If you are traveling east or west along I-40, Johnston County has two major exits with accommodations, dining, and a beautiful place to get outside and enjoy the rolling terrain or you may just want to sit a while on the porch at Gregory Vineyards. A little ways in the country, you will find the gardens at Artmosphere Community Arts Center, where they host events in a charming Victorian farmhouse.
For some of the best competition BBQ in the state of NC, stop by Redneck BBQ Lab at McGees Xrds, Exit 319, where they have outside picnic seating...just a hint, Tuesdays and Saturdays are burnt ends days.  It's a treat not to miss!
Pet Friendly Accommodations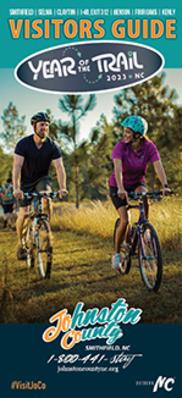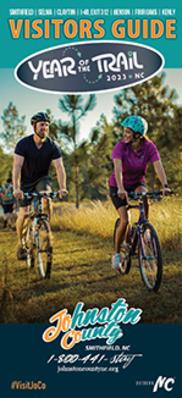 Get your free Visitors Guide today to learn about Johnston County and all it has to offer!
Get the Guide

Sign up for our Event Newsletter