The Sights of JoCo
Thank you for your interest in Johnston County! The options below will take you to curated folders of downloadable photos and videos that you have permission to use in any media coverage of Johnston County. If you have any questions or need further information and/or material please information, please email Ashby Brame, our Director of Marketing, at abrame@johnstoncountync.org or call the bureau at 919-989-8687.
This folder contains photos of the Ava Gardner Museum in Smithfield, NC. From a small-town girl to one of Hollywood's most enduring screen legends, this museum in Ava's hometown celebrates her life and career. Pictures include shots of Ava, the museum facade, and exhibits.
Held every 5 years on the anniversary of the battle, the Bentonville Battlefield Reenactment is a full-scale recreation of this historic battle. Photos include reenactment shots, Bentonville museum exhibits, and living history demonstrations.
 
Festivals and events in JoCo are varied and many throughout the year thanks to our several unique downtowns and temperate weather. Photos in this folder include Ham & Yam, the 301 Endless Yard Sale, Benson Mule Days, Meadow Lights, and more.
 
From local history museums to craft beverage makers, outdoor trails to live entertainment venues, outlet and boutique shopping, as well as farm experiences... JoCo's rural heritage and excellent location along I-95 make it a great place to stop and explore or visit for the weekend.
 
Beautiful, sprawling fields alight in the glow of a setting sun. Vineyards exploding with the green of vines and the red, purple of grapes. Charming and picturesque downtown areas. Historical homes, old barns, and varying architectural styles in landmark buildings. Johnston County is a great place to film.
 
Logos for Johnston County, NC as a destination as well as for the 301 Endless Yard Sale, the Beer Wine Shine Trail, and the Sip & Stay Package.
 
This folder contains 45 sec clips of b-roll footage from Johnston County's most popular attractions as well as a 2-3 min destination video.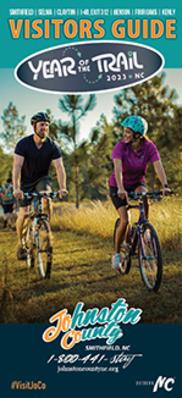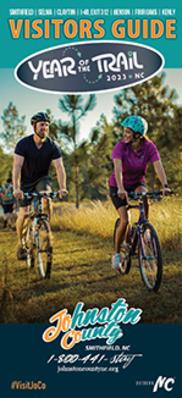 Get your free Visitors Guide today to learn about Johnston County and all it has to offer!
Get the Guide

Sign up for our Event Newsletter