Organization of the Staff
Staff Job Titles and Descriptions
Donna Bailey-Taylor, President/CEO
Directs and leads the Bureau toward its mission. Works with the JCVB Board on policy making and strategies for the organization. Serves as the key executive within Johnston County to represent the interests of the travel and tourism industry. Speaks at public events and other meetings on tourism as well as other matters pertaining to the industry and the JCVB. Participates in industry associations and travel and tourism boards. Acts as the primary spokesperson for the organization.
Angel Phillips, Office/Visitor Center Manager
Performs accounting functions in accordance with County Finance Purchasing Procedures, and assists the President/CEO with the overall financial operation of the Bureau. This position will also assist in the management and operation of the administrative offices, IT duties, and oversees the operation of the visitor center providing visitor services for leisure and group markets.
Eric Dean, Creative Director
Helps execute the vision of the Johnston County Visitors Bureau while supporting the needs of the marketing, sales, and services departments. Develops all creative aspects and direction of the Bureau's marketing platforms including graphic design, advertising, print materials, social and digital campaigns, and publications. Manages all technical aspects of the Bureau's websites, including design, layout, and functionality.
Ashby Brame, Director of Marketing & Communications
Responsible for identifying market opportunities and developing short- and long-term marketing strategies to attract overnight business. These strategies should include advertising, public relations, direct sales, tradeshows/industry meetings, familiarization tours, group services, research, and special promotions. Responsible for strategically planning, implementing, and reviewing internal and external communication programs.
Kristin Radford, Leisure Sales & Services Manager
Welcomes and provides relevant and helpful information about Johnston County to all Visitors to the Visitor Center, while providing superior customer service. Assist all walk-in visitors, phone call inquiries and email inquiries promptly and informatively. Manages the CRM and the Extranet for the tourism industry partners, events, and all brochure
distribution in the county.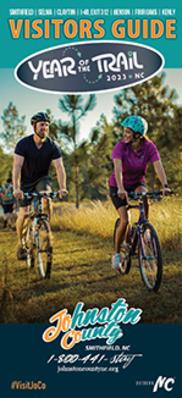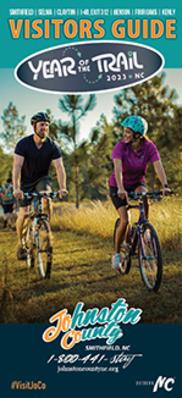 Get your free Visitors Guide today to learn about Johnston County and all it has to offer!
Get the Guide

Sign up for our Event Newsletter