Resources and Information for Your Next Film Project

We have compiled some helpful information for filmmakers considering production in JoCo or in the state of North Carolina. 

Filming Green
The State of North Carolina is proud of its natural resources and natural scenic beauty. Boasting a legendary coastline, North Carolina is also home to the historic Appalachian Mountains and a diverse agricultural heartland famous for vineyards and cotton.
In an effort to maintain the integrity of North Carolina's most treasured natural assets, the North Carolina Film Office endorses the standards set forth by the Environmental Media Association (EMA.) On the NC Film Office website, you will find information provided by the Environmental Media Association on "green" and environmentally friendly filmmaking practices. Click here for more information.
Regulations for Filming in NC
North Carolina prides itself on the opportunities it can offer filmmakers. With minimal regulations and an appreciation for the film industry, North Carolina welcomes filmmakers with optimism and respect.
We have provided here information on labor regulations, tax stipulations, and requirements for filming on military installations in our state:
Child Labor Laws
The child labor provisions do not apply to children employed as actors or performers in motion pictures, theatrical, radio, or television productions. A Youth Employment Certificate must be completed before hiring youth/children under the age of 18. Please visit the NC Department of Labor's YEC AUTO page for an online certificate form and other vital information. If you are concerned that your child is in danger of exploitation, please contact the NC Attorney General.
Code of Conduct
Please strive to keep a good working relationship with the local community. By doing so, you will not only make your job easier, but you will ensure a good working relationship with all future production companies filming in the area. Please adhere to the following guidelines established by the Association of Film Commissioners International (as adapted by the North Carolina Film Office)
Tax Regulations
North Carolina's income tax is applicable to all resident individuals and fiduciaries who are required to file returns under federal regulations and any non-resident or part-year residents having income from North Carolina sources.
Incorporating and LLCs
We encourage film industry service companies to make North Carolina their home base. Here's some helpful information to get you started. The North Carolina Department of Commerce's one-stop Business Link North Carolina provides:
One-on-one client consultations
Customized licensing information
Employer and business structure forms
Referrals to state agencies and state occupational licensing boards,
Local Governments and Federal Agencies
Referrals to local, state & federal business services, programs & resources
A Small Business Ombudsman to work on your behalf to resolve issues with state government agencies.
For complete information on these topics click through to the NC Film Office website: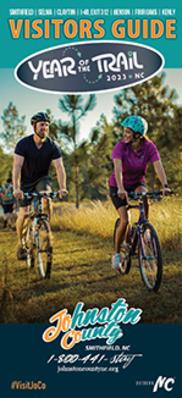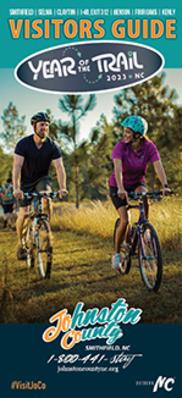 Get your free Visitors Guide today to learn about Johnston County and all it has to offer!
Get the Guide

Sign up for our Event Newsletter