Goals and Objectives
Our goals and objectives fall under five core components: Internal Staff & Bureau, External Customers and Partners, Sales and Marketing, Education and Training, and Economic Development.
GOAL:
The JCVB will strive to achieve excellence in destination marketing utilizing the highest industry standards set forth by Destination International.
OBJECTIVE:
To professionally operate the JCVB in alignment with the by-laws, core values, strategies, and goals approved by the Tourism Authority.
TACTICS:
Create a community relations plan to inform business leaders, elected officials and residents of Johnston County the mission of the Visitors Bureau and the benefits of tourism to the development of the county.
Monitor and proactively respond to legislative issues affecting tourism in Johnston County.
Design an e-newsletter to send to community leaders on the activities of the bureau.
Staff to seek out any training needed in the pursuit of their job requirements.

GOAL:
The JCVB will position Johnston County as the preferred visitor, group tour, and meeting destination along the I-95 and I-40 corridors targeting select visitor markets along the East Coast and Canada.
OBJECTIVE:
To aggressively market Johnston County to all proven target audiences with the highest quality materials and methods in advertising and publicity.
TACTICS:
Utilize top-quality destination marketing collateral materials for distribution and direct selling such as a Visitors Guide, Meeting Facilities Guide, Group Tour Guide, and digital Calendar of Events.
Conduct research to determine the target audiences along I-95 and I-40 to successfully brand all the destinations in Johnston County.
Advertise Johnston County as the preferred destination for visitors on I-95 and I-40 through all means available including print, digital, social, and direct sales opportunities.
Promote short trips or packages to Johnston County from major feeder cities such as Washington DC, Tidewater VA, Baltimore, MD and Phil, PA areas.
Place Shopping Packages on Johnston County Web Site and promote through AAA, the Girl's Weekend Package.
Continue to support local events and festivals through the Matching Marketing Grants.
Advertise with billboards on I-95 and I-40, the NC Travel Guide, Coop ads with the VisitNC, AAA Travel Publications and other publications that meet the bureau's established marketing goals.
Direct marketing efforts toward Niche Marketing such as sporting events and tournaments, Senior Groups, Religious Groups, Military and Family Reunions and Hotel Packages.
Email blasts for events and festivals to local, regional, and national media.

GOAL:
The JCVB will stress the importance of educational opportunities for the visitor industry with the purpose of encouraging quality visitor services for leisure, meeting, and group tour travelers to Johnston County.
OBJECTIVE:
To improve the visitor experience in Johnston County by the betterment of customer service in all areas of the visitor industry.
TACTICS:
Work with the Johnston Community College on Leadership Johnston and Junior Leadership on educating the community leaders on the importance of tourism.
Continue to expand Hospitality Heroes Training Program for hotel front line employees educating them on tourism attractions and services in the county.
Develop an educational presentation with PowerPoint for speaking engagements in the county.
Conduct front-line employee one-day fams to introduce them to the area's attractions.
Make monthly visits to hotels to check Visitor Bureau collateral distribution sites.

GOAL:
The JCVB will work cooperatively with municipalities, chambers of commerce, and visitor industry partners both locally and statewide to achieve an effective and comprehensive marketing program.
OBJECTIVE:
To aggressively market Johnston County to all proven target audiences with the highest quality materials and methods with local and state partners.
TACTICS:
Participate with the VisitNC team all tourism promotion projects that benefit Johnston County, including FAMS, coop advertising, Visitnc.com banner ads, attend the VisitNC 365 Conference.
Manage the Johnston County Visitor Information Center and facilitate visitor info to all chambers in the county.
Encourage hotels and visitor industry partners to actively market along with the Visitor Bureau's marketing programs.
Host quarterly Hospitality Association meetings to engage in marketing strategies with hotels and visitor industry partners.

GOAL:
The JCVB will proactively pursue economic development projects that benefit the tourism industry in Johnston County.
OBJECTIVE:
To enhance the growth of the county through tourism development projects.
TACTICS:
Actively recruit visitor related businesses to Johnston County.
Develop a meeting facility to accommodate 300-500 people in a multi-purpose facility.
Serve on Economic Development Committees set up by Chambers to represent the interests of tourism development for the county.
Successfully communicate to the Chambers of Commerce and County Commissioners the Johnston County Tourism Authority's Tourism Development goals and strategies for the county.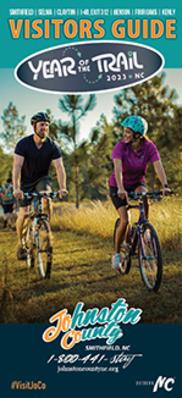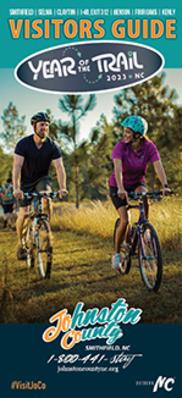 Get your free Visitors Guide today to learn about Johnston County and all it has to offer!
Get the Guide

Sign up for our Event Newsletter