Can't Find Anything To Do?

Do you find it hard to make plans on the weekend for the kids or do you have family coming in for a visit? Refer back to this curated list of things to do around the county for inspiration!
 
Drop by Archer Lodge, the northern most town in JoCo and pay tribute to our veterans at the new memorial at Town Hall.  What a beautiful memorial - definitely worth the drive.
 
While in Archer Lodge, take the time to visit a local country and convenient store, Archer Lodge Express, for their hosted food trucks and special events!
 
Shop in Downtown Benson for vintage furniture, collectibles and antiques at Morgan's on Main, Farmhouse Vintage Treasures, Salvaged Heirlooms, and more.
 
Find the soldier's uniform from World War I at the Benson Museum of Local History on Main Street in Benson. Or see how many farm tools you can identify.
 
Stop in Warren's Drug Store on Benson's Main Street for an old-fashioned lemonade from their soda fountain.
 
Try your hand at trivia nights and music bingo at two locations (Benson has nightlife!) at Fainting Goat Brewing and Salvaged Heirloom's.
 
Take a picnic lunch to the Benson Singing Grove with the whole family and enjoy the shelter for the adults and playground for the kids!
 
For the largest southern buffet anywhere, visit Meadow Village Restaurant seven miles south on Hwy 50 from Benson. It is worth the drive, trust me!
 
Make three stops on the Beer, Wine, and Shine Trail at Broadslab Distillery, Fainting Goat Brewing Co. and Gregory Vineyards. Jeremy at Broadslab will always have a story for you!


 
Drop in Medlin's Ace Hardware for old-fashioned Christmas candy and shelled pecans for holiday recipes.
 
Shop at boutiques in Benson for women's clothing and accessories, like Royal Boutique.
 
Enjoy homemade waffles all day long at Cornerstone Café, gluten-free treats at JP's Pastry or delicious barbecue at White Swan's Bar-B-Q after any of the above activities!
 
Take a trip down a water slide at Tucker Lake near Benson which is open May to September. Take some sunscreen!
 
Honor the farming heritage of Benson and the beast of burden at the annual Benson Mule Days Festival held the fourth weekend each September.
 
Drive through the bright lights of the Meadow community, ride Santa's train and visit the Country Christmas Candy Store for some old-fashion sweet treats.
 
Enjoy a variety of beach music at the Sundown Concerts hosted by the Benson Chamber of Commerce, or head to Benson the fourth weekend in June for the Benson State Singing Convention.
 
Out in the countryside, finding a great meal at a gas station is not uncommon -- while near Benson, try the hamburgers at Grill on the Hill.  You will thank us!
 
Take a 2-hour canoe trip on the river with Neuse Adventures Canoe & Kayak Rentals in Clayton.
 
Get to Clayton Community Farmer's Market early and often for delicious locally baked foods, local honey and seasonal fresh produce.


 
For some legal craft beer tasting -- stop by Deep River Brewing in Clayton and enjoy the food truck sure to be there serving up some fun food! There is a second stop on the Beer, Wine and Shine Trail now at the same location - visit InStill Distillery for a tasting and tour!
 
Enjoy a performance at the 600-seat performing arts auditorium, The Clayton Center, in the restored Clayton high school.
 

Walk the many trails at Clemmons Educational State Forest and listen to the talking rocks and trees. There are exhibits explaining the managed forest and it is a great place for a family picnic!

Try out Epic Axe in Downtown Clayton to release your inner lumberjack!
 

Bowl, play pool, or enjoy the arcade games at Rainbow Lanes Family Fun Center in Clayton….a great place for a birthday party!

In October, Boyette Farms turns into the Clayton Fear Farm - complete with haunted houses, scary hay rides, and much more. Return to Boyette Farms at Christmas time to enjoy a hayride along the river for the "Lights on the Neuse".

Find a sweet treat at the Clayton Bakery, Nancy Jo's Homemade or Patty Cake's Littlest Cupcake Shop where homemade goodness awaits!

Take at nightlife crawl in Downtown Clayton; visit Revival 1869, A Drinkery, First Street Tavern and Ladida Wine Shop. You might need an Uber with all these fun spots!
 
Public Art Trails, art galleries, art shows and performing arts is the theme for the Town of Clayton. Enjoy the downtown streetscapes -- a place for artists and art lovers!
 
Have you ever eaten in a silver bullet diner? Make the trip to the Rockin' Comet Diner in Clayton. Save room for dessert!
 
Take your artistic talents to Pottery Camp in Clayton for unique gifts or something for yourself.
 
The Clayton Harvest Festival takes place during the perfect time of year when the weather is cool - the streets are hopping with carnival rides, beer tents, music and more.
 
Make your own art to take home with teacher-led classes at Art Studio 325.
 
Concerts on the Clayton Town Square brings families out for food, music, and fun!  It's a great evening to relax and dance too!
 
Walk the fields and union earthworks at Bentonville Battlefield State Historic Site near Four Oaks – the largest land battle fought in North Carolina during the Civil War. Also enjoy the museum, Harper House, and driving trails of the battlefield.
 
If you want to ride bikes in Johnston County, there are many country roads to explore and one official bike route (of four) that includes the town of Four Oaks. 
 
If you love to hunt for deer or would like to try shooting boar, contact Howell Woods for several controlled hunts...you can even rent a "green" cabin or an ADA accessible cabin for the trip right on site.


 
Stop and shop in one of Johnston County's original hardware stores at Stanfield's General Store in Four Oaks.  There's a back porch coffee bar as well for hanging out.
 
Stop in OGI Designs to meet Mike Pritchard and see the custom designed furniture - he's an artist on a large scale!  Look for the bear on Main Street.
 
A day of fun is in store for you and the whole family at the Four Oaks Acorn Festival with a parade, live entertainment, and art exhibits.
 
Just outside Four Oaks you can get in 18 holes of golf at Reedy Creek - flat terrain but plenty of pine trees to watch out for.
 
If you don't have a fear of heights and want a romantic float over the countryside -- give the folks at Carolina High Hot Air Balloon Company a call.
 
The Four Oaks Chamber of Commerce is planning events all year round including shopping, vintage cars, Christmas parades, and much more so check their website for details.
 
You will find some sweet places to shop in Four Oaks -- like the Shamrock Buzzy Bee, Cleo's Closet, and the Vine & Branch Florist.  Stop by and see what's on sale!
 
Spend the day on the restored farmstead at the Tobacco Farm Life Museum in Kenly and see how Eastern North Carolina farm families lived, worked, and played during the depression era.
 
Enjoy quirky roadside landmarks? Visit the 1/3 scaled replica of the Cape Hatteras Lighthouse at the Kenly 95 Truckstop for a photo and lunch at one of seven restaurants in the food court.
 
Did you know you can find rhododendron in the Flower Hill area, where the Piedmont meets the coastal plain in North Carolina… the best time to visit the area is the first couple of weeks in May.
 
Explore the unique mud and stick chimney construction and hand-hew planks of the one-room, Boyette Slave & Schoolhouse near Kenly.
 
Celebrate a country-style Christmas at Tobacco Farm Life Museum with old-fashioned decorations and refreshments. The museum holds events all year round - check the calendar for dates and times.
 
Watch stock cars circle the track at Southern National Speedway near Kenly every Saturday night – April to October.
 
Need to stretch your legs...drop by the Kenly Area Parks and Recreation walking track and do some laps.
 
There's a Johnston County BBQ Trail, but if you are in Kenly, the place to stop for que, is Stormin Norman's!!!
 
For some farm fun for the whole family, Sonlight Farms is open in the fall with corn mazes, pumpkin picking, special events, games, slides, and more.



 
The Town of Micro might be the smallest town in JoCo, but two big reasons to venture over for a visit are: the NC Paper Company for bakers supplies; and to get a delicious steak at Olde Town Steakhouse.
 
Pine Level is home to the largest muscadine vineyard in the state of North Carolina, Hinnant's Winery.  Bob Hinnant has been making award-winning wines now for more than ten years!  Not all Hinnant's wines are sweet -- they offer a norton red and a chardonnay too!
 
While in Pine Level - drop in to see Terry at Pine Level Hardware & Furniture Co. right on Main Street. She has a little bit of everything!
 
Every small town needs a great coffee shop, and Milltown Java in Princeton is the place to meet the locals and enjoy a great cup of joe!
 
Shop local in Princeton at Just Gifts for home goods and decor. 
 
After you're done shopping, enjoy a sweet treat in Princeton from Milltown Java or Outta the Box Cakes and Confections!
 
Flowers, fountains, concrete planters and an outstanding gift shop are what you will find at DeWayne's in Selma.
 
Find out who the Cornbread Man is at Atkinson's Mill and purchase some outstanding cornmeal products.  Where did hush puppies get their name anyway?
 
Treat yourself to a picnic lunch at Vick Park in Selma, where a mural has been installed by artist Dorothy Finiello.
 
Tap your foot to the country tunes and gospel music served up with style at the Live@The Rudy Theatre in Selma – it's a treat for the whole family!  Shows change four times a year -- Easter, Summer, Country, and Christmas themes draw in visitors from around the country!
 
Visit the 1924 restored Selma Union Station where railroad exhibits fill the waiting area and learn about local Selma history.  AMTRAK tickets are on sale in the lobby – take a ride and enjoy the rumble of the tracks.
 
Shop, shop, and shop some more for memories gone by at the antique stores in the charming Downtown Selma Antiques Shopping District.
 
Home to Carhartt jeans and big man apparel, with sizes up to 52, visit Carolina Apparel in Selma, right off I-95.
 
The Max G. Creech Local Museum of History is in Downtown Selma, and it full of interesting facts about the railroad, local history and info on who really invented VapoRub.
 
Looking for a deal? Shop factory direct outlets like the largest cigar store in the world, JR's and get a bite to eat at the Old North State Food Hall, right next door.
 
Crooked Row Produce is now open all year round with fresh local produce, jams, flowers, pumpkins and more!
 
If you're in Selma on the 3rd weekend in June participate in the 301 Endless Yard Sale. Selma is a pivotal stop along this annual 100 plus mile yard sale event that takes place over two days along US Highway 301.


 
The first weekend in October is a fun time for the whole family in Selma at the Annual Railroad Days Festival!  Food, music, arts and crafts, and a big parade!
 
Get to know the county's history by visiting the Johnston County Heritage Center in Smithfield to learn about its people and places. Rotating exhibits inhabit the first floor. Maybe you will find info on your family history in the Reading Room.
 
For 25-65% off national retail brands like Adidas, Kate Spade, Brooks Brothers, Coach, Loft, Nike, Talbots, Timberland, and Tommy Hilfiger don't miss a shopping trip to Carolina Premium Outlets in Smithfield with over 80 stores to choose from.
 
Head to Burney's Sweets & More to try a glazed croissant, also known as a "cronut", which is a delicious creation that is half croissant and half donut. We promise you won't be disappointed.
 
Ava Gardner - a Hollywood legend during the "Golden Age" and born in the Brogden Community just 7-miles east of Smithfield. Visit the Ava Gardner Museum and learn about her Cinderella story rise to stardom.
 
Catch a movie at the historic Howell Theatre in Downtown Smithfield.
 
Do you need a girlfriends weekend?  Make plans to visit Smithfield on the Girls Weekend Package.  Hotel deals, gift bag, chocolates and lots of coupons!  It's a date!
 
Taste and compare White Swan's Bar-B-Q and Smithfield's Chicken 'N Bar-B-Q... determine who is the best?  Everyone has their favorite!!
 
Visit Smithfield Community Park for walking trails, swings, and take a picnic lunch. Then venture out for a 3-mile walk along the Buffalo Creek Greenway, which takes you to the Town Commons park downtown.  It's all part of the Mountains to the Sea Trail in NC.
 
Travel along the county-wide mural trail to see our beautiful and varied outdoor art installations! 
 
Take a stroll along the streets of Smithfield enjoying historic homes, shops, and eateries. Downtown Walking Tour brochures can be found at the Heritage Center.
 
On a warm day Hills of Snow Snowballs on US 301 in Smithfield offers relief from the heat with over 99 flavors and a proprietary shaved ice recipe.
 
While exploring Downtown Smithfield, enjoy a wonderful, local meal at chef-owned SoDoSoPa. 
 
For hometown talent visit the Neuse Little Theatre, a community theatre that hosts several performances each year.
 
One of the oldest festivals in Smithfield, the Ham & Yam Festival is a celebration that has grown to include national entertainment, children's activities, BBQ cook-offs, and much more.  Get there early on Saturday for ham biscuits.
 
Do you like to fish? Check out what's biting, relax and fish on the banks of the Neuse River at the Town Commons in Smithfield, the ponds at Howell Woods, Smith's Farm or Langdon's Fishing.
 
Follow the Carolina's Campaign Civil War Trail in Johnston County that marks the activities of General William T. Sherman as he fought the last major battle of the Civil War in Johnston County in the village at Bentonville, March 19-21, 1865.  There are ten markers that begin in the Bentonville community and travel through the county to Clayton.
 
Do ghost stories intrigue you?  Plan on joining the Historical Ghost Walk held in Smithfield each October or read the Ghost Stories of North Carolina book at the library for more stories…including one relating to the Bentonville Battlefield.


 

Shop for and cut down your own Christmas tree at Northlake Christmas Tree Farm in Meadow or Mountain Branch Farm in the Cleveland community.

Pick from six locally made taps and get a flight of beer from the newly opened JoCo Brewing Company! Keep an eye out for upcoming events, food truck visits, and more as they gain their footing on the Beer, Wine Shine Trail.

Admire the many fine miniature horses bred at Banks Miniature Horse Farm near Clayton. They are so cute -- be sure to park in the driveway, off the road.

The whole community enjoys the Cleveland Strawberry Festival - carnival rides, food, games, and, of course, fresh picked strawberries and ice cream.

Want to find where you can purchase local produce, pick-your-own berries, or eat a meal made with local ingredients? Then download the new Visit NC Farms app to find out all this and more. 

Watch cars race at the GALOT Motorsports Park near Benson - they host national drag races and special events year-round.

Summertime is right for blueberry picking at Creekside Farms near Selma – be sure to get the recipe for Blueberry Cobbler from the farm.

For a unique venue to host child's birthday party, book the Splash Pool at the Smithfield Recreation & Aquatic Center.

Looking to enjoy some art? Try the Frank Creech Art Gallery at Johnston Community College and exhibits at The Clayton Center.  For arts events, visit the Johnston County Arts Council site, www.jcartscouncil.org/.

Pick strawberries April to June at Smith's Strawberry Farm at McGee's Xrds, WDW Strawberry Farm or Pace Family Farms for some fun with the kids!

Complete the county-wide Beer, Wine, and Shine Trail and receive a FREE hat or t-shirt from your favorite stop!

Do you need an escape? No, a real escape experience... try Ready-Set-Escape or Conundrum Escapes! Escape rooms are perfect for date night or small groups!

Get the Geocaching Brochure and find all the 50 cache locations around Johnston County to earn a special geocaching coin!

Eat at the Redneck BBQ Lab for some of the best competition barbecue you will ever have.  Make it your regular stop when traveling I-40 through JoCo!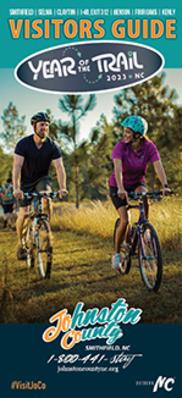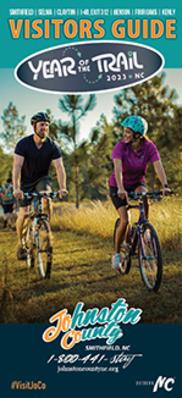 Get your free Visitors Guide today to learn about Johnston County and all it has to offer!
Get the Guide

Sign up for our Event Newsletter