Promoting Your Events

Who, What, When, Where and How to Promote your Event

Who should promote events, festivals, special sales, and product launches?  If you are an event coordinator, non-profit executive, restaurant owner, etc., there are many event/promotions you can put on event calendars with the Visitors Bureau and area websites.  If you can't get to these steps, we encourage you to enlist the help of a board member, intern, or volunteer.
What types of events should you promote?  For our purposes, all events should be open to visitors and/or residents to engage and attend your event.  Local meetings of non-profit groups, civic clubs, chamber meetings, or churches is not what we would promote on your behalf.
               Community Events: 4th of July, Halloween Walks, Christmas Parades
               Performances:  plays, concerts, outdoor movie nights, comedy shows, etc.
               Special Museum Exhibits
               Sporting Events: Tournaments, 5K, Triathlons
               Food cooking competitions
               Open Houses or Special Holiday Sales
               Live entertainment and Food Trucks
               Festivals and Annual Events
When to promote your event is critical to getting some exposure and publicity for your event.  For major festivals, we recommend that calendar listings be completed at least six months in advance and all events should be posted on websites at least six weeks prior to event dates.  Additional publicity should take place 30 days out and again 14 days out from start dates.
Where to distribute and post up information concerning your event is your next step.  Most all attendance for festivals large and small will be within a 50-100-mile radius, so we encourage you to focus on this geographical area first.  The JCVB has access to a national database of media contacts for an event/festival that has the potential to reach outside of North Carolina and/or has a niche market that we can search such as Civil War publications for Bentonville Battlefield's Anniversary Reenactment. 
Event Promotion listings – submit your event/festival info online
https://www.johnstoncountync.org/events/submit-an-event
*(JCVB will submit eligible events to Visitnc.com)
http://www.eventcrazy.com
https://www.charlotteparent.com/calendar/
https://johnstonnow.com/submit-your-event/
http://events.johnstoncounty.today
https://jocoreport.com/add-event
https://www.wral.com/out_and_about_search/4853892/?categories=75
http://www.whofish.org
https://www.carolinacountry.com/carolina-adventures/calendar-of-events
http://abc11.com/community/submitevent
https://www.carymagazine.com/events/social/add
https://spectrumlocalnews.com/nc/triangle-sandhills/calendar
https://www.ourstate.com/submit-an-event
http://www.wegoplaces.com/free-event-listing
https://calendar.indyweek.com/cal
https://web.claytonchamber.com/events
Email event news releases to the following publications/contacts:
Carolina Women - articles@carolinawoman.com
Indy Weekly - editors@indyweek.com
TravelHost - dhughes@travelhost.com
Local/Regional News Media (Print, Radio, TV)
| | |
| --- | --- |
| Country Superstars 102.3 | |
| CBS 17 | |
| Dunn Daily Record | |
| Eastern Wake News | |
| Four Oaks - Benson News in Review | |
| Johnston Now | |
| Johnston County Today | |
| Johnstonian News | |
| NC Weekend | |
| News & Observer | |
| Rocky Mount Telegram | |
| Spectrum News 14 | |
| The Carolinian | |
| The Cary News | |
| The Charlotte Observer | |
| The Daily Reflector | |
| The Fayetteville Observer | |
| The Herald Sun | |
| The Triangle Tribune | |
| Triangle Arts and Entertainment | |
| Triangle Arts Review | |
| Wilson Daily Times | |
| WNCN-TV Channel 17 | |
| WRAL | |
| WTSB 1090 Radio Station | |
| WTSB 1090 Radio Station | |
| WTVD-TV Channel 11 | |
| Smithfield Sun | |

How to promote your event and suggestions on how to get all this done is also key to your event's success.  We suggest that organizers create a publicity committee who will be in charge of all the steps involved in promoting your event. Additional suggestions on how to promote your events include:
1 – Email blast to your local Chamber of Commerce membership.
2 – Create a Facebook Event on your custom event FB page, which can be tagged and shared on individual's pages and the event can have its own brand.
3 – If this is an annual event, we suggest that Twitter, Instagram, YouTube, and Pinterest accounts be set up for the festival/event as well.  Create an event hashtag, #yourfestivalname and include it on all social posts and news releases.
4 – Set up an advertising budget for promoting your event on social media outlets, at least $5.00-$10.00 a day two weeks prior to your event date.  Choose a target audience to streamline the delivery of your event information/ad within a 50-100-mile radius.
5 – Attend other festivals in the area and experience how the event is run and promoted – we all can continue to learn and rely on others to help promote upcoming events as well.  Ask if your event information can be put out on their information table.  Working together is IMPORTANT!
6 – Develop your own email database from ticket sales, or sign-up sheets at every event with disclaimers that emails will NOT be shared and only event information will be emailed to the attendee/visitor.
7 – Posters, handouts, rack cards may be printed and distributed in the community, attractions, other events, schools, area businesses, etc., again they must be out at least six weeks prior to the start date.
8 – Speakers bureaus:  This involves someone from the event/festival organization making 15 minute presentations to area civic clubs such as Rotary, Kiwanis, Town Councils, County Commissioners, School Board, PTA Clubs, Lion Clubs, Chamber events, Arts Council, Women's Groups, etc., especially if your event has an opportunity to provide vendor space, has an educational component or has a social service function that will appeal to service clubs.  Word of mouth is still an effective resource for promotion in local communities.
9 – Write up a series of Event Releases to keep information in front of media: 
First, write an announcement release that promotes your dates, Save the Date or XYZ Performer Will be at this year's Festival, that will go out six months in advance. 
Second, send out a release announcing vendor spaces are available for sale and give more details on the festival.
Third, send out Thanks to our Sponsors release with final details of the festival.
Fourth, send a follow up release on the success of the festival with photos, quotes from visitors and vendors, and if an annual festival the upcoming year's date.
Remember that every news release should end with a summary of the organization hosting the event, location, times, dates, website, email address, and call to action, i.e., click for more information, follow us on Facebook, or purchase tickets.  Don't forget this very important summary for media outlets that don't keep all your correspondence in one place.
10 – Where appropriate for ticket sales, consider an online service such as Etix, Brown Paper Tickets or EventBrite that will sale tickets for your event, remember that each will be adding a fee to ticket prices for their service.
11 – Use social media to do Ticket Contests or Give-a-ways as a promotional idea to generate interest and shares on social media.  More shares, means more exposure. Be sure to review the social contest rules of the platform you will be using.
12 – If you don't currently have video to help promote your event, find someone in the community to help with taking video of events.  In today's social media world, hand-held phone videos are acceptable and images/videos help to sell the experience of your event.
13 – Invite a local/regional/state Blogger to attend your event to write up a review which will be shared with their readers. 
14 – After your event, have an ROI (return on investment) type meeting to see what worked and didn't work with publicity of the event this year.  Did you meet all the benchmarks for successfully promoting your event, if not, what happened and how can things happen better next year?  Set new goals for the festival organizing committee based on this wrap-up meeting. 
15 – We often use Canva.com for help designing flyers, social media graphics, and ads for promoting events.  It is free and has creative layouts and sizes already formatted for users.  Great tool for the beginner designer!
Do you have an idea to share with the group?  Email abrame@johnstoncountync.org and it will be added to this document.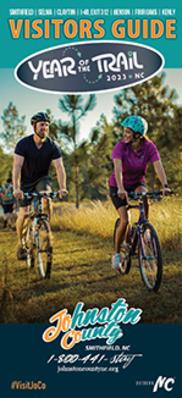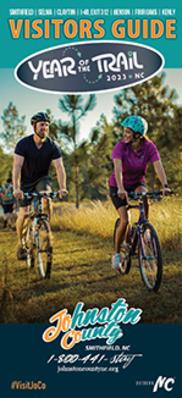 Get your free Visitors Guide today to learn about Johnston County and all it has to offer!
Get the Guide

Sign up for our Event Newsletter