Town Fast Facts

Top 10 Things to Do in Benson
Shop in Downtown Benson for vintage furniture, collectibles and antiques at Morgan's on Main, Farmhouse Vintage Treasures, Salvaged Heirlooms, and more.

Find the soldier's uniform from World War I at the Benson Museum of Local History on Main Street in Benson. Or see how many farm tools you can identify.

Take a trip down a waterslide at Tucker Lake near Benson which is open May to September. Take some sunscreen!

Stop in Warren's Drug Store on Benson's Main Street for an old-fashioned lemonade from their soda fountain.

Try your hand at trivia nights and music bingo at two locations (Benson has nightlife!) at Fainting Goat Brewing and Salvaged Heirloom's.

Honor the farming heritage of Benson and the beast of burden at the annual Benson Mule Days Festival held the fourth weekend each September.

Take a picnic lunch to the Benson Singing Grove with the whole family and enjoy the shelter for the adults and playground for the kids!

For the largest southern buffet anywhere, visit Meadow Village Restaurant seven miles south on Hwy 50 from Benson. It is worth the drive, trust me!

Drive through the bright lights of the Meadow community, ride Santa's train and visit the Country Christmas Candy Store for some old-fashion sweet treats.

Make three stops on the Beer, Wine, and Shine Trail at Broadslab Distillery, Fainting Goat Brewing Co. and Gregory Vineyards. Jeremy at Broadslab will always have a story for you!
Top 10 Things to Do in Clayton
Top 10 Things to Do in Four Oaks
Top 10 Things to Do in Kenly
Top 10 Things to Do in Selma
Flowers, fountains, concrete planters and an outstanding gift shop are what you will find at DeWayne's in Selma.

Find out who the Cornbread Man is at Atkinson's Mill and purchase some outstanding cornmeal products.  Where did hush puppies get their name anyway?

Treat yourself to a picnic lunch at Vick Park in Selma, where a new mural has been installed by artist Dorothy Finiello.

Tap your foot to the country tunes and gospel music served up with style at the Live @ The Rudy Theatre in Selma – it's a treat for the whole family!  Shows change four times a year -- Easter, Summer, Country, and Christmas themes draw in visitors from around the country!

Visit the 1924 restored Selma Union Station where railroad exhibits fill the waiting area and learn about local Selma history.  AMTRAK tickets are on sale in the lobby – take a ride and enjoy the rumble of the tracks.

Shop, shop, and shop some more for memories gone by at the antique stores in the charming uptown Selma Antiques Shopping District.

Home to Carhartt jeans and big man apparel, with sizes up to 52, visit Carolina Apparel in Selma, right off I-95.

The Max G. Creech Local Museum of History is in Uptown Selma, and it full of interesting facts about the railroad, local history and info on who really invented VapoRub.

Looking for a deal? Shop factory direct outlets like the largest cigar store in the world, JR's, and Soffe Factory Outlet.

If you're in Selma on the 3rd weekend in June participate in the 301 Endless Yard Sale. Selma is a pivotal stop along this annual 100 plus mile yard sale event that takes place over two days along US Highway 301.
Top 10 Things to Do in Smithfield
Get to know the county's history by visiting the Johnston County Heritage Center in Smithfield to learn about its people and places. Rotating exhibits inhabit the first floor. Maybe you will find info on your family history in the Reading Room.

For 25-65% off national retail brands like Adidas, Kate Spade, Brooks Brothers, Coach, Loft, Nike, Talbots, Timberland, and Tommy Hilfiger don't miss a shopping trip to Carolina Premium Outlets in Smithfield with over 80 stores to choose from.

Ava Gardner - a Hollywood legend during the "Golden Age" and born in the Brogden Community just 7-miles east of Smithfield. Visit the Ava Gardner Museum and learn about her Cinderella story rise to stardom.

Do you need a girlfriends weekend?  Make plans to visit Smithfield on the Girls Weekend Package.  Hotel deals, gift bag, chocolates and lots of coupons!  It's a date!

Taste and compare Holt Lake's BBQ & Seafood, White Swan's Bar-B-Q, and Smithfield's Chicken 'N Bar-B-Q... determine who is the best?  Everyone has their favorite!!!!

While exploring Downtown Smithfield, enjoy a wonderful, local meal at chef-owned SoDo SoPa, Under the Oak Cafe or Simple Twist. 

Our second brewery in the county is located along US HWY 70, Double Barley Brewing has a lounge and beer garden for your evening out!

Take a stroll along the streets of Smithfield enjoying historic homes, shops, and eateries. Downtown Walking Tour brochures can be found at the Heritage Center.

On a warm day Hills of Snow Snowballs on US 301 in Smithfield offers relief from the heat with over 99 flavors and a proprietary shaved ice recipe.

One of the oldest festivals in Smithfield, the Ham & Yam Festival is a celebration that has grown to include national entertainment, children's activities, BBQ cook-offs, and much more.  Get there early on Saturday for ham biscuits.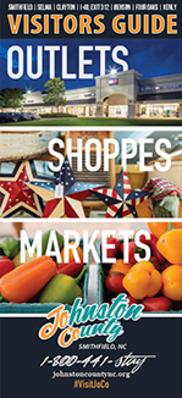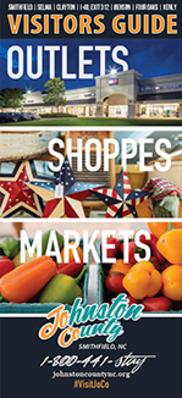 Get your free Visitors Guide today to learn about Johnston County and all it has to offer!
Get the Guide

Sign up for our Event Newsletter