Town Fast Facts

Top 10 Things to Do in Benson
Stop and sip on grapes or buy some jelly as you enjoy the picturesque vineyards at Gregory Vineyards in Benson.

Find the soldier's uniform from World War I at the Benson Museum of Local History on Main Street in Benson.

Take a trip down a waterslide at Tucker Lake near Benson. Take some sunscreen!

Enjoy a community theater play at W.J. Barefoot Auditorium, a restored high school one block off of Benson's charming shopping district.

Take a tour of B&B Produce, a sweet potato distribution center in Benson and learn how to cook a sweet potato in the microwave.

Honor the farming heritage of Benson and the beast of burden at the annual Benson Mule Days Festival held each September.

Take a picnic lunch to the Benson Singing Grove with the whole family and enjoy the shelter for the adults and playground for the kids!

For the largest southern buffet anywhere, visit Meadow Village Restaurant seven miles south on Hwy 50 from Benson. It is worth the drive, trust me!

Drive through the bright lights of the Meadow community, ride Santa's train and visit the Country Christmas Candy Store for some old-fashion sweet treats.

Make three stops on the Beer, Wine and Shine Trail at Broadslab Distillery, Fainting Goat Brewing Co. and Gregory Vineyards. Jeremy at Broadslab will always have a story for you!
Top 10 Things to Do in Clayton
Take a 2-hour canoe trip on the river with Neuse Adventures Canoe & Kayak Rentals in Clayton.

Get to Clayton Community Farmer's Market early and often for delicious locally baked foods, local honey and seasonal fresh produce.

For some legal craft beer tasting -- stop by Deep River Brewing in Clayton and enjoy the food truck sure to be there serving up some fun food!

Enjoy a performance at the 600-seat performing arts auditorium, The Clayton Center, in the restored Clayton high school.

In October, Boyette Farms turns into the Clayton Fear Farm complete with haunted houses, scary hay rides and much more. Return to Boyette Farms at Christmas time for a hayride along the Neuse River for the "Lights on the Neuse".

Enjoy a sweet treat at the Clayton Bakery, Nancy Jo's Homemade or Sherry's Signature Cheesecakes where homemade goodness awaits!

Take at nightlife crawl in Downtown Clayton at Revival 1968, First Street Tavern, and Wine on Main.

Public Art Trails, art galleries, art shows and performing arts is the theme for the Town of Clayton.  Enjoy the downtown streetscapes -- a place for artists and art lovers!

Have you ever eaten in a silver bullet diner – make the trip to the Rockin' Comet Diner in Clayton.Save room for dessert!

Take your bike and enjoy the thrills and avoid the spills at Legend Park bike course in Clayton.
Top 10 Things to Do in Four Oaks
Walk the fields and union earthworks at the Bentonville Battlefield State Historic Site – the largest land battle fought in North Carolina during the Civil War.  Also enjoy the museum, Harper House and driving trails of the battlefield.

If you want to ride bikes in Johnston County, there are many country roads to explore.  There are four new JoCo Bike Routes, download the brochure on www.johnstoncountync.org

If you love to hunt for deer or would like to try shooting boar, contact Howell Woods for several controlled hunts….you can even rent a green-built and ADA accessible cabin for the trip right on the site.

Stop and shop in one of Johnston County's original hardware stores at Stanfield's General Store in Four Oaks.

Stop in OGI Designs to meet Mike Pritchard and see the custom designed furniture - he's an artist on a large scale!  Look for the bear on Main Street.

A day of fun is in store for you and the whole family at the Four Oaks Acorn Festival with a parade, live entertainment, and art exhibits.

Experience how Christmas was celebrated with the Harper House kitchen decorated with authentic Victorian Era Yuletide decorations at Bentonville Battlefield Civil War Site.

If you don't have a fear of heights and want a romantic float over the countryside -- give the folks at Carolina High Hot Air Balloon Company a call.

Wondering how to tour the county for brewery tours, wine tastings and some moonshine.  Get the new Beer, Wine, Shine Trail brochure that pulls it all together for you, with great coupons too!

Pick strawberries April to June at Smith's Strawberry Farm & Nursery at McGee's Crossroads, and Pace Family Farms Berries in Clayton for some fun with the kids!.
Top 10 Things to Do in Kenly
Spend the day on the restored farmstead at the Tobacco Farm Life Museum and see how Eastern North Carolina farm families lived, worked and played during the depression era.

Enjoy roadside landmarks, visit the 1/3 scale replica of the Cape Hatteras Lighthouse at the Kenly 95 Truckstop for a photo and lunch at one of seven restaurants.

Did you know you can find rhododendron in the Flower Hill area, where the Piedmont meets the coastal plain in North Carolina… the best time to visit the area is the first couple of weeks in May.

Explore the unique mud and stick chimney construction and hand-hew planks of the Boyette Slave & Schoolhouse near Kenly.

Celebrate a country-style Christmas at Tobacco Farm Life Museum with old-fashioned decorations and refreshments.

Watch stock cars circle the track at Southern National Speedway near Kenly every Saturday night – April to October.

Celebrate the community's commitment to their agriculture heritage at Stepping into the Past demonstrations at the Tobacco Farm Life Museum in Kenly.

Learn more about the history of Kenly and the lives of local farmers and citizens at the Kenly Area Historical Society.

Find out who the Cornbread Man is at Atkinson's Mill and take a tour of the old grist mill still producing outstanding cornmeal products.  Where did hush puppies get their name anyway?

Stop and sip on grapes or buy some jelly as you enjoy the picturesque vineyards and winery at Hinnant Family Vineyards in Pine Level.
Top 10 Things to Do in Selma
Flowers, fountains, concrete planters and an outstanding gift shop are what you will find at DeWayne's in Selma.

Find out who the Cornbread Man is at Atkinson's Mill and take a tour of the old grist mill still producing outstanding cornmeal products.  Where did hush puppies get their name anyway?

Treat yourself to a picnic lunch at Vick Park in Selma, where a new mural by artist Dorothy Finiello was installed.

Tap your foot to the country tunes and gospel music served up with style at the Live @ The Rudy Theatre in Selma – it's a treat for the whole family!

Visit the 1924 restored Selma Union Station where railroad exhibits fill the waiting area and learn about local Selma history.  AMTRAK tickets are on sale in the lobby – take a ride and enjoy the rumble of the tracks.

Shop, Shop and shop some more for memories gone by at antique stores in the charming uptown Selma Antique Shopping District.

Home to the Carhartt jeans and big man apparel with sizes up to 52, Carolina Apparel in Selma is the place to shop.

The Max G. Creech Local Museum of History is in Uptown Selma, and it full of interesting facts about the railroad, local history and info on the town's connection and invention of VapoRub.

Love unique art -- stop by Boon Hill Gallery for some rustic, hand-carved with a chainsaw art for your yard or mountain home.

If you're in Selma on the 3rd weekend in June participate in the 301 Endless Yard Sale. Selma is a pivotal stop along this annual 100 plus mile yard sale event that takes place over two days along US Highway 301.
Top 10 Things to Do in Smithfield
First, get to know the county by visiting the Johnston County Heritage Center to learn about the county's history and its people at the exhibits on the first floor.

For 25-65% off national retail brands like Adidas, Banana Republic Factory Store, Brooks Brothers Factory Store, Carolina Pottery, Coach, Loft Outlet, Nike, Talbots, Timberland, and Tommy Hilfiger don't miss a shopping trip to Carolina Premium Outlets in Smithfield with over 80 stores to choose from.

Ava Gardner - she was a Hollywood legend during the "Golden Age" and she was born in the Brogden Community 7-miles east of Smithfield – visit the Ava Gardner Museum and learn about her Cinderella story and rise to stardom.

Do you need some quality time with your girlfriends?  Make plans to visit Smithfield for the Girls Weekend Package.  Hotel deals, gift bag, chocolates and lots of coupons!  It's a date!

Taste and compare Holt Lake's, White Swan's, Smithfield's and Stephenson's BBQ…..determine who is the best?  Everyone has their favorite!!!!

For hometown talent, visit the Neuse Little Theatre, which hosts several performances each year at Smithfield Town Commons – Legend Hut.

Our second brewery in the county is located along US HWY 70, Double Barley has a lounge and beer garden for your evening out!

Take a stroll along the streets of Smithfield's enjoying historic homes, shops and eateries along the Downtown Walking Tour, brochures are located at the Heritage Center.

On a warm day, the Hills of Snow Snowballs on US 301 in Smithfield offers relief from the heat with over 99 flavors.

One of the oldest festivals in Smithfield, the Ham & Yam celebration has grown to include national entertainment, children's activities, BBQ cook-offs and much more.  Get there early on Saturday for Ham Biscuits.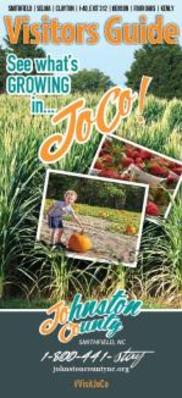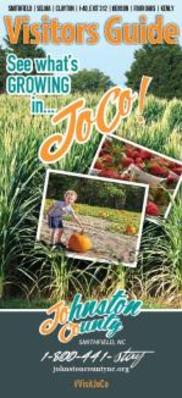 Get your free Visitors Guide today to learn about Johnston County and all it has to offer!
Get the Guide

Sign up for our Event Newsletter