Town Fast Facts

Top 10 Things to Do in Benson
Top 10 Things to Do in Clayton
Top 10 Things to Do in Four Oaks
Walk the fields and union earthworks at Bentonville Battlefield State Historic Site near Four Oaks – the largest land battle fought in North Carolina during the Civil War.  Also enjoy the museum, Harper House, and driving trails of the battlefield.

If you want to ride bikes in Johnston County, there are many country roads to explore and one official bike route (of four) that includes the town of Four Oaks. 

If you love to hunt for deer or would like to try shooting boar, contact Howell Woods for several controlled hunts….you can even rent a "green" cabin or an ADA-accessible cabin for the trip right on site.

Stop and shop in one of Johnston County's original hardware stores at Stanfield's General Store in Four Oaks.  There's a back porch coffee bar as well for hanging out.

Stop in OGI Designs to meet Mike Pritchard and see the custom-designed furniture - he's an artist on a large scale!  Look for the bear on Main Street.

A day of fun is in store for you and the whole family at the Four Oaks Acorn Festival with a parade, live entertainment, and art exhibits.

Just outside Four Oaks, you can get in 18 holes of golf at Reedy Creek - flat terrain but plenty of pine trees to watch out for.

If you don't have a fear of heights and want a romantic float over the countryside -- give the folks at Carolina High Hot Air Balloon Company a call.

The Four Oaks Chamber of Commerce is planning events all year round including shopping, vintage cars, Christmas parades, and much more so check their website for details.

You will find some sweet places to shop in Four Oaks -- like the Shamrock Buzzy Bee, Cleo's Closet, and the Vine & Branch Florist.  Stop by and see what's on sale!
Top 10 Things to Do in Kenly
Spend the day on the restored farmstead at the Tobacco Farm Life Museum in Kenly and see how Eastern North Carolina farm families lived, worked and played during the depression era.

Enjoy quirky roadside landmarks? Visit the 1/3 scaled replica of the Cape Hatteras Lighthouse at the Kenly 95 Truckstop for a photo and lunch at one of seven restaurants in the food court.

Did you know you can find rhododendron in the Flower Hill area, where the Piedmont meets the coastal plain in North Carolina… the best time to visit the area is the first couple of weeks in May.

Explore the unique mud and stick chimney construction and hand-hew planks of the one-room, Boyette Slave & Schoolhouse near Kenly.

Celebrate a country-style Christmas at Tobacco Farm Life Museum with old-fashioned decorations and refreshments. The museum holds events all year round - check the calendar for dates and times.

Watch stock cars circle the track at Southern National Speedway near Kenly every Saturday night – April to October.

Need to stretch your legs...drop by the Kenly Area Parks and Recreation walking track and do some laps.

Stroll up and down for some local shopping at stores along the main street.

There's a Johnston County BBQ Trail, but if you are in Kenly, the place to stop for que, is Stormin Norman's!!!

For some farm fun for the whole family, Sonlight Farms is open in the fall with corn mazes, pumpkin picking, special events, games, slides, and more.
Top 10 Things to Do in Selma
Flowers, fountains, concrete planters, and an outstanding gift shop are what you will find at DeWayne's in Selma.

Find out who the Cornbread Man is at Atkinson's Mill and purchase some outstanding cornmeal products.  Where did hush puppies get their name anyway?

Treat yourself to a picnic lunch at Vick Park in Selma, where a new mural has been installed by artist Dorothy Finiello.

Tap your foot to the country tunes and gospel music served up with style at the Live@The Rudy Theatre in Selma – it's a treat for the whole family!  Shows change four times a year -- Easter, Summer, Country, and Christmas themes draw in visitors from around the country!

Visit the 1924 restored Selma Union Station where railroad exhibits fill the waiting area and learn about local Selma history.  AMTRAK tickets are on sale in the lobby – take a ride and enjoy the rumble of the tracks.

Shop, shop, and shop some more at the antique stores in the charming Downtown Selma Antiques Shopping District; plus enjoy other locally-owned shops in the Downtown area like the Southern Bostonian.

Home to Carhartt jeans and big man apparel, with sizes up to 52, visit Carolina Apparel in Selma, right off I-95.

The Max G. Creech Local Museum of History is in Downtown Selma, and it full of interesting facts about the railroad, local history and info on who really invented VapoRub.

Looking for a deal? Shop factory direct outlets like the largest cigar store in the world, JR's.

If you're in Selma on the 3rd weekend in June participate in the 301 Endless Yard Sale. Selma is a pivotal stop along this annual 100 plus mile yard sale event that takes place over two days along US Highway 301.
Top 10 Things to Do in Smithfield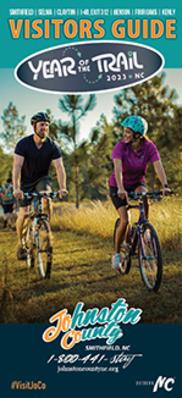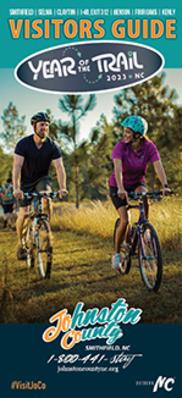 Get your free Visitors Guide today to learn about Johnston County and all it has to offer!
Get the Guide

Sign up for our Event Newsletter