Listings and Photography Guidelines

Who gets listed in JCVB publications and on the website?

Any collector of the occupancy tax with at least five units and any attraction (a business that provides an activity for our visitors that enhances their experience in the destination) that is open year round, or a business involved with local tourism in Johnston County that as been approved by the Johnston County Visitors Bureau. 
The following categories are inventoried on an annual basis to be listed in our print publications and online. Each publication has a set of criteria which is set by the staff. To keep to the trend of storytelling, efforts are underway to showcase our tourism partners through features and not a "phone book" of listings. The bureau website is the comprehensive site for all partner listings and through the JoCo Hospitality Association, featured listings, and web advertising opportunities exist.

Visitors Guide Categories
Places to Stay - includes hotels, camping, RV parks and alternative lodging
Things to Do - includes Agritourism venues, Arts & Entertainment, Beer, Wine, Shine Trail, History & Museums, Recreation, Indoor & Outdoor Activities, and Motor Sports
Shopping - includes Antiques, Outlets, Local Products, and Farm Markets/Stands
Dining - includes BBQ/Southern, Coffee Shops, Delis/Bakeries, Table Service Restaurants
Annual Events and Festivals
Getting Here - includes Transportation services

JCVB Photography & Copyright
The Johnston County Visitors Bureau (JCVB) has developed the following guidelines to assist Johnston County businesses with use of copyrighted/trademarked JCVB resource materials.
Copyrighted/trademarked materials, images, taglines/slogans and area maps may not be reproduced on/in an item that is made available for resale or on sales and marketing materials, including Internet sites without written permission from the JCVB team.
Audited editorial publications may use the logo or images when featuring Johnston County with photo credit if appropriate. This does not include local relocation or area guides, other than official Johnston County chambers of commerce publications, in which case, the request should come directly from the chamber director.
Johnston County lodgings, which are listed on the JCVB Web site are entitled to a selection of photography to promote the destination.
Johnston County provides a limited selection of photography for public use via the website.

NOTE: The JCVB has no legal requirements to grant access to, or permission to use its photography, logo, or other copyrighted material.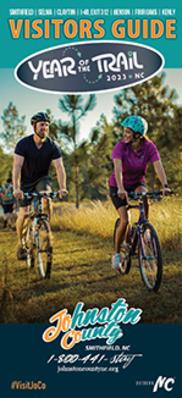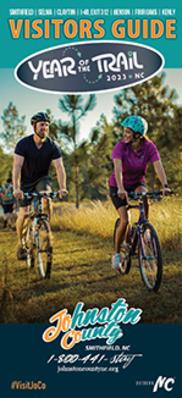 Get your free Visitors Guide today to learn about Johnston County and all it has to offer!
Get the Guide

Sign up for our Event Newsletter